Providing excellent customer support is the key to maintaining a satisfied customer base and growing a business. However, that often becomes a challenge as today's consumers demand a seamless omnichannel experience across the multiple platforms that they use to interact with companies. 
Microsoft's survey recently found that 59% of consumers have used three or more communication channels to inquire about a single topic.
However, many businesses are still unable to transform these touchpoints into a consistent and unified service experience. This is where the right help desk software can be an efficient solution. It helps consumers experience a smooth and effortless transition between channels while enabling businesses to deliver quick and efficient customer support. 
No wonder help desk software is becoming increasingly popular across various industries these days. In fact, according to the Market Research Intellect report, the global help desk and ticketing software market is growing at a faster pace with substantial growth rates over the last few years. It is also estimated that the market will grow significantly in the forecasted period i.e. 2019 to 2026.
If you're new to help desk software, or just getting started with the tool, check out these 10 tips that'll help you get the most out of the system while ensuring maximum benefits for your business.
10 Tips for Setting up and Managing Your Help Desk Tool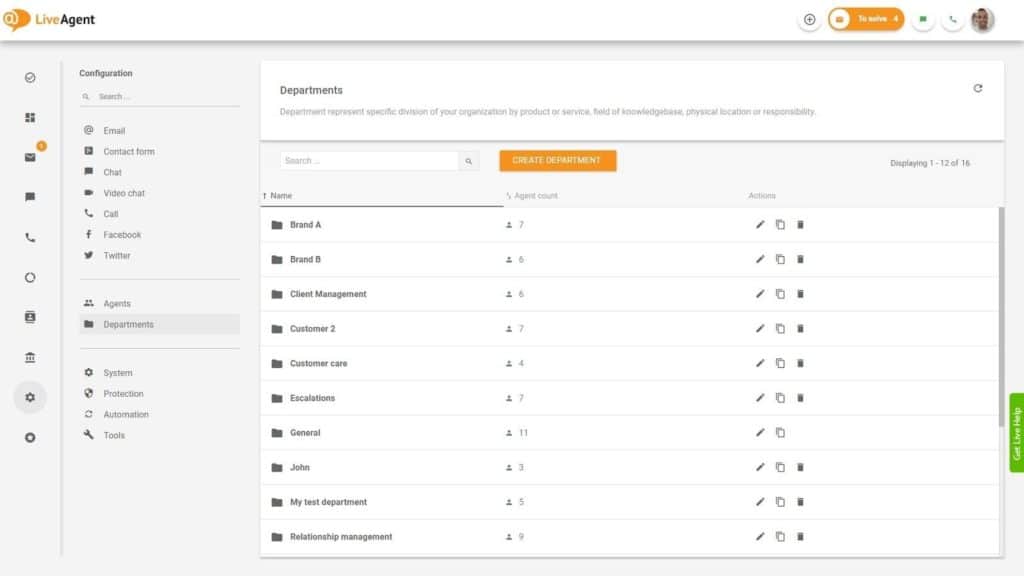 Consumers have high expectations for the speed of customer support. Organize your agents into separate departments based on their functional responsibilities, supported products, customer segments, location, or other meaningful parameters.
Doing so allows you to distribute incoming support requests among your agents efficiently while ensuring each ticket is always in the right hands. Grouping teams of experts together significantly decrease ticket response and resolution times.
With a robust help desk software, you can automate various processes and workflows to eliminate a number of manual tasks. This enables your support agents to focus on more important issues and allows them to handle support tickets more efficiently while improving customer satisfaction.
Setting up SLA rules, for example, helps ensure your agents always handle tickets from VIP clients in time, minimizing waiting times for problem resolution. SLA rules also help managers identify agents who are breaking SLAs and lagging behind in performance. By having access to these types of reports, management can take measures to improve the performance of individual agents or teams.
Canned (pre-defined) responses or macros are one of the most essential features of help desk software solutions. The feature improves the performance and efficiency of support agents (saving them tons of time and effort), reduces errors, and improves ticket resolution times. 
Canned responses also ensure consistency in your agent's tone of voice. Having ready-made responses allows your agents to focus on the substance of each ticket instead of having to figure out the appropriate tone with each customer.
Creating an internal library of help desk canned responses is critical. However, agents should always remember that canned responses aren't auto-replies. To maintain a high quality of service, canned responses should be customized and personalized as needed before being sent out.
A large number of today's consumers increasingly prefer live chat over other support channels. Microsoft's Global State of Customer Service Report confirms that 60% of consumers ages 18 – 34 regularly use live chat for customer service. If you are using multichannel help desk software, make sure to set up live chat functionality within your help desk system and enable users to instantly get in touch with your support team.
If available, enable proactive chat invitations to automatically invite your website visitor to a chat session. This allows you to offer assistance in real-time while your customers are browsing your site. 
Proactive chat invitations work best when placed on strategic URLs of your website, such as the pricing/ checkout pages, or your main landing pages. You can also set up and customize your pre-chat and offline forms to collect more information from your customers.
Connect customer support emails
An email has been and still is one of the major customer support channels used by consumers. It's essential to integrate your support email accounts with your help desk system. Doing so will help you handle incoming emails more efficiently.
With every customer issue tied to a single ticket in a centralized database, agents can instantly see what steps were taken, and what has been previously discussed with each customer during their problem resolution journey. This enables easy team collaboration while eliminating the need for a customer to repeat themselves in case another agent takes over the communication.
Integrate your social media
Conversocial's survey revealed that 54% of customers prefer social media channels for customer support when compared to phone/email, and 35% of 18–34-year-olds use social media for customer support regularly. Another survey by Sprout Social found that 40% of consumers expect businesses to respond to their queries within the first hour of reaching out on social media, while 79% expect a response in the first 24 hours.
If you are not using any specific social media customer service software, it might be challenging to monitor your social media pages manually. By integrating your help desk with your social media accounts, you can easily track your brand mentions, keywords, direct messages, and comments as they will be instantly converted into tickets. Once they're fetched into your system, you can easily respond to them right from your help desk dashboard.
This minimizes distractions while ensuring every comment, message, and mention is replied to. More importantly, integrating social media with your help desk software is a more secure way to provide social media support because it eliminates the need for sharing your login credentials with multiple agents.
Despite the growing popularity of digital support channels, the phone still remains one of the most preferred customer support options for the majority of consumers. With help desk software you can actually set up a fully functional call center and provide phone support for your customers. Many help desk systems include both inbound and outbound functionality, giving agents the freedom to make and receive calls.
To ensure quick and efficient voice support, set up your IVR (Interactive Voice Response) prompts to help customers and prospects navigate through the available routing options. A well-designed IVR menu can go a long way in reducing customer effort, improving first call resolution, and increasing your support efficiency.
Create self-service resources
Self-service portals are fast becoming a preferred support option for a growing number of consumers. According to Microsoft's report, 90% of global consumers expect brands and organizations to offer an online portal for self-service, while 74% have used it. Luckily, modern help desk solutions typically come with built-in self-service tools.
Depending on your help desk capabilities, you can create various self-service resources: a knowledge base, a FAQs section, customer forums, etc.
When setting up your knowledge base, make sure to fill it with content that is comprehensive, highly relevant, educational, helpful (addresses real user issues and pain points), well-organized, visually appealing (includes visuals such as screenshots, diagrams, flow charts, videos) and easy to digest for end-users who might not be tech-savvy.
Set up reporting/ analytics
Most help desk systems provide various reporting and tracking options for different customer service metrics and KPIs.
To ensure your help desk system operates at its maximum efficiency, set up your tracking options based on what you would like to monitor and have a clear view of.
This could be how your help desk support is performing, which support channels customers prefer to use, how efficient and productive your customer support team is, and which of your support processes need improving.
Integrate third-party apps
According to research by GetApp, a leading customer service review site,  lack of integrations is the third-most cited customer service challenge that SMBs are facing today. By integrating your help desk software with other business tools, you can extend your software's capabilities and maximize its value.
If your help desk software offers third-party integrations, connect it with all the other apps that your agents use daily. This will help your agents achieve better efficiency and productivity, eliminate duplicate efforts by agents, and enhance your customer support quality.

The Bottomline
Help desk software has become a must-have tool for both small businesses and large organizations. The way you set up your help desk can make the difference between average and excellent support. The key is selecting the right help desk solution that fits your specific requirements, business goals, and budget – and ensuring the tool operates at its full potential.
When your help desk system is set up, configured, and managed properly, your customers will enjoy a seamless omnichannel support experience no matter which channels they choose to reach out to you with.  On the other end, your customer support team will be fully equipped to track, process, and respond to all your incoming support requests in a quick, professional and efficient way – all from a single location – whilst ensuring no customer inquiries remain unanswered.