A high conversion rate shows your brand's viability. It is a practice that involves increasing the percentage of website users who do a specific action. 
These actions include signing up, purchasing an item, clicking a link, or filling out a form.  
A high conversion rate is possible if you have a well-designed and formatted website. The formula for calculating your conversion rate is dividing the total number of conversions by the total number of page visits. 
The result you get, multiply it by one hundred to get a percentage. In 2020 the Global conversion rate for e-commerce sites was 2.17%. 
Achieving a higher conversion rate involves optimizing specific areas in your website. This results in attracting qualified leads, increasing revenue, and lowering customer acquisition costs. Here are 15 things you need to optimize for a better conversion rate.
1. Improve Website Speed
Online users can be impatient. If your website takes more time to load, customers can lose interest and fail to take action. 
Speed should be a priority when designing a new website or revamping an old one. Look for developers in your area like a web design agency New York to audit your site. 
Professionals use the right tools to test speed and optimize images on a website. Your website must be creatively designed using the latest trends in technology to increase brand awareness.
2. Optimize Your CTA
A CTA should entice website visitors to take a particular action. People sometimes ignore them, or visitors might not read an entire blog post and click the CTA at the bottom of an article. 
This means a different approach can produce better results. Write a clear CTA text that stands alone. 
Take time to be creative and write a CTA that will improve your conversion rate. For example, you can use a word like "Yes" in your CTA. 
If you are selling a downloadable item like a planner, you can create a button with a CTA "Yes, I want my planner." It will give you better results. 
The placement of a CTA button should be where customers can quickly see it. Make it visible using bright colors and large fonts. You can also use a QR code (create one using one of these best QR code generators) as the CTA instead of a button.
3. Test Landing Pages
The way to know the best features and design for your landing pages is to test them. An A/B test will help you understand what is serving your customers better. 
For example, test two different versions of landing pages. The test for each landing page can include content offers, different form designs, or images. 
The version that produces more responses from leads is the best. Use it.
4. Design a Mobile-Friendly Website
Having a website that customers can access using their mobile phones increases your conversion rate. A mobile-friendly website means customers can engage with your brand using their smartphones. 
The website view on mobile should provide an excellent experience and encourage visitors to buy, sign up or fill out a form. It is a good way for customers to find what they are looking for on the go.
5. Eliminate Destructions
One of the reasons that can make a visitor not take action on a landing page is destruction. A landing page should be easy to navigate, clear, and concise. 
This is because it is where visitors become leads. Existing leads also use this page to engage more with your business. 
Providing what a user needs on a landing page and removing all distractions will make the CTA buttons visible. It increases the chance that a visitor will click a CTA button.
6. Use Simple Forms
Simplify the forms that customers need to fill out. Remove any extra fields and put only necessary ones.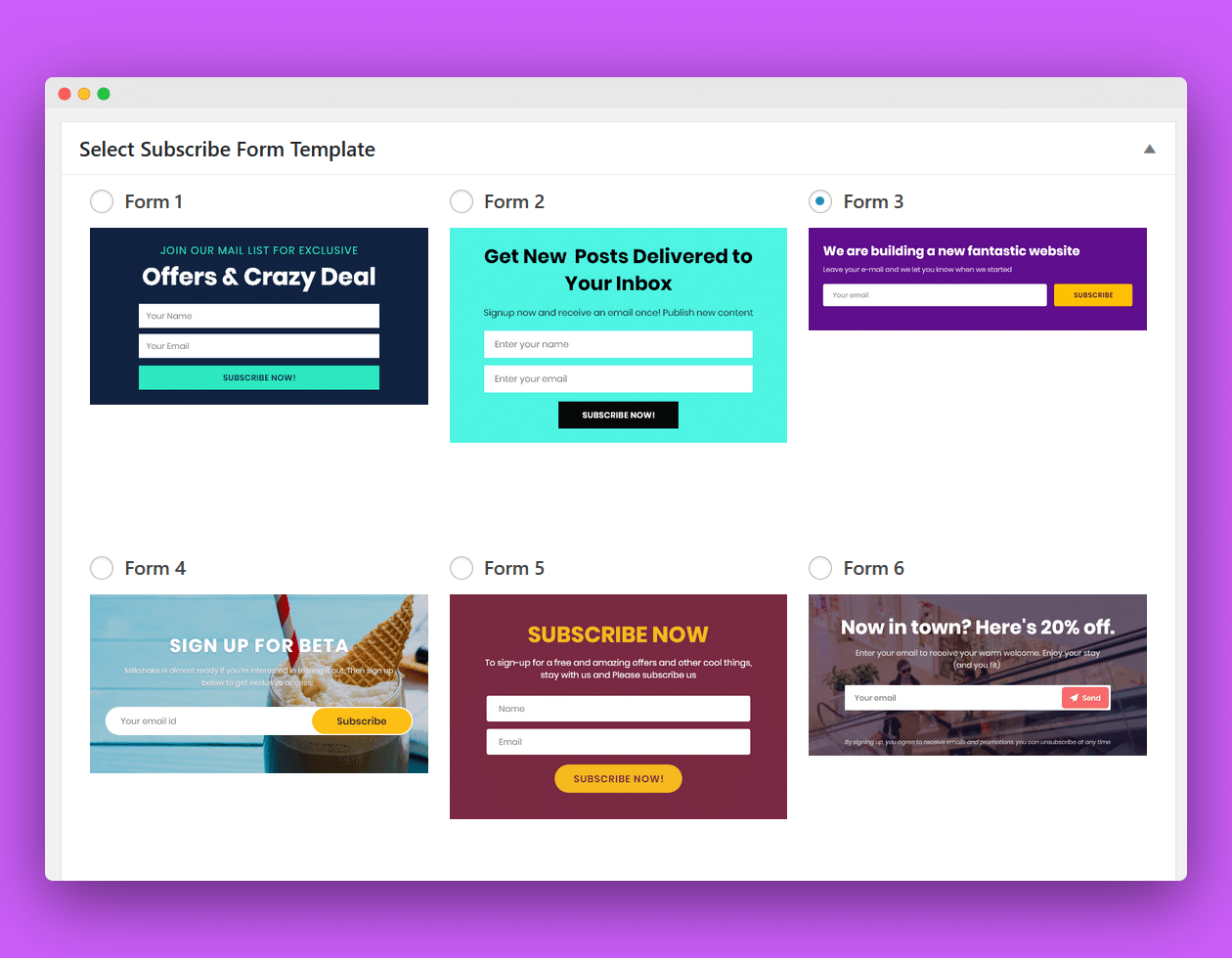 These subscribe forms fields should help you fulfill your goal. However, make sure they are minimum so that visitors can quickly read and fill them out. Including the amount of time, it takes to fill out a form can encourage visitors to take action.
7. Add Live Chatbot Support
A live chat can offer real-time user support to visitors. Adding this feature to blog posts performing well on your site can increase the conversion rate. 
Such automatic chatbots provide action-based guidance. For example, if a visitor stays on your site for more than one minute, the chatbot automatically offers to help. The help can be answering questions.
8. Include Third-Party Sign-ups
 An alternative log-in makes signing up an easy process for website visitors. They do not have to fill out a registration form to create an account or remember passwords. 
Any time visitors need to register, they can use their Google or Facebook accounts. This makes doing business with your brand easy and straightforward. It improves the user experience.
9. Provide a Simple Checkout
Some visitors might want to buy an item quickly without creating an account on your site. If the buying process requires them to create a profile and open an account first, these website visitors might abandon their cart. 
This lowers your conversion rate and sales. Having a guest checkout for users who might not want to create an account is a great solution.
10. Optimize Blog Posts
Blog posts provide helpful information to your audience and drive traffic to your site. Make sure they are well optimized for search. This makes them visible to prospects who convert to paying customers. 
Perform an audit of your blog posts and identify articles with high traffic and low conversion. Consider all the possible causes, including the items you promote or the CTA. Make the necessary adjustments to increase the conversion rate. 
Look for other blog posts with a higher conversion rate but less traffic. Consider all possible causes, including SEO. 
Optimize these posts for search engines to rank higher on search results. People searching for information online can quickly find your article if it ranks high on search results.
11. Include Quality Images and Videos
The internet is a busy place, and including high-quality pictures and videos helps capture your audience's attention. Include quality images of the items you are selling. 
You can also create short videos to show customers how to use a product. Videos allow you to use your voice and tone variations to express excitement. 
It is an opportunity to engage visitors and convey genuine passion. This enables you to convince customers to buy your products.
12. Build Workflows
Workflows enable your team to serve customers in better ways and increase conversions. They allow you to send automatic emails to customers. 
For example, if a customer looks at the prices of items on your site, sales representatives are notified. The salesperson can engage that customer at this point and provide help. Leads can also book a meeting with sales representatives.
13. Enhance Search and Filter Features
Search and filter features help website visitors navigate your site fast and find what they want. Make sure your customers have a good search experience on your site. 
If customers can search and find what they need quickly, it increases the chances of buying the item. Help visitors find items using the autocomplete feature in the search box. Offer more guidance using the filter feature to narrow down their search. 
If a customer cannot find what they are looking for, show other options and recommendations of similar products. Offer as much help as possible, including reaching out to customer support.
14. Make Your Return or Guarantee Policies Visible
Return or guarantee policies are ways you can build customer trust and make them confident in taking action. Customers will want to do business with you if their mind is at ease. 
Make sure you make such policies visible. Put them upfront and at the center of your site. The policies should be honest, clear, and concise. 
Most customers read policies before buying an item. This is because they buy a product they cannot try or touch before checking out.  Returns and guarantees policies encourage customers to buy your products and increase your conversion rate.
15. Include Testimonials and Reviews
Customers like to read testimonials and reviews from other people engaged with a brand. Companies include testimonials of satisfied customers on their websites as proof of the quality and value they offer. 
When prospects read such testimonials, they are encouraged to do business with you. Include reviews on your landing pages. 
Add logos to your home page. These are companies you have worked with. When prospects visit your site and see these logos, their trust increases.
Key Takeaway
There are many ways to improve the conversion rate of your business. The first step is understanding what a conversion rate is all about and how to calculate it. 
After knowing your conversion rate, make specific changes to your website to improve it. Start with one thing before moving to the next one. 
For example, you can start by testing and improving your website speed. Make sure you are consistent in implementing these changes and testing what is working. 
Collect data and perform an analysis to see the impact of your changes. This will help you understand your site's performance and meet your customer's expectations.
If you're an agency or a freelancer willing to offer a site audit to potential clients, creating professional proposals will help seal more deals! Sign up with Prospero today!