Note: at the end of the post you can find an invitation link to Stripe Atlas 🙂
Incorporating your startup can sometimes be a real pain. Depending on what country you live, you can face serious and overwhelming papyrology, huge taxes and not enjoying all the benefits other US-based companies have.

For example, if you're living in Germany and if your company makes over 50K euros per year, your taxes will be exactly 42% on a monthly basis.

Feels pretty much right?

Hence, because of all these problems, non-US citizens have a tendency to form offshore corporations – and in a lot of cases – Delaware is the most obvious choice.
Having all of that in mind – Stripe Atlas can be the perfect and the easiest choice for you if you're thinking about incorporating it in the US.
What is Stripe Atlas?
Stripe Atlas is the platform powered by Stripe (online payments provider), that allows non-US citizens to remotely form a company in Delaware.

But, what does that mean?

Technically, every non-US citizen can form a company (C Corp or LLC) in Delaware. But if you're planning to do that on your own, you will not just need to physically go to Delaware, but be prepared to deal with huge papyrology, choosing the bank and paying the big fees.

In other words – Stripe Atlas makes it easy for non-US citizens to remotely corporate their company in Delaware. That means that they don't need to physically travel to the Delaware state and sign all the documents.
That's the unique value proposition offer that no one else has except the Stripe Atlas.

So, if you're currently on a road trip through Europe, and even if you're changing your location all the time, you will have the possibility to incorporate your company in Delaware without the need to travel there.

The huge, exhausting and overwhelming job can now be done from your living room – thanks to Stripe Atlas.
Before we see the biggest benefits of Stripe Atlas and the step-by-step process of how to form your company with it, let's see why Delaware, as the state and with all of its' regulations is a good choice for non-US citizens.
Why form a company in Delaware?
Delaware state is known as one of the best tax shelters in the world.

To make it clear, in the United States, a tax shelter is defined as any method that recovers more than $1 in tax for every $1 spent within four years.

One of the great advantages of Delaware over other US states is that if you incorporate your company in Delaware, you won't need to pay state taxes.

On the other hand, if you form the Franchise or the LLC, you will need to pay a ridiculously small amount of tax.

To be exact, Delaware has an exact flat-fee for franchise companies of $100 and a flat-fee for LLC companies of $250.
As a comparison, other US states and countries calculate your tax based on various factors, such as the number of authorized shares, type of the corporation, yearly income and other things.
So, as far as we can conclude, Delaware is definitely one of the best "tax paradises" on the world, and it's definitely worth it to incorporate there.
Why choose Stripe Atlas? – 3 Benefits of It
As we already mentioned, Stripe Atlas is not the only way you can incorporate your company in Delaware and the US in general.

There are other ways and service providers – but in a lot of cases, they're either taking a big fee or you would need to invest a fortune into traveling to the State, paying the hotel, and all the other fees. 
Hence, let's see the 3 biggest benefits of Stripe Atlas over other ways of incorporating your company in Delaware.
1. Stripe Atlas made the entire process easy
We already mentioned that, if you decide to go with Stripe Atlas, you will be able to finish the entire process of incorporating your company in Delaware from your bed. There is absolutely no need for you to travel there and have a bunch of meetings with banks, state officers or any other people.
Stripe Atlas does the entire process for you.

But, what's going on with the other things?

When we say that the Stripe Atlas made the entire process very easy, we really mean that.

There is no lengthy paperwork, bank visits, dealing with the state laws, various fees or any other things.

The entire process is simplified and makes you easy to incorporate your company and get the US bank account in less than one month (this may vary).
2. You will receive up to $100.000 in free credits for different service providers
This is one of my favorite benefits of Stripe Atlas – and honestly, I think that rarely who else has this.

If you decide to go with Stripe Atlas, you will be able to receive up to $5000 in free credits for Amazon Web Services, and up to $100.000 for Google Cloud and other partners.

Not to mention that there are also a lot of flat-rate packages from other Stripe Atlas's providers of legal and tax services.
3. You will become a part of the global community
Running a business alone can be very hard. Now imagine how exhausting it could be if you run your business in the country you never even visited.

You need to know all the laws, tax requirements, and other things. It's pretty depressional.
Fortunately, once you incorporate your company with Stripe Atlas, you will become the member of the Stripe Atlas's global community and founders who incorporated their companies with Stripe.

This supporting community will not just provide you with valuable feedback or advice, but they will also become your most important mentors when it comes to the Delaware state and tax regulations.
All of this is great, but, what's the pricing?
This is a catchy question for everything.

Don't be discouraged – actually – unlike other service providers that are incorporating your company in Delaware for you, Stripe is way too affordable.

To be exact, the flat-fee for incorporating your company and opening your US-based bank account is $500.

By paying this, you're getting:
Incorporated C Corporation in Delaware

Delaware state filing fees

Signed documents to establish company bylaws and protect IP

A tool to issue stock to founders

The first year of registered agent fees

Filled Tax ID (EIN)

Opened Bank account (Usually it's a Silicon Valley Bank)

Membership to the Stripe Atlas community

Free templates for post-formation legal needs
At the end of the day, it isn't too much – considering that otherwise, you will need to pay over $2000 for accommodation, flight tickets, and other expenses.

But, there are other fees that you will need to pay along the way (but it's normal for every company – you can't quite expect to have no expenses right?).

So, upon paying $500 setup fee to Stripe Atlas, you can expect the following expenses of running your company:
Delaware registered agent – $100 per year

Corporate tax preparation – packages start at $250 per year

Delaware tax filing – preparation is free and Delaware fee starts at $225

Bank account maintenance – $25/mo
The 2-Step Process of Incorporating With Stripe Atlas
As we can see through the entire article – the whole process of incorporating your company in Delaware with Stripe Atlas is very easy.

Here's exactly what you need to do.
1. Fill in the data about your company
Once you apply for the Stripe Atlas and you get the invite, click on the "Get started".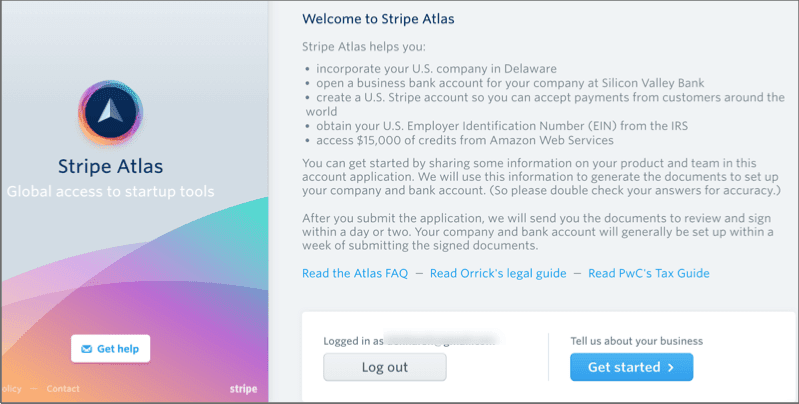 Filling data is frictionless – but please make sure to be as detailed as possible. According to Stripe, you won't need more than 20 minutes for this.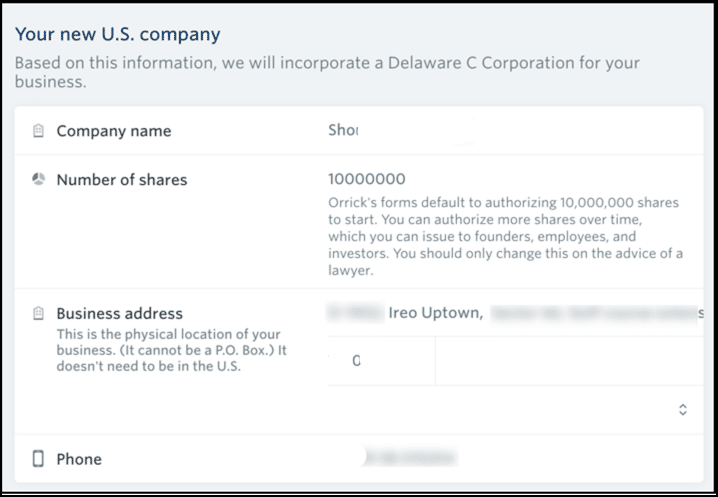 Once you fill in all the necessary data, If you're qualified to join Stripe Atlas you should get a confirmation email from Stripe around 10 days from the form submission.
2. Sign the paperwork
After about 10 days, you will get a confirmation email with all the paperwork you need to sign. Roughly, it looks like this: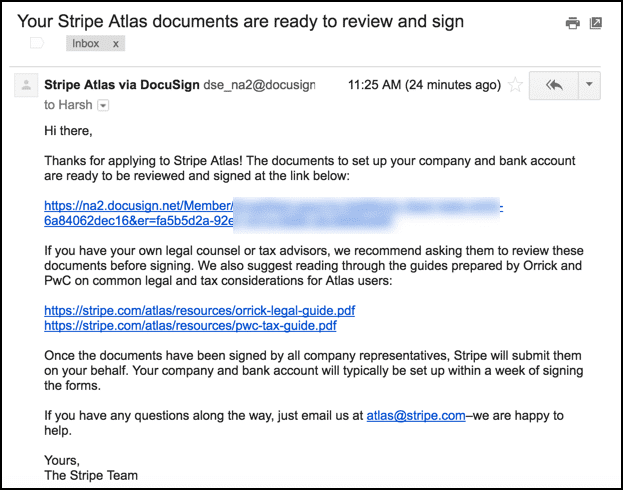 This process is a little bit time-consuming since is preferable to go through all documents (so you can be sure) before signing it.
Once you sign all the paperwork, in the next 1 – 2 weeks you will get the confirmation papers from Stripe Atlas that your company is incorporated in Delaware and with the data about your bank account.
The Bottom Line
As you can see, incorporating your company in Delaware with Stripe Atlas is more than easy. It's frictionless and it comes with a lot of benefits with minimal fees.

So, at the end of the day, with Stripe Atlas, you can remotely incorporate your business in Delaware and open your US-based Bank account.

If you decide to go with Stripe Atlas – you can use this invitation link, and if you're accepted to Stripe Atlas you will get your fees waived upon the first $5000 processed.