Weddings can be quite stressful for both the newlyweds and all those who work with them when it comes to organization. Given that the wedding day is one of the most beautiful days in people's lives, everyone wants the tiniest little thing to be flawless.
Photographers have a serious job and a serious obligation. They are expected to record in the best possible way all the most beautiful moments that will remain as memories.
It's really a lot of pressure to live up to those expectations. That is why photographers need to have other abilities, such as organization, creativity, design, detail orientation, and similar, in addition to a talent for photography and, let's be honest, a lot of patience.
Today, you can use proposals creation tools to showcase your skills as best as you can. They will literally be a presentation of your work and an indicator of what you can do to make this day even more beautiful for the newlyweds.

BUT, the most important reason why wedding photography packages and proposals matter, is because they will help you to close more deals and get more customers.

Carefully planned packages and eye-catchy written proposals will not just close you more customers, but if your service is great, be aware of the plenty of new referrals that will come along the way.

At the end of the day – you're the creative man – so let your proposals and wedding packages be creative as well. It's your brand.
But first, let's see what a great wedding photography package should include.
Great wedding photography packages
Before presenting your customers with your offers, you need to carefully formulate them and think them through. Keep in mind that you need to form packages with different prices to cover a wider spectrum of potential clients according to their financial capabilities.
If you are wondering why you should have any formed offers at all, instead of just telling them what you have to offer right away, there are several important reasons:
– you will present yourself as a professional and prove that you are trustworthy in the beginning and that they can leave such an important part of their event in your hands.
– knowing what part of it covers what exactly, you will have better organization and it will be easier to cover many questions that future newlyweds will surely ask you.
– you will give them the opportunity to consider everything you offer and choose what suits them on the spot, rather than thinking it over and changing the concept in the last hour.
– if you run a business that has multiple photographers or photography teams, you will be able to organize them more effectively, and when they arrive at the wedding venue they will know exactly what is expected of them.
– you will save both your clients' and yourself a lot of time.

Let the following examples serve you like an idea and guidance for what a great wedding photography package should include.
You can even make one base package and besides it various add-ons that newlyweds will be able to choose from according to their wishes and needs.
Wedding Package #1: Price based on the hours of footage
One wedding package can include full-day coverage and an unlimited number of photos taken during the wedding. The number of photos can vary as well as the shooting time such as "6-hour coverage" or "8-hour coverage". Based on this, you will also adjust the price. This can be your base wedding package.

For example, wedding photography agency Tati and Roman from New York charge their clients this way.

Here's how it looks like: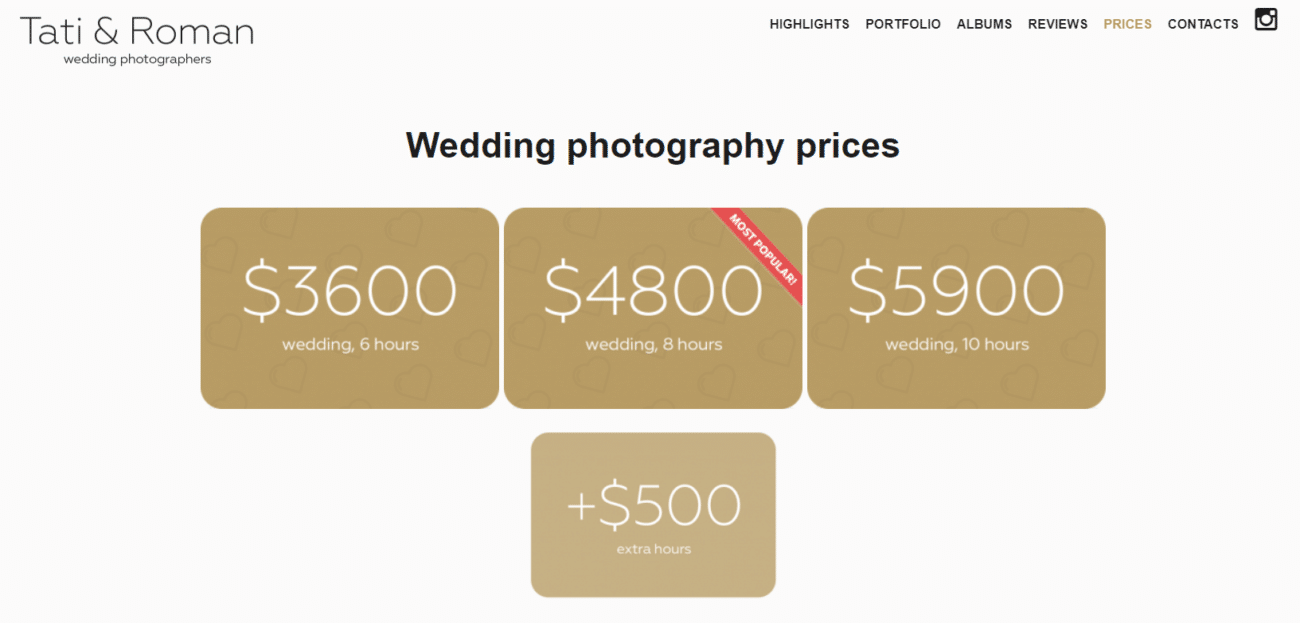 Wedding Package #2: Offer more photographers to cover different occasions
In addition to a certain amount of time and number of photos, you can offer a package that can include more than one photographer. They can be divided into different parts of the hall so they could cover the whole event. One photographer should be the main photographer as well as the organizer who will arrange the others and tell them where they will be situated.
Wedding Package #3: Offer personalized photo album's covers
Create a package that will include, for example, 500 photos, pre-wedding photo sessions, and photo albums for the newlyweds to choose from. Make a selection of multiple photo albums with different motifs and dimensions. It is a good idea to allow the newlyweds to choose the photo or photos that will be on the cover of the album itself. These personalized moments will surely make the whole experience even more enjoyable for them.
Wedding Package #4: Offer the photos in the digital format
In addition to the basic things like contracted hours during which you will capture the most beautiful moments from the wedding, you can also include a USB memory stick that will hold all the photos in high resolution so that the newlyweds can have all the pictures in digital format too. 
This way, they will be able to send them to others if they wish or to make special albums and collages of their own.
For example, RealDepthOfField Weddings is doing an amazing job with it!

In every package, they're offering their potential customers USB with all the photos taken:

Wedding Package #5 – Offer extra services in your premium package
Create one package that will be a Premium package, and include all the items listed in the previous examples as well as some special extras. 
These can be larger-sized photos such as posters that they will be able to frame and hang on the wall. 
You can create a video slide show that looks like a short movie with all the most beautiful photos of the wedding.
For example, the same agency as mentioned in the last example is doing exactly the same thing as we described right now:


What your wedding photography proposals should look like
You should view your wedding photography proposals as a means of establishing your engagement, and, with that in mind, create and design them.
For example, the design of your proposal may look like a wedding photo album to give future bride and groom or a wedding organizer a hint about your skills and what they will get if they choose you as their photographer.
The basic parts that your wedding photography proposal should consist of are:
Introduction

– This is the part where you will introduce yourself, explain how you understand that this is the most important day in their lives and that you want to help them capture some of the most beautiful moments.

About You

– Explain why you are a great choice and what they get if they choose you instead of someone else.

Portfolio

– The examples of your work to date will be the best indicator of your abilities. Choose several photos that perfectly illustrate your quality and creativity.

Packages & prices

– List all the packages that you have in offer. Show them in detail and explain each segment as your prospects will want to know what you can provide and what they can expect from your service. If you have one basic package and multiple add-ons that can be incorporated, present their detailed list. Prices are also an important factor in deciding, so include prices for each package.

Acceptance & conditions

– If you have some specific rules or if you are writing a proposal that is also a contract, be sure to include these items.

Electronic signature

– Include an electronic signature space to save both your client and yourself time.
Whether you are more or less adept at writing wedding photography proposals, you can use certain tools that are extremely helpful.
One such tool is Prospero. This proposal tool will guide you step by step throughout the process of creating a proposal so that not only will you not forget the important details, but the process itself will go at a much faster rate.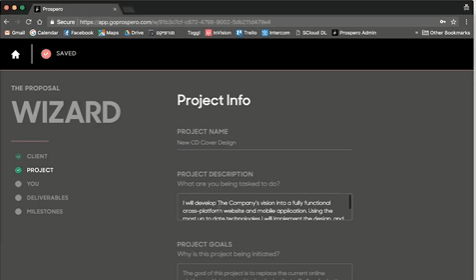 Prospero also contains ready-made texts, so writing itself will not be a problem.
Thanks to the various customization options, you will be able to create proposals exactly as you imagined.
Besides that, everything you do is stored in the cloud so you can access your document anytime, anywhere.
Couple more tips
Pay attention to the following tips and tricks that will make your proposals compelling, and persuade the newlyweds that you and your team are the right photographers for their wedding day.
In the proposal, it is important that you focus on the newlyweds and what matters to them. You still need to sell them your service. That's why it is important to put them first as a customer. Show them that you understand how important it is for the photos to capture the most beautiful moments. Explain that you want to take photos of them that will bring them back to the day as realistically as possible even years later.
Do not overdo it with the examples of your work
Of course, you need to add photos of your previous work but that doesn't mean that the people who want to hire you need to see dozens or even hundreds of photos of your previous engagements. Add some of the most beautiful photos from different weddings and different moments. Show your ability to capture the decoration and space beautifully, the newlyweds and their family, guests and the general atmosphere.
Social proof is an integral part of sales no matter what your niche is and it absolutely needs to be used. Remember to include the opinions of people who have previously hired you as part of your portfolio or at least at the end of your proposal. The experiences and kind words of your previous employers will increase your credibility and make you trustworthy.
The bottom line
There really are many ways and variations on how you can create your wedding photography packages.
Whichever you choose to include in your offer, always try to keep in mind the needs of the newlyweds and to show them in the best possible way what they will receive from you in return for this opportunity.
The best method to do this is to send them a proposal. They will be able to review it, ask you potential additional questions, and make a decision.
Be aware of the fact that organizing a wedding is a really complex task and that there is a possibility that prospective newlyweds will overlook your document. You certainly agree that it would be great if you could keep track of whether they opened it at all.
So, you should try Prospero. It will not only save you valuable time creating a proposal, but it will also notify you when and how many times your document has been opened and how much time in total potential clients have spent reviewing it.
Be assured that quality and creatively made wedding photography proposals will be a great identity card for your business. Then why not take advantage of it, right?