How would you envision scaling your small business? By finding new clients and acquiring new projects right?
To achieve this end goal, you should avoid committing business proposal mistakes at all costs.
A business proposal is meant to create a stellar first impression. But when it is dotted with some of the most common business proposal mistakes, it may annoy the clients.
Avoiding these mistakes is critical for your business's success.
So to help you get started in the right direction, I am discussing the 9 most-common business proposal mistakes that businesses of all sizes must avoid.
But first, let's understand the difference between a business proposal and a business plan.
How is a Business Proposal Different from Business Plan?
Many times, people use business proposals and business plans interchangeably. But the fact is that these two are two very different documents with two distinct purposes and functions. Let's understand each of these briefly.
Business Plan
A business plan can be conceptualized as a document containing your company's grand vision. It is a roadmap of how your business will start, sustain, and grow. 
It is beneficial for internal reference and quintessential to pitching investors and raising funds.
Here's an example.
Image via TheGoodocs
Business Proposal
A business proposal, on the other hand, is a sales-focused document. It is written as an offer or proposition to a client with whom you want to do business.
Although a business proposal gives a brief overview of your company, its primary objective is to promote a product, service, or business idea to get clients or investors on board.
Here's an example.
Image via Picmonkey
Do Not Make These 9 Business Proposal Mistakes
Understanding the outline and format for a proposal is the first step in crafting a great business proposal. Along with that, you also need to avoid these 9 fetal business proposal mistakes to impress your clients and win them over.
1. Having an Unclear Structure
A loosely knit structure is one of the most common proposal mistakes businesses commit while pitching a client.
Let's be honest. No one likes to read a lengthy proposal that lacks structure. Clients expect you to get to the point as quickly as possible.
When you have a loosely structured proposal, you may end up writing several paragraphs building your case and by that time, the reader would have lost interest in what really matters, i.e. your actual pitch.
To avoid such basic business proposal mistakes, focus on writing a crisp, engaging, and well-structured business proposal like the one here which packs all the essential elements of a good proposal in just three pages.
Image via Ikase 
If you are feeling creative enough, you can even try some of the good online video makers listed in this Attrock post and create a stellar business proposal video. You can experiment with a simple explainer video format to test whether your clients like it or not.
2. Failing to Focus on the Details
Failing to provide all the required details is one of the fatal business proposal mistakes you should avoid. Your proposal should be packed with all the essential details to educate, engage, and convince the clients to do business with you.
When I say details, the document should clearly state the key elements of your proposal, such as:
Project description
The proposed solution
The scope of work
Major tasks
Project timeline
Project fees
Here is a good business proposal template that shows how to organize all the critical details efficiently.
When such details are missing, it would be hard to convince the prospects and make a strong pitch.
At the same time, one of the common business proposal mistakes to avoid is giving out too much information. Instead, find a middle ground where you provide just the right amount of information to highlight the value you bring and take the talks to the next level.
3. Making It Too Much About Yourself
Among all the business proposal mistakes, this is a tricky one. Too much 'we-ing' is definitely bad for your project. Throughout the proposal, if you go on bragging about your successful projects, inventions, contributions, services, and so on, the client might just lose interest.
Remember, it's not about you. Rather, it's about what you can do for the client to help them grow.
The right approach would be to provide a healthy mix of who you are and how your products or services can help your clients.
Let's consider this marketing proposal template. Although it contains a dedicated section to explain why the client should choose them, the content focuses more on how they can help the client grow.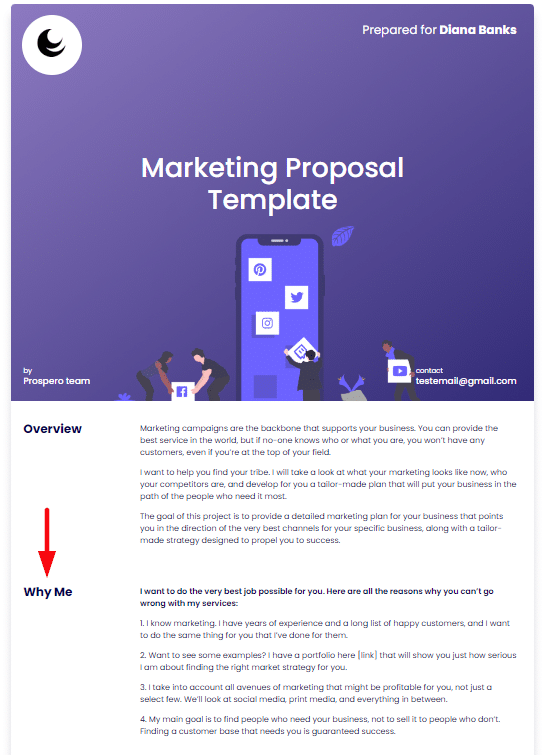 Image via Prospero
4. Using Too Much Industry Jargon
You might be well aware of many industry buzzwords and want to include them in your proposal to show your knowledge. But in my opinion, it would be one of the biggest business proposal mistakes.
Why?
Because, instead of impressing a client, excessive use of jargon might cause them to lose interest and trash your proposal.
Instead, speak your client's language and what is relevant to their market. Understand their pain points and use terms that will best address them.
Let's say you are pitching clients to offer website designing services. Instead of using technical terms like CRAP design principles, you explain how you have adopted design best practices to create intuitive websites with enhanced UX. Your end goal is to convince clients and not confuse them.
5. Inadequate Risk Management and Mitigation Measures
If I were to choose one of the top business proposal mistakes every business owner must avoid, it would be this.
Every project, across all industries, has risks. As a responsible company, you must both acknowledge this fact and boldly identify the risks and how they would affect the outcome of the project.
Risk recognition, management, and mitigation are an integral part of a good business proposal as this section shows how well prepared you are in managing this project.
While you should not mention the risk management and mitigation measures in detail, you should write enough to win the client's confidence.
6. Not Proofreading Your Proposal
Can somebody commit such silly business proposal mistakes? Yes, they do, although not intentionally.
It is possible that you would have prepared a business proposal in a hurry and could not proofread it thoroughly. Imagine what impression the client would have of you when they see those typos, grammatical errors, or formatting errors.
There are several tools like Grammarly that can correct spelling and grammatical errors, and suggest changes to improve content clarity and tone. Such tools can help you write professional and error-free business proposal copy without breaking a sweat.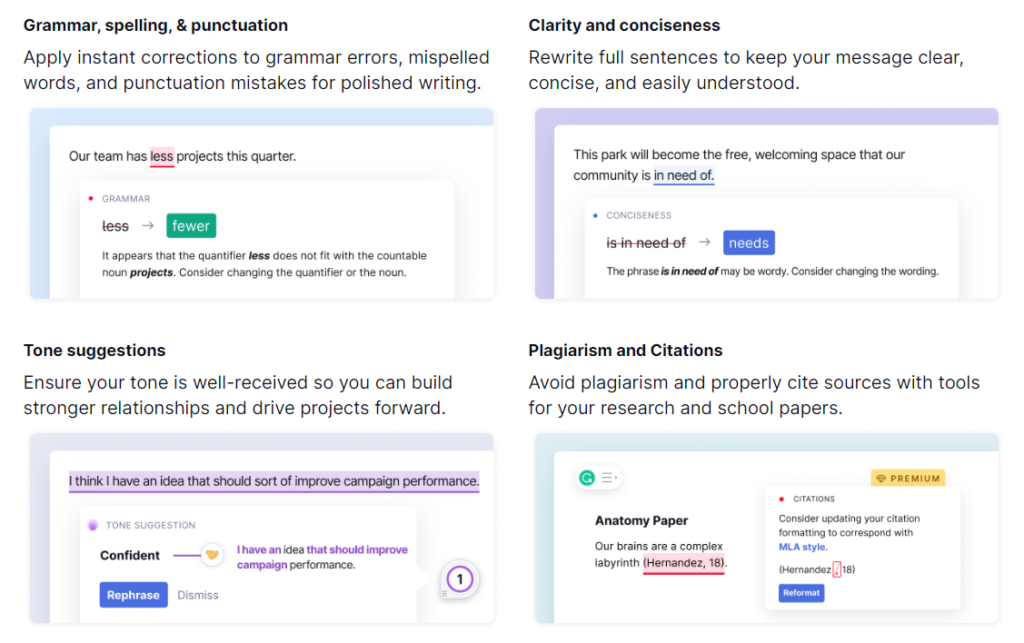 Image via Grammarly
It is also a great idea to have someone else review your proposal to ensure technical and conceptual clarity.
7. Not Personalizing Your Proposal
Copy-pasting content from your previous proposals is a big No. It is one of the most common and unacceptable business proposal mistakes every business should strive to avoid.
Each of your clients has a different personality and unique requirements. Using the same business proposal content for all the clients will make your proposal mediocre and uninteresting.
Let's say you are selling a website builder. The examples and visual elements of your proposal will be different to a finance client than to a social media influencer.
By providing relevant examples, you can prove to them that your tool is capable of making their website unique and impressive.
The solution is to personalize your business proposal for each client and propose solutions that are specifically developed for them. And even if you have to reuse content, you need to update it before including it in a fresh proposal.
8. Not Highlighting Value Over Price
One of the fatal business proposal mistakes that many business owners commit is to focus solely on pricing rather than on value.
It is possible that even your competitors are pitching to the same clients as you. In that situation, what matters the most is your USP. What makes your solution different and better than that of others?
The right approach to writing a business proposal is to clearly establish the value you would bring to your client's business. You should showcase your product or technology as an investment.
Let's say you have a SaaS company offering a good business expense management solution to a variety of companies. While writing a proposal, you should primarily focus on how your tool can help businesses to better streamline their expenses.
Showcase the success stories of your happy clients and then talk about the pricing. It always sounds more convincing.
9. Not Requesting Feedback
While this may not be one of the top business proposal mistakes, including this segment in your business proposal can be extremely helpful.
Whether you crack the deal or not, every interaction with a prospective client is a learning experience and not asking for feedback would be a mistake.
Their feedback can help you recognize your strengths, weaknesses, and the areas where you can improve to prepare a better pitch in the future.
Write Business Proposals Free of Common Mistakes
Writing a business proposal can be fun if you learn to avoid common business proposal mistakes. Today business owners, as well as freelancers, can use good business proposal builders to create professional and impressive proposals quickly. 
When you are writing your next proposal, keep the business proposal mistakes discussed above in mind and set yourself up to win more projects and grow your business. Good luck!
——
Author's Bio – Reena Aggarwal is a Director of Operations and Sales at Attrock, a result-driven digital marketing company. With 10+ years of sales and operations experience in the field of e-commerce and digital marketing, she is quite an industry expert. She is a people person and considers human resources as the most valuable asset of a company. In her free time, you would find her spending quality time with her brilliant, almost teenage daughter and watching her grow in this digital, fast-paced era.