A beautiful picture is worth a thousand words.
Food photography is experiencing a boom in popularity in the marketplace due to the fact that every brand has its unique identity and approach; online branding and social media messages that show your brand's visual representation are becoming increasingly important.
When it comes to promoting your restaurant, food photography is an important component of getting your brand noticed by your target audience. Restaurant hoardings, social media, websites, blogs, and the food pics on their hoardings can be a major factor in determining their growth. A food photographer's skills evident in his photography proposal are therefore very important, even essential.
However, do you really need to expend the time and money to make your food as delicious as possible with all you have to do on a daily basis? Indeed, some small and novice restaurants use Google to download the images, but in the event of a lawsuit, you should avoid using Google. In addition to that, a high-quality stock photo does not always have to be expensive or difficult to cite.
More and more websites are offering free images for commercial purposes – and the images look great! There are plenty of sites that will help you find anything you are looking for, from breathtaking landscapes to enviable office spaces. Nowadays, free videos and VFX stocks are even available for commercial use!
But before jumping to the list of free stock food photography websites, let's understand the significance of having amazing food photography for your restaurant.
Sell Food To Hungry People with Stylish Food Photography
Modern society has made everyone a photographer. Smartphone cameras are becoming increasingly sharp, and there is an increasing number of free editing apps available. Thanks to the Millennial generation, food photography is resurging due to the increasing penetration of social media in daily lives.
A meaningful message can be delivered through photography, and a brand's meaning can be explained and communicated through it. Due to the stiff competition, restaurant owners have to focus heavily on their brand identity in order to thrive. Investing in online marketing is important for restaurants.
Photographing food for online advertisements is crucial to the promotion of restaurants. These are the reasons why restaurateurs invest in food photography. Having a professional food photographer on your side will ensure excellent results. You can also add those images to your email marketing template.
"A Good Picture is a Marketing Strategy"
Taste, flavor, and sensation are all part of the food. All of this needs to be experienced just with the eyes. Moreover, online ordering has become a "norm" due to the pandemic; now, people are browsing digital menus; if your food photography seems poor, you won't be able to create the impression among diners. The key to winning their attention is activating their senses and making them look at your image.
Hence, restaurants are adding high-quality pictures in their delivery tech solution, because clients respond to photographs based on their emotional response since they communicate the specific mood and influence their emotions. Consequently, most people find it easier to choose their choice when they have photos on the menu.
Along with sales, quality food photography also offers some amazing benefits such as,
It strengthens your brand identity
User-generated photos can engage your diners
Let your photos talk before diners

Create a solid bond with your customers
Bottom line: Excellent photography in your advertising and marketing creates desire and excitement among your target audience for your food menu items, and contributes to their positive experience with your products. Your food will make them more likely to order takeout or dine-in from your restaurant and increase brand awareness, as a result.
10 Websites that Offer Free Images to Restaurants – The Food Styling List
In the above section, we have gone through the importance of having amazing food photography. But how to find alluring pictures? Does that cost more? Thankfully, No.
Free stock photos are one of the things we all love. Getting the perfect royalty-free images you need for your project for free is like finding gold. But it takes some time. Free stock websites that are great aren't just those with more photos or even those with better photos; they also have photos that are safe to use.
Fortunately, there has been an increase in stock photography websites popping up on the web. And luckily, they are free. Here, you'll find a bunch of awesome websites for downloading free stock photos for your restaurant.
1. Pixabay
The Pixabay website offers hundreds of thousands of free images, vectors, and illustrations. The categories on this website allow you to discover outstanding content. From amazing food pictures to interesting stories about animals, or about education, people, and the region, you will find amazing content on this website.
Pixabay's benefits include the ability to specify some features of your pictures, such as the image size, transparency level, black and white effect, and other features that make your photography more attractive.
2. StockSnap.io
There is a large collection of high-resolution, free stock photos available on StockSnap.io. You can easily find photographs from the thousands available on the website using a search engine. This site lets you find the most popular photos and downloads.
There are hundreds of new images added to StockSnap every day. Photos on StockSnap are available in the public domain under the creative commons license.
3. Unsplash
Over the past few years, Unsplash has become increasingly popular among bloggers and website owners. Freelancers and clients connect on Unsplash, which started as a give-back initiative. In its early days, it was a Tumblr blog, which evolved into an independent website with hundreds of thousands of stock photos for free from featured artists.
Every ten days, a new photo is added. It is likely that you will find fine food and restaurant images when browsing Unsplash since there are so many images to choose from.
4. Pexels
On Pexels, you can download free stock photos. You'll find a wide range of topics to choose from, so whatever your business is, you'll find it here. Its search function is one of Pexels' best features. Among the best stock photo sites, it is very user-friendly and offers a wide range of valuable filters.
5. Death to Stock
It's hard for companies, bloggers, and marketers to find free high-quality images that match their "vibe and emotions," so the website creators decided to build one for them. The result was the invention of Death to Stock. Your inbox will be filled with new photos every month. Premium membership from Death to Stock for $15/month or $180/year is a good option for those with a little extra budget.
6. Negative Space
Free and trending images can be found on Negative Space. Among its constantly growing collection of images, you're likely to find useful images for your restaurant or food business. You can search for photos using Color, Vector, or Category, among other options, with Negative Space. The contributor submits and reviews each image before it is acquired. Because of this, these photos are of high quality and may be used commercially.
7. Flickr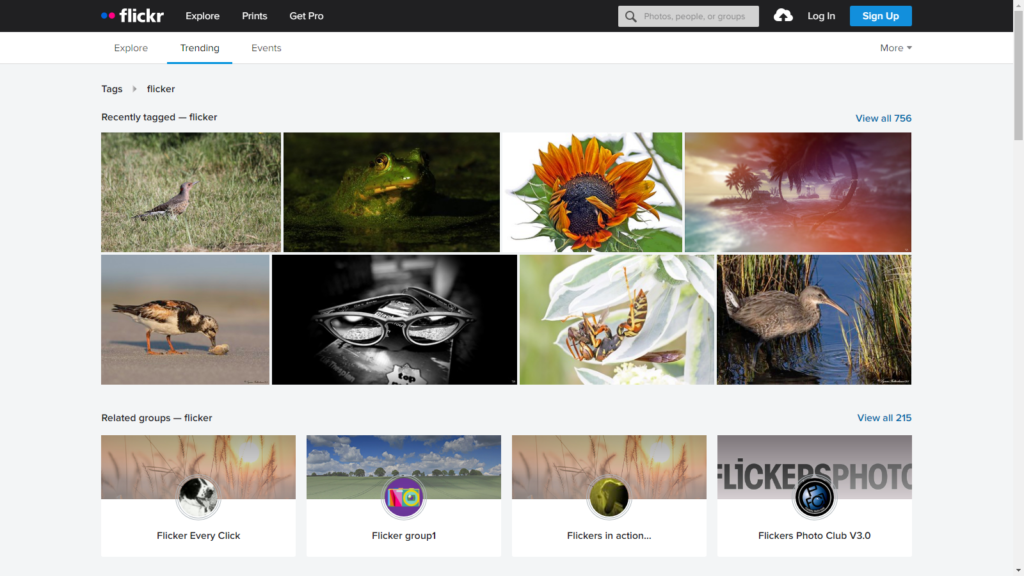 Despite Flickr not being a dedicated public domain image service, the service boasts a good selection of public domain images. As one of the oldest image repositories on the internet, Flickr is one of the most popular. As millions of high-quality public domain images are available, stock photography is not likely to run out anytime soon.
Flickr, too, is constantly adding new features. In addition, Flickr now gives you the ability to order photos for personal or commercial use directly from the site.
8. Burst – Launched by Shopify
Burst, a tool Shopify created in 2017, allows users to upload royalty-free images which can be used for commercial or e-commerce purposes in general (although they can also be used in marketing campaigns or blogs).
There is a huge library of high-resolution images available in categories such as fashion, lifestyle, and technology. All Shopify images, regardless of whether they were taken by hired photographers or users themselves, are free to use.
These photos can be used for restaurant websites, food videos, social media, advertisements, and more. A plus is that they're highly commercial: they are authentic-looking images that can be used in commercial applications.
9. Gratisography
Artist and designer Ryan McGuire founded Gratisography in order to provide free stock images on his website. These free stock images were all taken by Ryan, so they're incredibly unique. Use the content from this website to make your store stand out from the crowd. Additionally, entrepreneurs in the food and eCommerce industries have found Gratisography to be useful for finding free stock images.
10. Freepik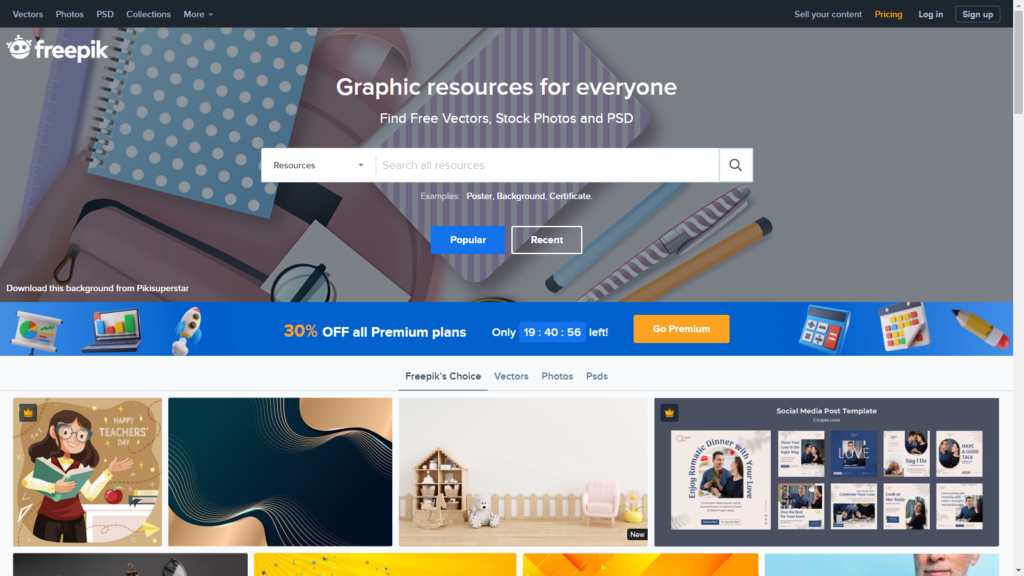 People turn to Freepik for a variety of reasons, like finding stock photos, vectors, illustrations, and PSD files. Freepik, the visual resource company, has been downloaded over 100 million times each month on those platforms.
Give Your Food Images Legs and Influence Decisions of Diners
Whether it is your restaurant's print ads, online advertising, social media posts, signage, menus, or any other promotional print or digital material, your photos define your brand. You will be able to use those photos on everything to get the word out about your restaurant once they're taken.
The art of styling food includes making it look delicious before the camera. Storytelling and emotions go hand in hand. Food styling involves visualizing the food's taste, in addition to making the food look beautiful. So leverage these websites, and you will have unlimited access to images that offer free stock photography and draw customers in.
Author's Bio:
Nirav Parmar is an online marketer and blogger having hands-on experience in crafting creative content. The skills he poses in creative writing are fantastic as his ability to write engaging content attracts the readers. His enthusiastic approach to researching the facts related to the topics is phenomenal. He knows all the latest trends of delivery business, strategies to digitalize SMEs, changing market dynamics, etc.