Writing a good proposal often seems harder than it is. When we find the job that we think is great for us, we want to represent ourselves in the best light possible and that is definitely understandable.
Many clients receive a large number of proposals on a daily basis. It is certainly important to stand out so that you can get that dream job. Therefore, there is even more pressure.
On the other hand, you may lack inspiration, so this is an additional problem that makes proposing writing look even more difficult. And especially if you are at the beginning.
In order to prevent these things from being an obstacle ever again, in this text we bring you 8 best converting business proposal letter examples. Let them serve you as an inspiration and motivation and after you learn something new from these examples, writing proposal letters will turn out to be a piece of cake.

1. Add a cover letter
The cover letter serves to somehow let your potential employer know that you exist, to say 'hello', and to introduce yourself. It should be clear and simple.
The goal is to establish communication since the proposal itself is a more comprehensive description of your skills, knowledge, and how you will perform the job in a particular position or approach a specific problem.
Here's a great example of a cover letter: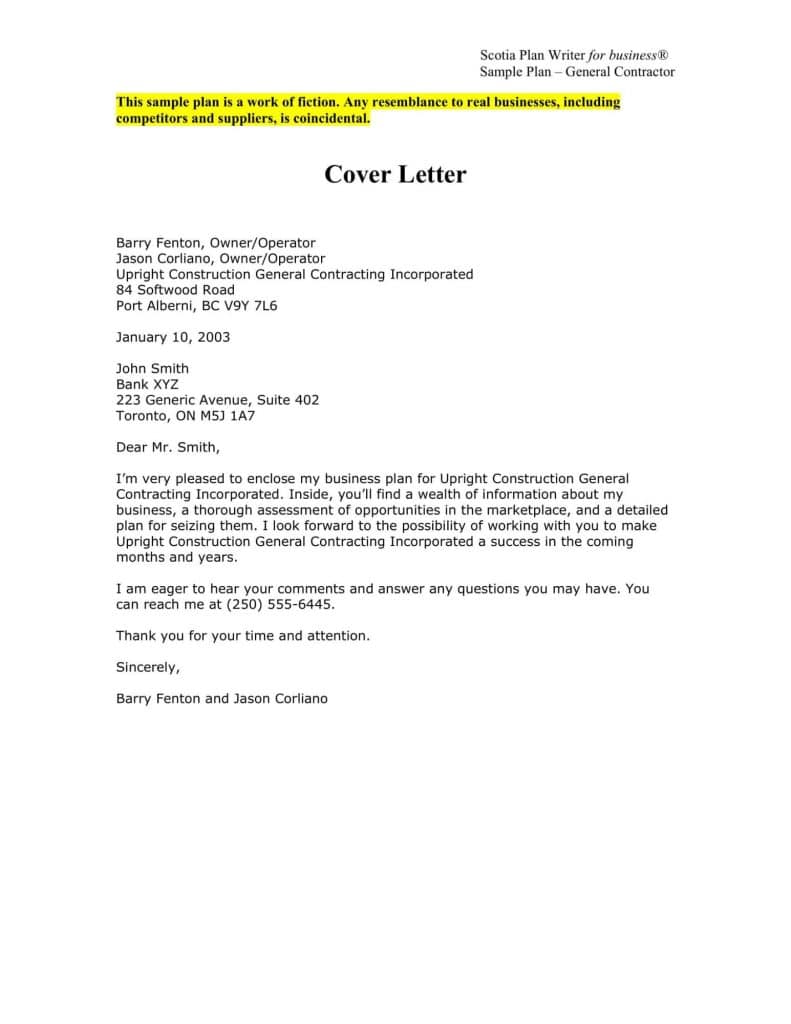 Source: TheAlmanac
2. Choose the right picture
Keep in mind that clients receive all kinds of proposals ranging from those that they will not even bother to look at, to those that will delight them and make them excited. You certainly want to find yourself in the latter group.
One way to get your proposal letter right is to add something that will make it eye-catching.
The easiest way to do this is to choose the right photo. It can be a photo that describes your occupation in a metaphorical way, or, if it is easier for you, it can be a literal representation of what you are doing.
If you are writing an unsolicited proposal, that is, a proposal client did not ask for, then it is a better solution to choose a simple but visually appealing photo. In that case, the client will not have time to interpret what you wanted to say, so it is better that it has a clear message.
For example, if you are into photography, it should look like this: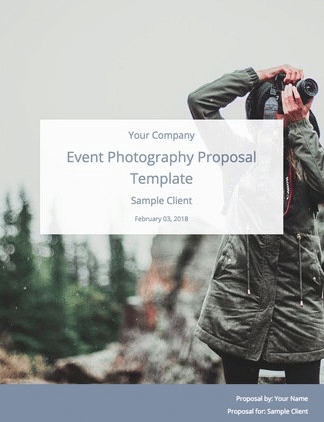 Maybe the same client has opened multiple positions, and this way, it will be completely clear to him which position you are applying for. 
Also, such a clear message will make him aware that you are someone who cares about every detail and that reaching an agreement with you is very easy as you are a true professional. Why not get a few extra points right at the start?
3. Pay attention to the first page
Your proposal is a kind of presentation where you will showcase your skills, how you can solve a particular problem, the price list, and similar. Besides that, it is important that you present everything in some kind of order.
The first page of your proposal should contain basic information such as the title of the proposal, the name of the client, the date, and any other items that you consider relevant to the job you are applying for.
See the following example: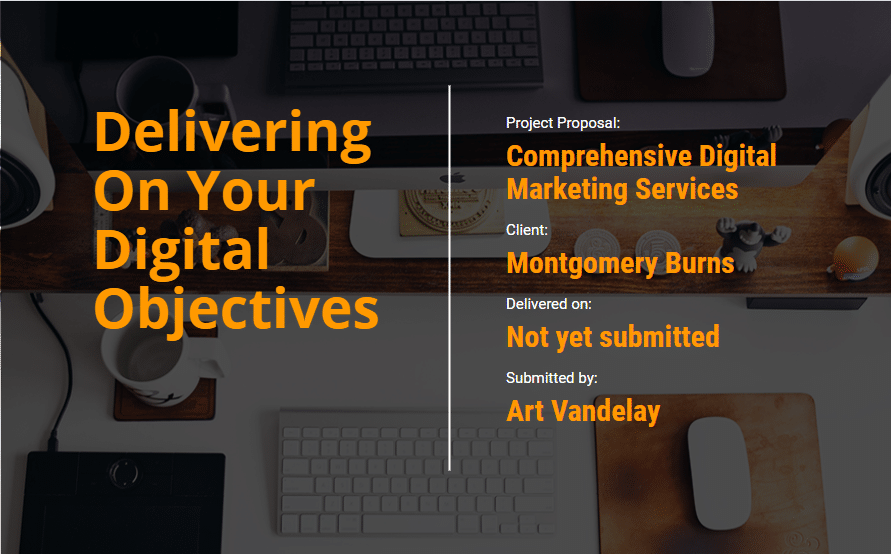 These "little things" say more about you than you can imagine. When it comes to this particular example, we can see that it is about being an organized person and someone who is detail-oriented. 
You are showing that you are not the type of person to miss out on important things that could affect the work you do. And, these are the main items that are required and implied for any type of business.
The client may not even tell you this, but be sure it is noticed and remembered.
4. Organize your proposal 
When you start writing and creating your proposal, organize each segment that you will include in your letter. This will make it easier for you to keep writing without making any pauses and not forget anything that matters.
Prospero's feature The Proposal Wizard, which looks like this, can be of great help to you:
You can see that there are several sections:
Client

Project

You

Pricing strategy

Deliverables

Milestones
They show you what information to insert for which segment of the proposal and then it ultimately creates a proposal of your choice.
You can customize it, change colours, insert images and logos. This will save you a lot of time and you will be able to apply for several jobs.
Whatever job you do, it is important to be familiar with tools that can help you make any part of it easier and faster. Thereby you are not saving on quality, but increasing it.
5. Create a table of contents
It may not seem like an important item to you, but the table of contents is something that should be included in every proposal.
Maybe your clients do not have time to read your entire proposal. Maybe they urgently need someone for a specific position. Maybe they have read too many proposals and they remembered only one section of your document and wanted to check if that was really you.
That is too many "Maybes" to run the risk of losing your position just because you have forgotten the table of contents.
So, make sure to include it. The table of contents should look something like this: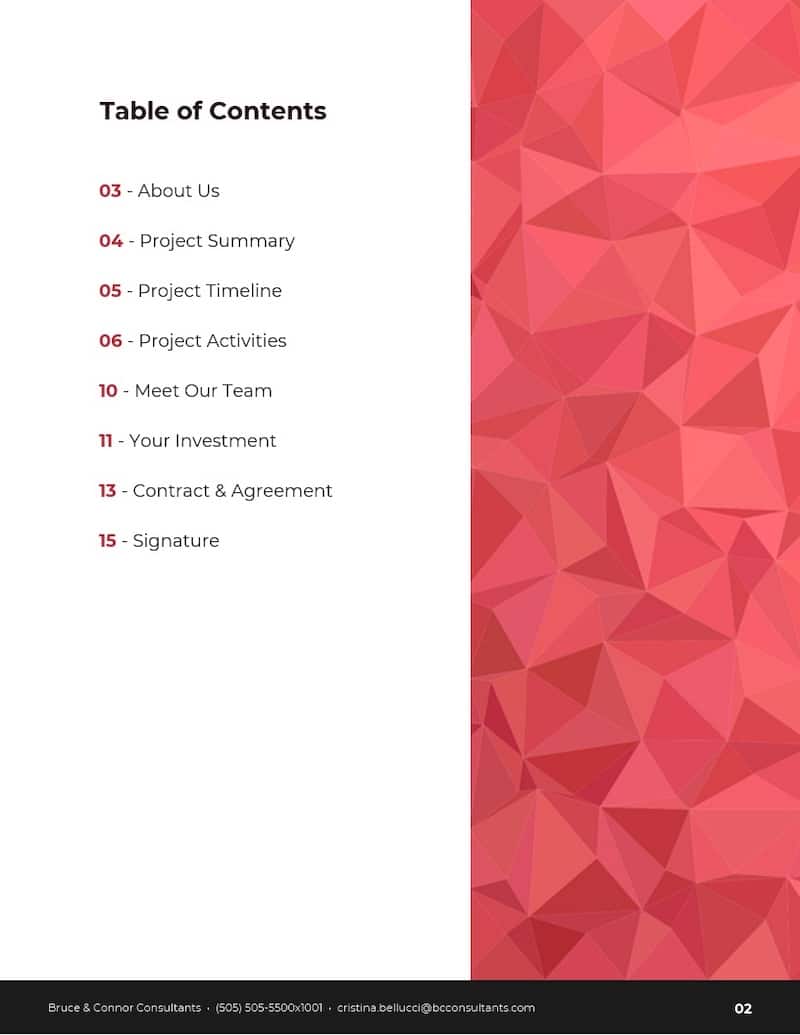 Source: Venngage
Of course, you should not copy an identical table like this one. Adjust it to what is in your proposal.
Make sure you put it at the beginning of the document to make it easier for the client to see it as soon as possible.
You can create the table after completing the entire proposal or at the very beginning if you want it to serve you as a kind of personal plan and reminder. Choose the option that is more efficient.
6. Enter project details
There is no reason to tell your client the entire plan on dozens of pages of your proposal unless, of course, he asked for it.
Also, you should not omit it entirely and write down your skills only, as the client needs to know in which way would you solve a particular problem and why.
Just write a few major stages and briefly explain what each of them would contain. In this way, you will also show your experience and what path would you choose to come to a solution.
Let's look at the following example:
Source: Foundr
Of course, the length of this section where you enter project details and stages will depend on what you do and what the client has asked for exactly.
7. Determine the pricing strategy
Your price list is also one of the key parts of a business proposal. It should indicate how much each segment of your service costs.
Depending on what you do, you will enter the required time, eventual completion date, and the like. If the proposal covers specific products, enter quantity and price.
At the end of the proposal, write down how much your complete service costs in order for the client to keep that in mind when concluding the deal.
For example, Prospero lets you specify deliverables after you enter basic information about yourself, your client, and your project:
Depending on the type of business you are doing, you can add all the items that make up your offer and give a clear overview of everything that goes into your service.
8. Don't forget the signature
Be sure to leave a place at the end of the proposal where your client will be able to sign electronically if needed.
Thanks to the advancement of technology, he can do it easily and quickly and it will show that you have taken care of every detail.
It should look something like this:

The bottom line
To summarize, for a business proposal to be successful, it must be:
organized

detailed

substantial

visually-appealing

clear and understandable
This may seem easier said than done when you are already under pressure to represent yourself in the best way possible, not to exceed the deadline for application, to surpass the competition, and similar.
However, nowadays, that may not be the case at all. One of the best tools on the market to make your proposal include everything necessary is Prospero.
Prospero is designed to cover all these important items, leaving you plenty of room for customization and expression of your creativity.
It will save you valuable time and, at the same time, delight your clients.
It also allows you to see when your proposal was first opened by the client, how many times it was opened, and how much time the client spent in total viewing and reading your proposal.
Instead of worrying about whether the client has had the chance to look at it, you will now know exactly what is going on.
If you want to get any job position with ease from now on and reach even more clients, Prospero is the right choice for you.
Don't waste your time, all those great business deals are waiting just for you!