To many people, freelancing sounds like it is a lot easier than having a more common job.
Working time flexibility, different organization, potentially higher incomes, and similar, can all be huge benefits of being a freelancer.
However, achieving high goals in this type of work can be complicated because you are left all to yourself. It often takes an extremely good organization of both time and money.
All those who consider themselves freelancers know that there is no money when they are not working because there are no paid holidays, for example.
So, to get things right, using some of the best freelance apps can do a great deal for you and it can help your business grow.
Below, we chose applications that will save you a considerable amount of time and ease the various processes of your business.
In some way, proposals are an ID card of your abilities. It all starts with them.
In order to convince a particular client that you are the ideal person to get them what they need, your proposals must stand out from others and show all your skills in the best light possible.
Sometimes, you simply do not have the necessary inspiration to put it into practice, or you are new to writing such documents.
That doesn't mean you should give up. Instead, you should use the assistance of one of the best freelance apps such is Prospero.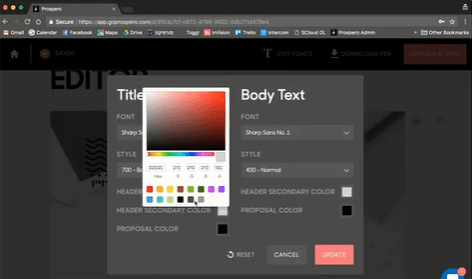 This app is extremely easy to use, and it will save you an enormous amount of time. It will also make your proposals stand out and portray you as a true professional.
To truly facilitate each segment of proposal creation, Prospero incorporates the feature The Proposal Wizard, which is a step-by-step process.
Consequently, it is suitable for both beginners and more experienced freelancers.
Thanks to the information that you can quickly type in the specific fields in this feature, the tool itself will quickly customize the document for you. Of course, you can also make your own changes.
Each segment of the proposal can be modified according to your needs. Enter your logo, pictures, videos, important information, and more.
You can choose whether to send the document as a pdf file or as a responsive link, all according to your potential client's requirements. 
Online signature is also possible, so you can save both yours and your client's time.
With the help of analytics, you can track when your proposal was opened by the client, how many times it was opened, and how much time the client spent looking at your document.
By using Prospero, you will have the opportunity to apply much more quickly to the multiple positions that you want.
2. Google Docs
Google Docs is a great tool for organizing your documents.
You can create different documents, save them, access them whenever you need them, and edit them as you like.
There are also various templates in the form of reports, resumes, and similar, that you can use for different purposes.
You can easily share them with a client or an associate or even work on the same file at the same time.
Google Docs will make your job much easier, as you will be able to save everything that you do in it and to organize it into folders as you see fit.
If you are working on a file, simply sharing the link will give access to whomever you want, and you can edit someone else's document along with having the ability to leave comments.
Every change you make is automatically saved, so there is no fear of losing any of your changes.
Also, you can see previous changes.
You can easily insert files from Microsoft Word, and when uploaded to Google Docs, they will not undergo any unwanted changes.
3. Dropbox
Dropbox is one of the most popular alternatives to Google's tools, in this case, Google Drive.
This application allows you to save all the files that are important to you and that you want to have in one place.
You can access them anytime from your tablet, desktop, or mobile phone.
If you want to share specific files with someone, you can create a shared folder and allow access in that way.
Dropbox keeps track of your activities, and, with the help of smart content suggestions, it will allow you to quickly access the files you need the most.
It offers calendar integrations where you can save all the meetings you have and get a clear view of your schedule.

The Dropbox's goal is to make it easier for you to get more organized and to help you stay focused on work and important tasks.
4. Focus booster
Often it may seem that the day does not have enough hours to make it possible for us to do everything that we want or need.
This can especially be a problem for freelancers, as there is no fixed working time. In order not to procrastinate, you need to keep track of your time and to try to use it effectively.
Focus booster is one of the best freelance apps that works on a Pomodoro Technique principle.
This technique involves intervals of 25 minutes between which short breaks of 3-5 minutes are used. Four Pomodoro intervals of 25 minutes are followed by longer pauses of 20 minutes. Then, the process is repeated.
With the help of this application, you can track how much time you spend doing a certain activity. 
Not only do you have to keep track of your business commitments, but you also need to keep track of all the others that you have throughout the day.
You can record your Pomodoro sessions, and if you forget to start the timer, you can create entries manually.
There are also reports to help you analyze your work.
Focus booster is a great application for those who want to get the best results and stay on track.
5. Microsoft To Do
Creating a to-do list is an old way of staying organized and preventing you from forgetting about certain tasks during the day.
Microsoft To Do has taken the creation of these lists to a higher level. The same team that created Wunderlist made this application too.
Thanks to it, you can make various lists related to work, family, sports, purchasing, and whatever else your needs are.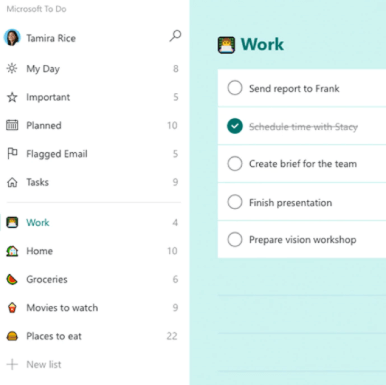 You can download the app to any device, so it may be with you on the go.
As soon as you finish doing something, click, and continue with other tasks. It is as simple as that.
This is a great option for those who are trying to balance many items, and you will realize that your productivity will reach a higher level.
You will prevent yourself from forgetting something that is important to you or someone else.
You can also share lists with anyone you want. If you are organizing an event, you can share the commitments with the others involved.
Each more complex task can be divided into several steps for ease of completion. With Microsoft To Do lists, there are no more missed or forgotten tasks, and with My Day feature, you can personalize your planner to your liking.
6. Grammarly
Writing documents, reports, proposals, and even general communication with the client requires that they be flawless in both visual and spelling terms.
The mistakes can often act as a trait of negligence and unprofessionalism, or worse, lack of education.
Given that you certainly don't want to leave that kind of impression, Grammarly can be of great help to you. It works according to the principle of artificial intelligence and automatically spots the wrong parts of the text by underlining them.
This simple application manages to spot various grammatical errors, typos, punctuation, and even unnecessary spaces. Also, if possible, it will offer you more of the right options to choose the one that works best for you.
The important thing is that Grammarly does not correct errors unless you click on the correction yourself. So, if you enter a name that this application does not have in its dictionary, you can add it by clicking "Add to dictionary".
Grammarly keeps your writing style flawless, and it helps you to leave the impression of someone who is paying attention to every little detail.
The bottom line
When you decide to become a freelancer, you face many challenges.
Although nowadays more and more people are opting for this type of work, given the many benefits it brings, it can often be very difficult to achieve everything that you have in mind.
The fact is that no one can do your job instead of you, but, as you can see, there are numerous tools that can make the whole process much easier, and relieve you of unnecessary stress.
There is never enough time, deadlines are often too short, but having a good organization with the help of these best freelance apps can really work wonders for your productivity and for the achievement of important goals.
Organize your tasks with ease and enjoyment, so distractions and reaching the point of burnout won't be your everyday problems.
Remember that it all starts with proposals and that they are the most important presentation of your experience and abilities.
For many freelancers, self-presentation is a problem, and therefore not a very favourite activity.
However, you now have the opportunity to try Prospero and see how fast and easy you can make incredible proposals that are sure to make a positive impression on your customers.
Allow your freelancing carrier to reach a level that you never imagined possible.
Good luck!