One of the most important tasks for every e-commerce startup is reaching valuable clients and attracting and maintaining their attention in order to score as many job opportunities as possible.
Business proposals are essential for getting more sales, so you need to give your best to present your skills properly and leave your client breathless with a beautiful template design.
This business document can help you bridge the gap between you and your potential clients, and you only need to find the best and the most efficient way to address your skills and provide them with a solution to their problems.
You need to impress your clients, showcase your skills, and present your plan in order to build trust and create long-term relationships.
To help you do that, we have chosen several best sales proposal template practices for your e-commerce startup so keep reading and learn more about them right away!
1. Use headings and subheadings to make a proposal skimmable 
When writing this type of document, the best practice is to make it easy for your clients to read and understand everything quickly and enough to find out what exactly you offer.
You need to organize your sales proposal as much as you can and make reading it an enjoyable experience for your potential clients.
Your clients are usually very busy people who don't have much time, so try to keep your proposal simple and organized into readable sections with headings and subheadings.
We can see below one of the greatest examples of how you can do this: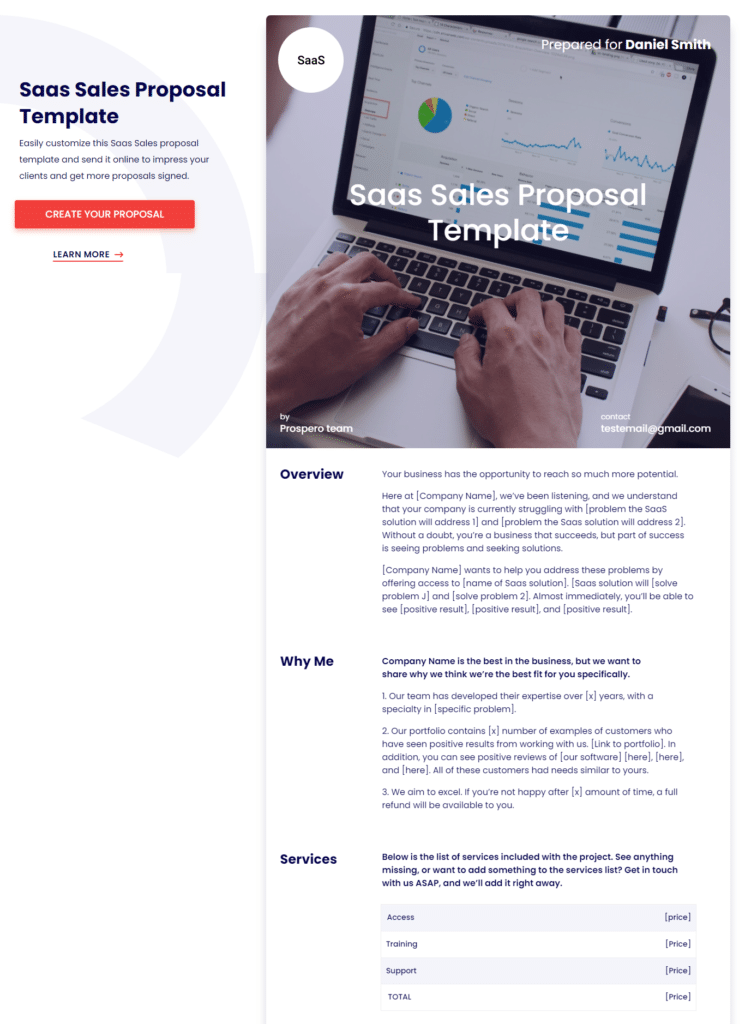 Prospero offers a proposal template with clear sections such as overview, why me, fees, and more if a client wants to skim through your proposal.
It looks very simple but professional and clearly shows clients what to pay special attention to when they start reading.
Each paragraph or section of your proposal should contain:
Headings
Subheadings
White space between paragraphs
Tables
Lists
If you want to offer your potential clients a well-organized and properly written document, use all of these items and use them wisely.
Your headings and subheadings should be made not of complex descriptive words but of simple but effective words that will guide and persuade the client.
Your sales proposal mustn't be confusing, as it can turn your potential clients away from your e-commerce business.
Each paragraph should be brief, clear, and relevant.
Your sales proposal speaks a lot about you as a business owner, so pay attention to all the important details and prove that you are a real professional.
2. Add visuals and colors to show how stylish your proposal can be
Humans are visual beings, that's for sure.
Therefore, you need to include different visual elements in your sales proposal template to make it look great and refreshing.
Style is another factor that indicates high professionalism, and that is why you need to add a certain flavor to your document visually to attract more interested clients.
The overall design of the document should be appealing enough to your prospective clients to make them want to invest their precious time and keep reading.
It should also be directly related to you and represent your brand so that your clients know they are actually in the right place.
Take a look at this example:
It is creative, has a simple but interesting theme, and is full of different images that are proof of various previous works, as this particular web design proposal is focused on presenting the services of a website designer.
Although colors are kept to a minimum, everything looks perfect.
So, to make your sales proposal as effective and beautiful as possible, try adding:
A proposal that looks good is just as important as any other segment when it comes to creating the ideal template for a sales proposal, so experiment, try different things, and try to improve the aesthetics as much as you can.
Once you make a quality template, you will be able to continue to use it in the business, of course with slight modifications and customization in accordance with the taste of each client.
You can even add a logo or a video and elevate your proposal's quality even higher.
3. Include an executive summary to explain to your clients how you plan to solve their problems
An executive summary explains in more detail everything that is important and provides your potential client with more information regarding the job itself.
Although its primary goal is to attract clients enough to read it and get a rough idea of what you're offering, your ultimate goal should be to make them want to read the proposal in its entirety.
It should also put your client's needs first and show them that you actually care about them and that you appreciate the opportunity they have given you.
This is a section of the sales proposal that you should pay special attention to because it will most probably decide whether your client will get the impression that you are the right person for the job.
So, you need to sound convincing and dedicated, but you also have to be clear and explain exactly how you can help them solve their pain points because that's what interests them the most.
Hubspot's executive summary looks like this, but there are many ways how you can write it in order to leave the best impression you can.
Above all things you should address the problem, your propositions on how you plan to deal with it, what separates you from the competition, some kind of evidence of your skills, and more. 
The essential parts of an executive summary are:
The opening paragraph – should be attention-grabbing and brilliant in order to keep your client's attention; keep it about them and their needs but highlight your advantages and be specific and straightforward.
The part where you explain that you understand what the problem is – in addition to explaining how you see the situation, you need to offer some type of evidence that you possess certain skills and experience; show them that you have researched, that you have experience with dealing with similar problems, and complete it all with facts that set you apart as an expert.
In the part where you offer solutions and predict positive results – it is not enough to just list all the propositions you have, you need to say why you think they will work; talking about positive results will deepen their interest and make them believe you actually know what you're doing.
The part where you provide more evidence and explain what separates your brand from the competition – should explain what is unique about your brand and which skills of the ones that you possess will ensure the success of this project; emphasize why you're the logical choice.
The CTA and the conclusion – you should sound inviting, ensuring, and eager to realize this cooperation; end your executive summary on a positive note.
Writing the executive summary is the most important task to focus on because that's the first segment that someone who is in a hurry will read.
That is why, when you finish your proposal, you need to check everything twice, and only then is your sales proposal ready to be sent.
4. Include deliverables and timetable to inform your clients when they can expect them
The best practice is to create a separate section for the pricing table where you can enter all the service prices and also how much each service/product costs.
That way, prospective clients can clearly see what is available to them and decide if they think these services are worth it.
Be careful when listing the prices because you don't want to either overestimate or underestimate yourself, so it is best to create a responsive pricing table as shown below and allow your clients to choose the services they want.
As with any type of deal, your sales proposal should include costs, deliverables, and the timetable as well.
They allow your client to see when he can expect certain parts of the job to be completed.
These are more specific details that every client will be looking for and you should set them:
Clearly
Realistically
Sometimes the client will already have a defined budget for a certain project and will want the services to fit into it, and sometimes he will be more flexible in terms of budget and you will be able to make a deal.
Also, you should try to strike a balance between being immodest and being objective because if a client notices that your services are overpriced, it can turn him away even though your proposal sounded great until then.
Important information like this should not be left out as it testifies to the professionalism and value of your brand and you as a business owner.
To Sum up
Presenting yourself and your skills to the clients appropriately is not an easy task, but it can be done easily with the help of certain popular practices.
As a business owner, you will send out a lot of sales proposals, but before you do that, it is best to create a perfect sales proposal template to save time and have everything ready for new opportunities.
You can speed up the process of sending out proposals by using certain tools such as Prospero.
Prospero offers numerous beautiful templates that you can customize and use in order to impress your potential clients and stand out.
Take these tips into account, and serious business opportunities will surely follow!