By definition, a personal brand is "the way you market yourself and your career as a whole." In other words, it's the impression that you make on others.
A personal brand is the unique mix of skills, experience, and personality you offer the world. It's what distinguishes you from the others, allowing you to connect with your target audience on a deeper level.
Establishing a strong personal brand may help you reach your professional goals, even if you're a small business owner or a corporate executive.
And with social media platforms like LinkedIn, Twitter, and Instagram making it easier than ever to connect with potential customers and clients, 2022 is the perfect year to focus on creating a marketable personal brand.
By creating a strong and recognizable personal brand, you can differentiate yourself from the competition, build trust with clients and customers, and attract new business opportunities.
Those who invest in personal branding will be well-positioned for success in the coming year.
The benefits of creating a marketable personal brand
Differentiation
With so many businesses competing for attention online, standing out from the crowd can be difficult.
Nonetheless, a marketable personal brand can help increase the chance of your business being noticed.
By sharing your unique story and communicating your values clearly in your business proposals, you'll be able to connect with your potential audience in a way that generic businesses can't.
Increased trust
A strong personal brand can do more than raise your profile – it can also help you build trust with your audience.
People are more likely to believe what you say when you are clear about who you are and what you stand for.
That's because they can see that you are being authentic and that you believe in what you are saying.
When you have a distinct personal brand, people are more likely to remember you and recommend you to others.
New business opportunities
Personal branding can also open doors to new business opportunities. By positioning yourself as an expert in your field, you'll be able to attract the attention of potential clients and partners.
And, as your brand grows, so will the number of opportunities that come your way.
Seven tips for creating a marketable personal brand
As we discussed above, there are a lot of perks in creating a marketable personal brand.
We can confidently say that it is a powerful marketing tool. But what does it take to create a marketable personal brand?
Here are seven suggestions to guide you:

1. Establish your brand principles.
Personal branding is about developing an identity with established core values and principles. These qualities will inform everything from your social media presence to the way you dress and carry yourself.
Some good qualities of a successful brand are authenticity, uniqueness, and consistency.
Consumers can sense when a company is being genuine, and they're more likely to trust and engage with brands that feel authentic. It would be beneficial if you also maintained a similar tone and message throughout all of your platforms, from social media to your website and email newsletters.
Moreover, it's essential to highlight what sets you apart from the rest, whether your perspective, passions, interests, or achievements.
Keep in mind that the qualities of a personal brand should be reflective of who you are.
After you have a firm grasp of your brand principles, you can start creating content and strategies that will help you build a coherent brand identity.

2. Develop a personal branding strategy
Developing a strategy for your personal brand is essential to achieving long-term success. Without a plan, it's easy to become lost in a sea of ideas and miss out on possible connections and engagements with your target audience.
So how would you develop a strategy for your brand?
The first task is to identify your target audience. It would be best if you had a clear picture of the people you are trying to reach, both customer profile and buyer persona.
You can survey what their likes, demand, and needs are. Your target audience will largely determine the direction of your personal branding strategy, so it's essential to get this step right.
The next task is to set some goals for your personal brand. What do you hope to achieve? Would you like to be acknowledged as a key player in your field? Do you want to attract more clients or customers?
Either way, it's crucial to have a clear idea of what you want to achieve with your brand before you start working on it.
Once you've established your goals, you should explore the features of a competitor brand that you find engaging and exciting.
In contrast, you should also assess the weakness of their brand.
Your gathered data can help you develop strategies and content to make your personal brand better than your competitor.

3. Create content or a website to showcase your work
It's essential to have an online presence if you want to be successful in building a personal brand.
An effective way to promote your work and establish yourself as a leader in your field is to create engaging content or a website.
Your website or content should also reflect your personal brand and be designed so that it's easily navigable and visually appealing. Below are some forms of content that you may include in your content marketing strategy to attract curiosity about your brand;

A blog is an excellent content strategy for sharing your brand's story, highlighting your products and services, and providing valuable information that your customers will appreciate.
You can show potential customers that your brand is active and worth their time by providing fresh, relevant content.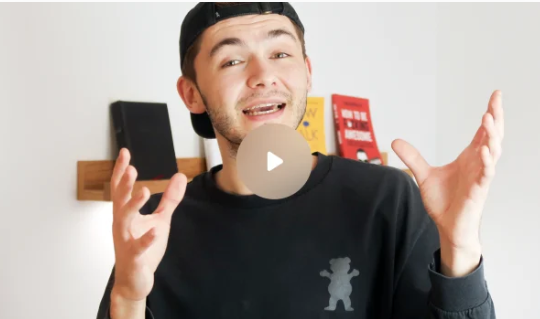 There are various ways to use video to achieve your marketing goals, from product demos and customer testimonials to behind-the-scenes footage and educational content.
By taking the time to create thoughtful, well-crafted videos, you can ensure that your brand makes a lasting impression on everyone who watches.
If you're opting to use video content and animations, cut your video short, as people have shorter attention spans when watching videos.
An infographic is an excellent way to show complex information in a visually engaging way.
If you have data or statistics that you want to share with your audience, an infographic is an ideal format.
Infographics are easy to digest, but they're also highly shareable, making them a valuable asset for any personal branding strategy.
Podcasts are a growingly popular way for people to consume content. In fact, nearly one-third of Americans say they have listened to a podcast in the last month.
And with good reason – podcasts offer a convenient, engaging way to stay up-to-date on your favorite topics. Send out a podcast interview proposal so you can connect with some key influencers in your area of expertise.
4. Determine the best social media networks for your brand
There are a lot of social media sites available, and it can be overwhelming to try to be active on all of them. Instead, select the social media sites that will work best for you and your personal brand.
If you're a writer working to create a personal brand, Twitter is a terrific place to share your work and network with other authors.
Using hashtags can be an efficient way to connect with larger audiences but don't overuse it. Using one to two hashtags is recommended for each tweet.
On the other hand, if you're trying to make a personal brand as a visual artist, Instagram or Tiktok would be a better platform to showcase your work. In resizing or cropping your reels and photos, the best aspect ratio for Instagram is 4:5, while for Tiktok is 9:16. Make sure to put effort into your Instagram caption and Tiktok description.
Youtube is the best platform if you are a vlogger who wants to showcase your video editing skills or long-form video content.
The optimal length for your Youtube video is between seven to 15 minutes, and the recommended video format is MP4.
The important thing is to select the social media platform that will help you achieve your goals and then be consistent in your activity and engagement on those platforms.

5. Connect and collaborate with others in your field
Collaboration and networking with people in your industry is another great way to build your personal brand. You can collaborate with influencers, bloggers, or professionals in your area on blog posts or articles.
You can also give interviews, speak at conferences or host webinars. These activities will help you gain visibility and establish yourself as an authority in your field.
It's also an excellent strategy to build relationships with other professionals in your industry.
Participating in online communities related to your field is another option to connect with others. You can join relevant LinkedIn groups or participate in forums related to your industry.
6. Monitor new trends and developments
It's essential to stay tuned with the newest trends and developments in your industry to stay ahead of the competition.
Google has a handy tool that you may use to find trending topics in your area. You can also subscribe to newsletters, read industry-related blogs, and follow influencers on social media.
Additionally, you can network with other professionals and learn about the newest trends by attending industry events and conferences.
This will help you identify new opportunities for your personal brand. It will also give you ideas on improving your brand to make it more relevant and marketable.
7. Hire a personal branding coach or knowledge manager
Invest in professional help to take your brand to the next level.
A personal branding coach can help you develop a strategy for building your brand, identify your market audience, and create content that will resonate with that audience.
They can also provide valuable feedback and guidance on how others perceive you.
Alternatively, you can hire a knowledge manager to help you identify the knowledge and skills that you have to refine your brand.
Knowledge managers are responsible for identifying, organizing, and disseminating information inside your business. In other words, they are masters at finding and sharing helpful information.
By conducting research, maintaining a library of resources, and sharing their findings with you, a knowledge manager can help you stay up-to-date on the latest trends in your industry, develop a solid online presence, and build a reputation as a key player in your field.

In summary, there are various ways to develop a marketable personal brand.
By taking the time to develop your online presence, create valuable content, and build relationships with key influencers, you can position yourself as an authority in your field and attract the attention of potential customers and clients.
Personal branding can give you a significant advantage in today's competitive marketplace.
So start working on your personal brand today, and you'll be well on your way to success in 2022 and beyond.