The growth of the e-commerce industry has escalated, thanks to the Covid-19 pandemic. Lockdowns have forced people to stay indoors and check out eCommerce stores for their daily requirements. The shopping trend changed ever since people became addicted to online stuff getting delivered at their doorsteps with a single click.
Statistics indicate that in 2021, the count of digital buyers is estimated to be 2.14 billion approximately. This rise of e-commerce penetration has forced many business owners to expand their business in the online sector. Furthermore, with the ease of CMS platforms, building a website has become quite easy. 
Understanding Ecommerce Conversion Rate
Your eCommerce website may have ample incoming traffic, with visitors navigating through your products regularly. But not all of them reach the shopping cart. Unfortunately, many do bounce in between and abandon your website.
Ecommerce conversion rate is the percentage of the count of visitors buying from your site divided by the total count of customers visiting your website. 
Purchase count / Total visit count = Ecommerce Conversion Rate
Low conversion rates are responsible for low sales, and hence if you wish your customers to reach the end of the sales funnel, I can give you some effective tips which can boost your conversion rate and profits. 
Steps for Increase in Ecommerce Conversion Rate Optimisation:
1. Optimize your Landing Pages:
The improved process on your landing page so that all the elements are visible and defined to create more customers is called Landing Page Optimisation. It helps get the best conversion rate by reducing acquisition costs, gaining more customers, and increasing sales. 
Tips:
Keep the landing page simple

Use of vibrant colors

Important elements should be above scroll

Easy CTA buttons

Include Contact Information

Ample payment options
Research indicates an average landing page conversion rate at 2.35%, but if your site reaches the top 25%, the rate is 5.31% or high, whereas your site visibility in the top 10% fetches you a landing page conversion rate of 11.45%. 
2. Use High-Quality Images and Video on Your Product Pages:
Highlighting your product pages with appropriate content that states the product's name, manufacturing date, features, and advantages is very important.
But apart from the content which defines your product, ensure that you click ample high-quality images, product videos, or animated explainer videos showing its uses and benefits. Zoom options and other product specifications are an added advantage.
Motivate your visitors to purchase the product, edit videos online and post them to grab their attention, and compel them to instantly buy your products to increase sales. 
3. Reduce Page Loading Speed:
Unoptimized images, high-resolution images, javascript issues, large flash content, ignoring compression, etc., devour plenty of bandwidth, thus slowing the site/page load process. High page load speed negatively affects sales and traffic.
It would be best if you reduced the page load speed for better e-commerce rate optimization. Your customers won't wait for your site to load since they have ample competitive options.

Seconds matter!! Research indicates that an ideal page load speed is 2 seconds, and if pages that take 5 seconds for loading face a bounce rate of 38%. 
Google Pagespeed Insights tool is awesome because it tells you your score and gives feedback on improving the same for a better conversion rate.
4. Provide Limited Time Coupon Codes:
Coupon codes and discounts attract customers to buy more, thus raising the conversion bar. In addition, if coupon codes are for unlimited time, customers are bound to delay their purchase decision and may try competitive products, which may sometimes alter their purchase decision.
Hence, it's advisable to limit the time on coupon codes to instantly take their purchase decision and are not swayed away from the competition. 
5. Improve the Store's Security:
Security is the most important element in the online business. 
How do you expect customers to trust you and your products without any physical address or verification?

How do you expect them to punch credit card details when there are so many cyber-crimes prevalent in the online sector?
Customers are aware of cyber-crimes and their implications, and hence they are always watch-out for security symbols on the website. PCI (Payment Card Industry) certification, HTTPS (Hyper-text Transfer Protocol Secure), and padlock are a few security symbols they trust.
All these trust indicators are visible when your website is installed with SSL (Secure Socket Layer) certificate. SSL certificates provide 256-bit encryption security for browser-server data-in-transit, which is a tough call for hackers. A majority of cyber-crimes can be prevented when your website and customer data is secured with encryption.
SSL certificate providers like Cheap SSL Shop offer all global SSL certificates (Comodo, GeoTrust, RapidSSL, etc.) at unbelievable prices.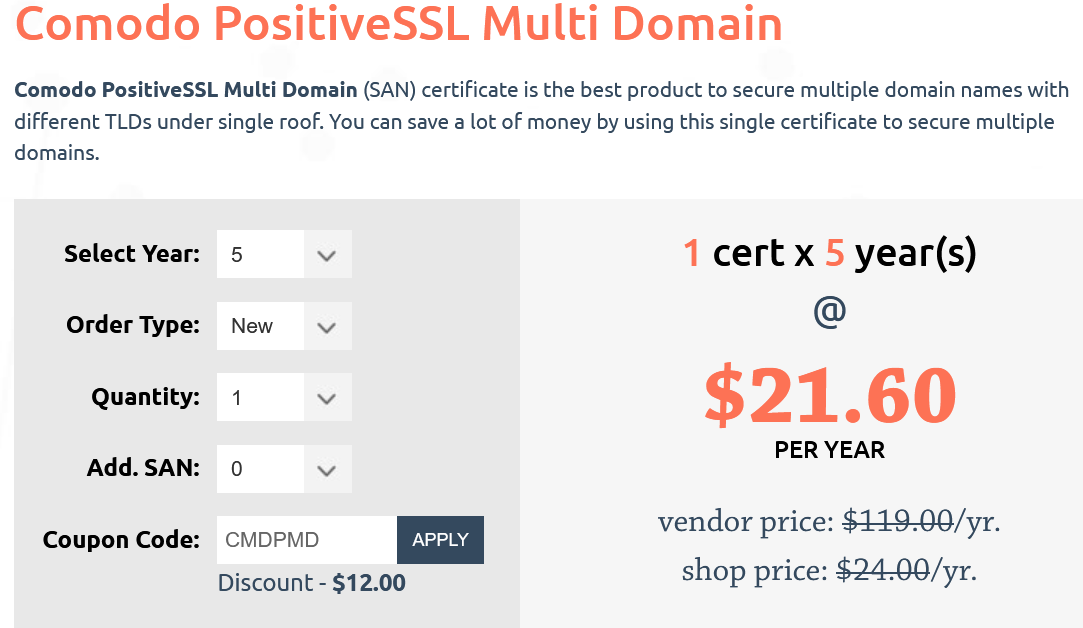 Example: Comodo Positive SSL Multi Domain certificate is available at a cheap rate of $21.60/year. It secures multiple domains and subdomains with a single certificate. Unlimited server licenses and re-issuances are also free. 
SSL certificate portrays data integrity, data privacy, and authenticity of the website, and hence its installation is essential for improving the conversion rate.
6. Design for Mobiles:
If your e-commerce store is not responsive to mobile devices, you lose out on a major chunk of customers. Research indicates that nearly 79% of the customers have purchased via their mobiles in the last six months. In addition, users may browse on desktops and buy via mobile device or vice-versa.
To handle such situations, a mobile-friendly website is a must. Ensure that your website is visible on all screens for a good conversion rate. This will also help rate your site better in SEO since mobile indexing is one of the criteria announced by Google.
 7. Tweak and Test your Ecommerce Checkout Process:
Customers hate to wait, be it a slow page load process or a lengthy checkout process. Complex and long checkout is tedious and can sway customers away from your website. 18% of the customers abandon sites due to the same reason.
Tips:
Keep it short and simple

Opt for a single page checkout (single-click)

Keep account creation optional

Offer live chat option

Offer multiple payment options

Refrain hidden charges
An optimized checkout page with a clear view of the product and its prices works best for increasing conversions.
8. Provide Multiple Payment Methods:
Payment options should be focused on customer needs. Limited payment options can make customers abandon your site for other competitors.
Example: If your checkout page states accepting credit card payments, but your customer doesn't own one, he/she will abandon the cart.
Lack of payment options causes 7% of the customers to exit the site. 
Multiple methods like:
Cash on delivery

Electronic payments (PayPal, Paytm)

Credit/Debit cards

Gift cards

Mobile payments
Give choices to your customers to decrease the cart abandonment rate.
9. Use Cart Abandonment Software:
When you aim at higher conversions, please keep track of the cart abandonment rate since it's the largest hurdle in your e-commerce business. Cart abandonment happens when potential customers reach your cart but abandon the same mid-way without making a purchase.
Cart Abandonment Statistics indicate that the average rate is 68.95%. 
Multiple reasons like hidden charges, shipping charges, lengthy checkout process, compulsion to create an account, slow delivery, limited payment options, unsecured site, etc., all lead to cart abandonment. 
You can use cart abandonment software like Poptin, Keptify, Barilliance, etc., to take care of your cart abandonment issues, while you can focus on your eCommerce store. 
They engage with your customers via exit-intent popups or personalized emails, thus bringing them back to your site. They also offer discount coupons to motivate them to complete their purchase, thus increasing conversions.
Wrapping Up:
Apart from the above factors, you can increase your conversions by posting social media reviews, sending emails fliers for new products, personalized discounts on referrals, etc., and raising the sales bar.
Secure your website, speed it up, and simplify the payment process for better conversion rate optimization. Hope the above tips help in increasing sales and ROI. Best Wishes!!