Event planning and catering business can be an exhausting undertaking so planners usually try to use all the aids they can get to gather as many clients as possible and take it to the next level.
Sealing deals is a complex task because you need to treat prospects and their needs as your primary focus.
In order to increase your revenue, try out these 8 tips to seal more deals for your event planning and catering business, and become the most successful version of the planner possible!
#1 Find high-quality prospects and send them cold outreach emails to create promising relationships
Cold outreach campaigns consist of emails that we, as an interested party, send to potential clients with whom we have never built relationships or been in contact before.
The most important thing is to find high-quality prospects and you can do it in various ways, through LinkedIn, online communities, and similar.
LinkedIn's advanced search offers you the opportunity to be proactive when it comes to seeking and collecting high-quality prospects who share the same or similar interests and can help you improve your business.
In order to create efficient, personalized, and automated cold outreach campaigns for your online business, you can, for example, use a powerful tool called lemlist. 
lemlist is one of the tools that can help you build warmer relationships with your prospects by using personalized texts and images in your emails and amazing landing pages.
 As statistics say, if you put the name of the person you are sending an email to as part of the subject line, you can increase your open rates by up to 22.2 percent.
If you want to find the email addresses of people who are connected to your business, you can use software like hunter.io, FindThatLead, and so on. 
They help you target the ideal candidates and win them over later with your phenomenal cold outreach campaigns.
Just type what you need in the domain search and you are one step closer to building quality connections!
You can even narrow the search by using filters like location, industry, keywords to help you get in touch with exactly the people you're targeting.
That way, the effort you put into your campaigns has the greatest chance of paying off.
#2 Take advantage of all the benefits that LinkedIn cold outreach brings to the table
As we have already mentioned, tools like LinkedIn can help you enormously when it comes to finding and collecting high-quality prospects, which is essential for your event planning business progress.
LinkedIn messaging has proven to be a fantastic trick for making strong connections.
What is the advantage of LinkedIn cold outreach over email cold outreach is that your LinkedIn profile provides the confidence that it is really you and that it is not spam?
Another great way to get high-quality prospects through your pipeline is to use a piece of software like expandi.io. 
With it, your LinkedIn profile will be in good hands.
It will help you with automation and creating interesting, personalized messages, and you can do it all while your account is completely safe.
With a Premium LinkedIn account, you can use sales navigator to find even more prospects by using its advanced lead and company search.
The competition is greater than ever so pay attention and upgrade your LinkedIn outreach to maximize the potential of your email campaigns and seal more deals in the end.
Besides personalization, use these tools to add a personal, creative touch to your messages and build fruitful relationships.
#3 Build partnerships with the businesses from the same or very similar niche and see how useful they can be
When building partnerships with other businesses, it is important that they deal with the same or very similar type of clients you are after.
You can benefit from these in many ways:
You can send leads to each other
You can give them a certain percentage in exchange for each client they bring you
You can offer referrals of your own
You can share resources and expand your knowledge
You can get a new perspective 
Although partnerships may have some downsides, they allow you to reach even more qualified leads and make your business thrive.
Through them, you have the opportunity to even save some money, but you have to make the appropriate partnerships for your needs.
Also, a good idea is to appear on your partner's blog or social media and in that way attract potential clients with your valuable and relevant content.
After establishing mutual goals, it is up to you to maintain that relationship and follow the metrics of your business.
Respect the defined roles, get organized, and establish a perfect strategy when it comes to your partnerships to get your business even more sealed deals.
#4 Have a clear and systematic process for sending business proposals
Business proposals are documents we send to potential clients in the hope that they will like what we have to offer and that we will make a new deal.
In order for your business proposals to have as much chance as possible to bring new clients to you, it is best to use various, helpful tools.
These tools can help us organize and create highly-efficient proposals for quality prospects and do it easily and quickly.
One of these tools for creating high converting proposals is Prospero. 
In order to remember you, you need to impress your clients, and Prospero's beautiful templates and ready-made content will do that for you. 
It has a user-friendly dashboard where you can customize your proposal according to your needs by adding text, images, tables, changing font size, colors, and more.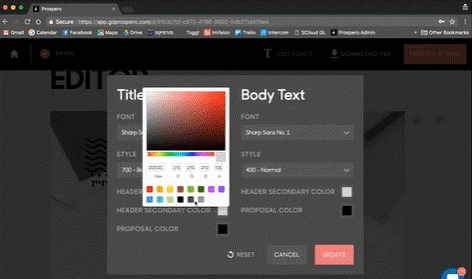 This tool is very easy to use, it has clear customization options, and with reuse tools, you can generate potential sales more quickly.
You will be able to systematically send a large number of proposals and thus increase your chances of success.
As an event planner, business proposals are in a way your business card, something that represents your problem-solving skills, and it is important to dedicate yourself to creating them.
#5 Don't forget to create high-quality content because that is what prospects are looking for
If you want to create content that will attract and retain your prospect, it is important that it offers them something that will solve some kind of problem they have.
Besides that, it should be original, creative, and diverse.
To create content that meets all the criteria needed to bring more potential clients to a business, you could do any of the following:
Do research to identify hot topics
This means that you have to find out what people are most interested in, which subjects are most discussed, what is trending, and so on.
You can even use some of the trend tools like Twitter, BuzzFeed, Quora, Reddit, and similar to create content that will be interesting to your prospects.
You need to stay relevant and keep up with everything that is happening on the Internet and in your niche.
Communicate with your potential clients
In order to find out what their problems exactly are, you should have strong communication with your prospects.
That way, you will be able to create content tailored to their needs and get your business on a higher level.
Your job is to deliver answers to them and to do so you can even ask them what they would want to read about.
Information is crucial, and thus a high-quality content cannot do without a constant influx of verified information.
To make it diverse, your content should include pictures, infographics, charts, videos, marketing memes, and similar.
Also, create strong headlines to make it easier for your audience to scan text and provide them with various tips to engage them and get higher conversion rates.
Observe your content's performance
To know how your audience reacts to your content, what pays off and what doesn't, and what needs to be changed, you need to constantly measure your content's performance.
Your prospects want fresh information, useful tips, answers, and you need to satisfy all of them all the time.
A couple of items that are important for measuring content's performance are pageviews, social media engagement, SEO performance, and more.
Analyze them all and find out the right solution to get more high-quality prospects.
#6 Offer your prospects a lead magnet that they will not be able to refuse
A lead magnet is usually something valuable that you can offer to your prospects in exchange for their contact information.
That something valuable can be:
Good lead magnets need to be engaging, useful, and they need to satisfy a particular audience that you aim for as an event planner, for example.
If you want to create high-converting email campaigns, then you need to collect as many emails as possible and people usually, if you want them to leave their emails to you, want something in return.
So, offer them something that they wouldn't want to miss out on.
Lead magnets also help you build trust and authority, so set yourself up as an expert and prove that your prospects' trust and support means everything to you.
#7 Create different types of pop-ups on your website and increase conversion rates even more
Creative website popups are a great way to increase conversion rates quickly and easily.
The goal of these windows is to appear at the right time to get your prospects to take action, that is, to catch their attention enough to increase the chances of getting more sales.
Poptin is one of the tools that can help you create and use various types of pop-ups and other forms on your website.
Some of the types of pop-ups this tool offers are:
In just a few minutes, you will be able to create engaging, exit-intent pop-ups with the help of its drag and drop builder.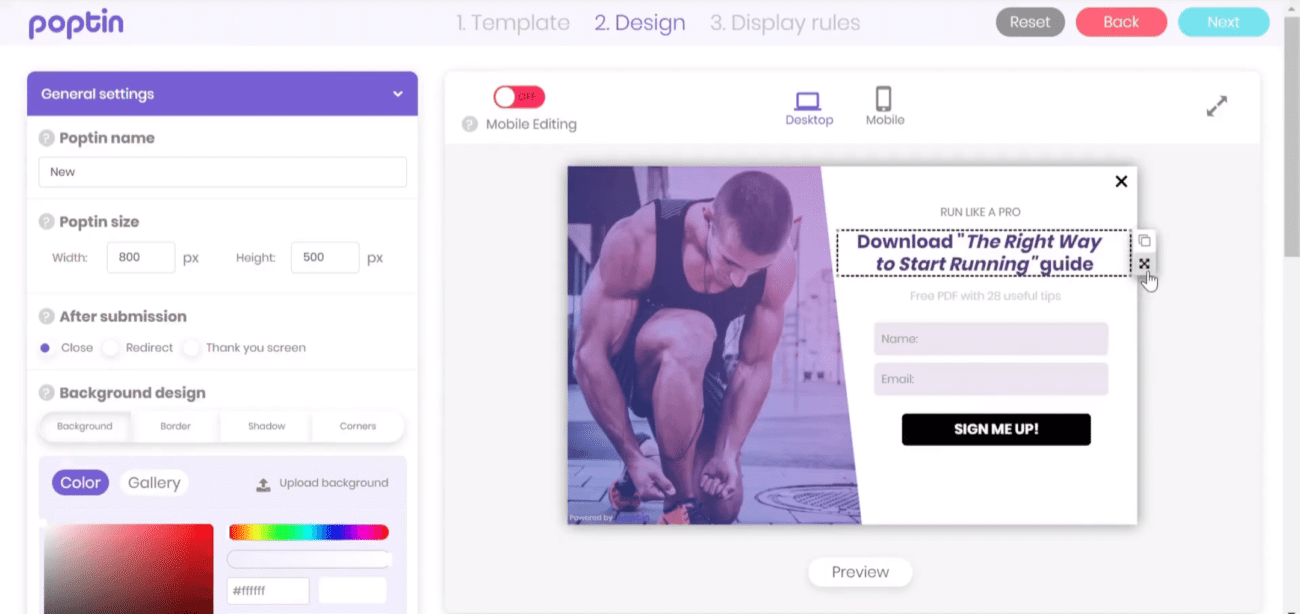 You can customize your pop-ups according to your customers' taste by adding or removing text, images, fields. Also, you can change font size, background design, and more.
Your prospects want to feel important, so everything has to be ready and modified for their use. 
With these amazing pop-up windows, you can affect the ability of your website to bring you even more important clients.
#8 Don't underestimate the power of live chat and chatbots
It is very important that you incorporate live chat and chatbots into your website.
Customer service is essential for the visitors-to-customers conversion process so use them to your advantage.
Your prospects are always full of questions and they want fast answers, so it's best to provide them with constant support if you don't want to lose them.
There are many tools that you can use for this purpose, and one of them is a WordPress Premio plugin called Chaty. 
Chaty allows your prospects to communicate with you via their favorite channels.
WhatsApp, Facebook Messenger, Instagram, Viber, LinkedIn, Skype are just some of the popular social media channels that your prospects use daily, so why not make it even easier for them and communicate on multiple sides.
It is very easy to implement it, and you can also customize your widget and change colors or add a custom Call-To-Action as you wish.
We live in a digital age, so we have to use all the tools we have to create the best customer experience we can to get to the clients that will be interested to do business with us.
Great customer support can be crucial, so take advantage of the benefits it brings.
The Bottom Line
If you have an event planning and catering business, these tips are just what you need to increase your revenue and build a successful business.
As high-quality prospects are your target group, you have to subordinate everything to them and make them decide to do business with you.
To make the whole conversion process easier for them as well as for yourself, you can use certain tools.
Prospero can help you create amazing business proposals to score more job opportunities and to do it all easily, using templates and ready-made content.
Another useful tip to increase your conversion rates is to use engaging pop-ups on your website. 
Poptin offers many different types of highly-customizable pop-ups that you can use to attract your customers' attention.
When you attract their attention, you are a step closer to sealing more deals.
Customer support is essential for strong relationships with your leads, so if you want to install a chat button on your website effortlessly, use the Premio plugin Chaty.
Take a look at these 8 tips to seal more deals for your event planning and catering business and try them out right away!