Writing proposals can be a real challenge.
We all want to present ourselves in the best possible light, but it's quite hard for people to talk about themselves and elaborate on their skills, so they often give up on their dream jobs/clients just because of that seemingly small obstacle.
The good news is, there are tools in the market today that would enable you to not only write a proposal better but also to do so in incomparably less time than expected.
HelloSign is one of them, along with other advanced tools that can save you from the hassle of going through the whole process of writing business proposals.
Learn about HelloSign and the other three more advanced HelloSign alternatives that you can utilize!
HelloSign: Overview
HelloSign is a simple solution for the fast digital signing of various documents.
It is intended for companies of all sizes, as well as freelancers, in order to reach an agreement much faster.
With this tool, there is no more waiting for signing, scanning, and printing documents, because everything is done online with only a few clicks.
Afterwards, you can save the document as a PDF file or send it directly via email.
To make this brief analysis of HelloSign more detailed, we will list its pros and cons.
What are the pros?
Documents can be signed directly from the phone which further facilitates the ability to send the signature on the go.
It is very easy to use, and it saves a lot of time for both you and your client.
When a client views or signs a document, HelloSign sends you a notification to keep you up to date in real-time.
What are the cons?
There is no option for the signature to be blue to mimic a ballpoint pen.
Complications can occur if you want to send one document to multiple recipients. In that case, you would have to send each document separately.
And now, here is a list of exceptional HelloSign alternatives that you can use when writing your very next business proposal!
Prospero is a tool that guides you through the entire step-by-step process of writing business proposals.
It has a very simple editor that would enable you to write proposals smoothly.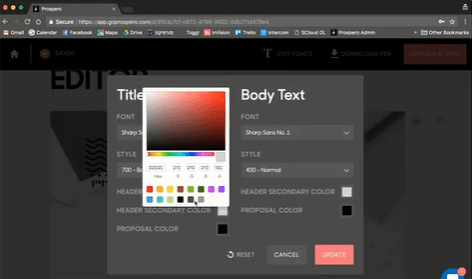 Why I love Prospero?
Ease of use: It's user-friendly and the tools are efficient. Also, you don't need design skills because the whole process is clear and logically designed.
Customization: It provides a large selection of customization options so you can create your business proposal exactly as you envisioned it to be.
Features: Prospero's main feature is The Proposal Wizard which consists of several phases that are actually presenting parts of your business proposal:
Client

Project

Yourself

Pricing strategy

Deliverables

Milestones
If writing is a problem for you, Prospero has already prepared ready-made texts that you can use and edit according to your needs.
Analytics: Prospero monitors whenever someone opens your proposal and notifies you immediately. Thanks to that, you no longer have to wonder if the document arrived at the address or if the client forgot to view it.
Customer support: Although the use itself is simple enough, you can still contact customer support for any problem or doubt to help you get the most out of this tool.
Pricing: Prospero offers a 21-day trial period priced at $1, so you have plenty of time to see if this HelloSign alternative meets your expectations completely. You can then opt for a monthly ($8 per month) or yearly ($5 per month) subscription. 
Prospero's features:
Templates library

High level of customization

Ready-made texts

Document management

Electronic signatures

Pipeline management

Device optimization

Analytics

Integrations
Why is Prospero a perfect HelloSign alternative?
Prospero is an all-in-one solution for writing business proposals.
Everything you do can be saved into the cloud, so you are able to access all your documents from any device.
The Proposal Wizard makes creating business proposals an interesting experience and allows you to express your creativity to the fullest.
It also offers the option of electronic signatures, saving time for both you and the client.
In addition to integrations such as Zapier, FreshBooks, and others, Prospero also supports third-party apps which include, among other things, heatmaps and Google Analytics.
To sum up: Prospero is a comprehensive tool thanks to which there is no need for searching for other features because you have everything in one place, and in addition, there is the customer support that makes your work on the proposal even easier.
Qwilr
Qwilr is another HelloSign alternative for creating business proposals in an easier way.
It is intended to create:
Business proposals

Sales quotes

Client updates

Pitches
With Qwilr, you can create documents that are interactive and interesting in order to help you keep your clients' attention.
Just some of the elements you can insert are:
Given that a large number of people use the phone for work, all documents created within this platform are also mobile-responsive.
As with Prospero, Qwilr does not require you to have any designer knowledge and skills, as it is extremely easy to use. You can use templates and building blocks that will save you a lot of time, too.
Since Qwilr has the ability to create interactive content, clients can click on the document themselves and choose the pricing package that suits them best.
Another great side of this tool is that there is no anticipation. Qwilr notifies you whenever your document is accepted, viewed, but also how the recipient is interacting with your documents.
Pricing: This HelloSign alternative offers a 14-day trial to see if this tool is the right one for you. Then, you can upgrade to Business package for the price of $75 per month including 3 users, or Enterprise package which costs $490 per month and includes 10 users.
Why is Qwilr an interesting HelloSign alternative?
Qwilr offers some interesting features such as:
Templates

Customization

Interactive content

Analytics

Integrations

Collaborative editing

Editing permissions

Team permissions

Identify verification
Qwilr is an interesting tool for B2B sales and agencies. It has many features that can make teamwork more productive.
It helps you design business proposals and pitches with less effort and time while still looking completely professional.
This tool includes integrations with platforms such as Hubspot, Zapier, Slack, but it also offers remarketing and analytics integrations.
What is the difference between Prospero and Qwilr?
Prospero is aimed at individuals and different businesses, while Qwilr is more aligned with teams working together. Qwilr's features would make their job much easier.
Prospero is easier to use and each segment of this tool has its own clear function in order to increase productivity.
Qwilr has significantly more expensive packages which can be an additional financial burden if you work as an individual or within a startup.
The bottom line
Using tools that can help you do your job more efficiently and quickly should always be seen as an investment, not a cost.
Writing proposals or sales documents no longer have to be seen as an obligation. When you see a great job or project ad, you don't have to dedicate hours and hours to write a perfect proposal.
With a tool like Prospero, you will be able to send more documents in one day because you will be able to do much more in significantly less time.
Give Prospero a try right away and start making absolutely winning proposals that will surely grab your clients' attention!