Creating and sending an enticing business proposal is simple these days. Forget about the agonizing process of piecing together old proposals and quotes.
Modern proposal management software makes sending great proposals in less time a straightforward and painless process.
Proposal management software is a program that aids in the creation, administration, and distribution of business proposals. These web-based programs allow users to quickly prepare and deliver proposals to customers.
What is Incomee?
Incomee makes it simple, quick, and pleasant to manage your freelance assignments and payments. Accounting has never been easier or more straightforward, thanks to clever automation, beautiful invoices, speedy proposals, and a dead-simple dashboard.
Have peace of mind by knowing your entire monthly profit and by tracking your progress with a simple user interface. Aside from that, our data-driven intelligence gives you a forecast of your financial position at the end of the year, allowing you to react now and alter your current situation.
In a matter of seconds, Incomee allows you to produce and distribute professional and appealing invoices. The auto-invoice tool can save you time and taking online payments may allow you to get paid faster and avoid late fees.
Alternatives to Incomee
Prospero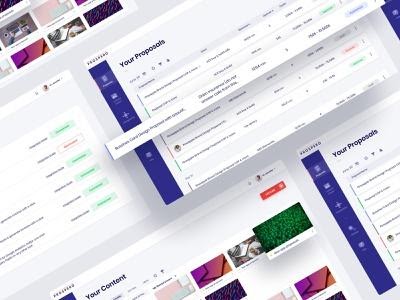 Prospero is a cloud-based proposal generation tool that allows users to quickly produce simple yet professional-looking business proposals. They provide a variety of layouts that users may customize and fill with their own branding materials.
You can send proposals directly to clients using Prospero. It also has eSignature features and different connectors to make the sales process run smoothly.
When you first log into Prospero, you're prompted to start a new project. You can choose from a variety of templates or make your own.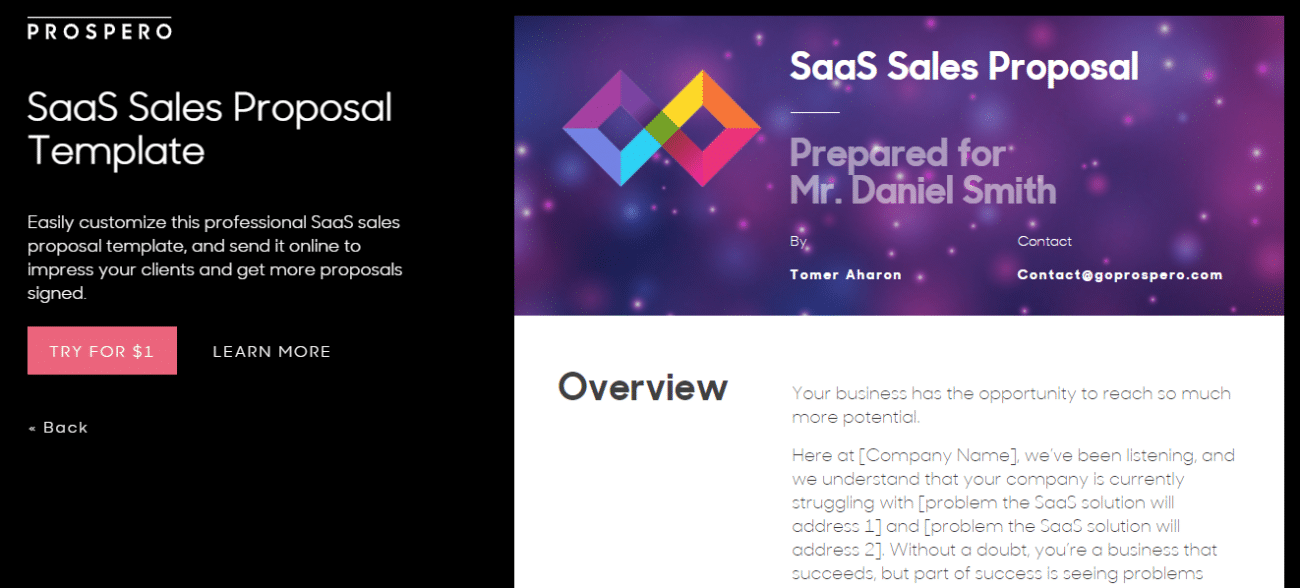 Their proposal templates cater to a variety of businesses and sectors, including graphic design, marketing, writing, and other services. The proposal includes pre-written phrases that users can change to their liking on each page. We find this very beneficial if you don't know what to include.
Each proposal is broken down into sections, such as a summary, milestones, costs, conditions, and anything else you need to tell a client.
The font and overall design of the proposal can be customized by users. A cover can be placed at the top of the page. You can choose a set of colors for the cover and add your own logo.
Additionally, you can add an electronic signature to your document after you've finished changing it. The proposal can either be converted to a PDF or sent to your client via a link.
The key characteristics of Prospero are its proposal creation tools. Each proposal can include your own logo, photos, animations, and other branding aspects.
Their templates cater to a wide range of industries and specializations, but you may customize them by adding or removing components as needed.
You may access your files from anywhere because Prospero is a cloud-based tool. They also have an analytics program that tracks if your proposal is being read, how long it is being read for, and the number of times it is being viewed.
Within the proposal development tool, you can easily add connectors to your projects, such as Stripe, FreshBooks, Zapier, etc. Prospero also has a wealth of educational tools, including a YouTube channel with a variety of tutorials.
There is only one plan with two payment choices at Prospero:
Monthly – $8 per month

Yearly – $5 per month annually
Their first plan costs $1 per day and lasts 21 days. It's essentially their equivalent of a trial period, in which you get unlimited proposals as well as access to their development tools and interfaces.
The software's basic plan is $8 per month, or $5 per month if you sign up for an annual membership. Both options offer the same set of features, such as unlimited proposals, PDF, eSignature capabilities, and so on.
Expedience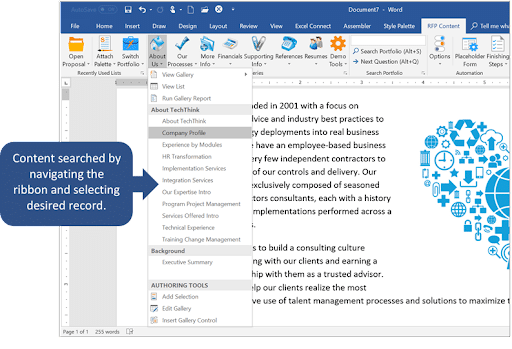 Expedience is a proposal automating software that works in Excel, MS Word, and PowerPoint, where you already work. While streamlining proposals, sales letters, RFP answers, DDQs, security surveys, RFI responses, quality reviews, etc., the system stresses ease of use.
Users never have to leave MS Word to access and enter information that has been prepared, selected, and optimized for re-use thanks to Expedience's "Content Portfolio Ribbon." The "Style Palette Ribbon" tool promotes consistency in proposal presentation by providing pre-formatted headings, footers, cover pages, and other aspects.
The company's experience and flexibility is the underlying value of this product. This software is so dedicated to improving your user experience that it's almost as if they've hired a team of developers to create a solution specifically for your organization to ensure a quality proposal presentation.
Qwilr

Qwirl makes it easy to create attractive and professional-looking marketing/sales pieces, pitches, and proposals that your clients enjoy and may encourage them to do business with you.
This era is starting to shift away from classic document creation and into more web-based solutions, and we believe Qwilr is the ideal approach to make that transformation for the SMB market. It was simple to set up, and our end users have raved about how easy it is to use.
You may configure it so that your team members can make a lot of adjustments or limit them to utilize the pre-determined templates you made with the tool's multiple degrees of security and setup.
However, Qwilr may be overpriced for most firms from $75 per month. We think that most small and medium-sized businesses may find this expensive. Thus, opting for a more affordable option may be better in the long run. It may also be difficult for customers to read as the font used is quite small. 
Better Proposals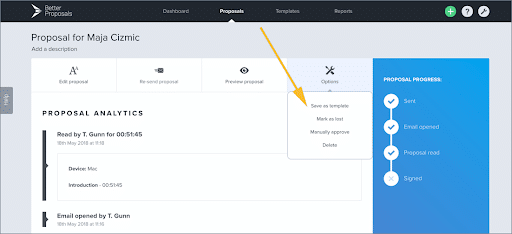 Better Proposals is an online proposal building and management tool that allows users to quickly and easily produce professional-looking proposals. Its program is designed to provide clients with high-quality and efficient proposals through user-friendly services.
It offers a collection of ready-to-use templates and drag-and-drop tools that allow you to produce expert proposals in a fraction of the time it normally takes.
The software reduces the time it takes you to close a sale by sending proposals right to your inbox and offering precise data on your progress.
One disadvantage is that Zapier integration is only available on the company's pricier tiers. If you're on the lower-paid plan, this is a bit of a constraint because the sooner automation becomes a part of one's workflow, the better.
Pandadoc
PandaDoc is a cloud-based document management system that enables users to create proposals, quotations, HR papers, contracts, and more. Sales and marketing departments, as well as company leadership, are the primary users of this system.
This software provides you with all the tools you need to generate unique proposals or to change one of their pre-made templates. All in one spot, you can write proposals, save them in a cloud-based library, distribute them to clients, and keep track of your real progress. It is great if you want to create business proposal templates.
The Free subscription is the most cost-effective option, allowing you to upload, email, and collect payments for as many files as you need. This means you can submit as many documents as you want and use legally binding eSignatures.
An Essentials Plan costs $19 per person per month, or $25 per month if you pay monthly. A Business Plan can cost up to $49 per month per person if paid annually, and $59 per month if paid monthly.
Conclusion
Businesses must use the correct proposal software because it streamlines their sales and marketing procedures. Consider the cost, functionality, flexibility, and general usability when selecting your tool.
Are you a self-employed individual? If that's the case, we propose submitting ideas through Prospero, sign up now and only pay $1 for a 21-day test run.