Writing a business proposal can be a difficult task if you have no experience and do not use good and adequate tools.
To get as many business offers as possible as a freelancer, it is important to leave a good first impression and show what kind of skills you own.
You have to be better than your competition in every way and it is up to you to "offer" yourself as best as you can.
There are tons of software in the market today that deal with writing proposals, and that's why you need to choose the best one because it will have an impact on your business.
We singled out the 5 best online proposal software to grow your freelancing career!
It is important for any business to get as many loyal clients as possible, and this can be done very easily with Prospero.
Prospero is a tool that deals with writing quality business proposals that are high-converting as well.
The point is to leave a good first impression and this tool does it with the help of various features.
If you are not sure how you should start writing, Prospero will explain the whole process step by step.
Feature The Proposal Wizard guides you through the entire process of creating a proposal, so it will be much easier for you to get organized and do it very quickly.
It covers several sections where you only need to enter key information about:
Client

Project

You

Deliverables

Milestones

It is important that all information about the project is included, and you can also add logos, images, tables, or change colors and fonts to customize your proposal exactly the way you want.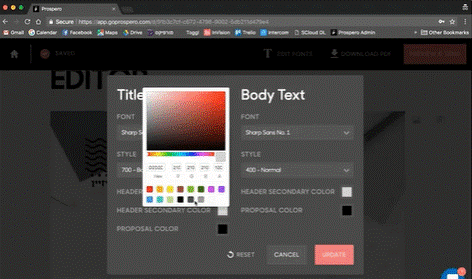 Use its built-in content generator and get your business proposals done fast and efficiently.
You can also use their ready-made content if you feel you lack creativity and give your proposal extra charm.

This tool is both mobile and desktop responsive, and detailed analytics will only further make sure you are on the right track.
You will be notified by e-mail about when the client first opened your proposal, and you will also be able to keep track of how many times he opened it as well as how long he stayed reading it.
With the "Client preview" option, you can see everything through his eyes, and after that send your proposal as a PDF file or a responsive link, depending on his request.
Prospero's especially popular feature is the option of electronic signature which facilitates the whole process.
Offered features:
Easy-to-use dashboard

High level of customization

Personalization

Built-in content generation and reuse tools

Ready-made content

Analytics

Integrations

Electronic signature
Pricing: You can try this proposal writing tool for 21 days for only $1. Prospero offers the option of a monthly subscription that costs $8 or an annual subscription that costs $5 per month. Whatever option you choose, you can create an unlimited number of proposals.

2. Proposify

Proposify is another popular proposal software that helps freelancers create modern proposals, contracts, or agreements in a quick and easy way.
It can help you to create professional-looking proposals by offering the option of an online signature and make your organization be at a high level.
Also, if you work within a team, it allows you to share the proposal with each member individually and control everything over the dashboard.
Proposify also has a content library where you can store all approved material from pictures to templates and thus shorten the writing process by a step or two.



Source: Capterra
The focus of this tool is a smooth workflow, which is made possible through many integrations.
By using it, you can leave a strong impression on potential clients with videos, live chat, and interactive pricing tables, and make the whole experience enjoyable.
With effective follow-up, you can track everything that happens to your document, how many times it has been opened, when it was opened, and whether the client has commented on something. 
You will even receive notifications.
Proposify is highly-responsive and it also integrates with many platforms such as Basecamp, Zoho, SalesForce, HubSpot and Stripe.
Offered features:
Content management

Customizable dashboard

Templates library

Insights

CRM integrations

Notifications

Electronic signature

Integrations
Pricing: Proposify offers a 14-day free trial. There are several packages of which the first is for individuals which costs $19 per month, the second is for sales teams and it costs $49 per month, and the third is a Venti Plan for sales teams of ten or more which you can customize together with their support.

3. Nusii
Nusii is primarily intended for creative teams but can help anyone who needs beautiful but simple business proposals.
This proposal software is very easy to use and offers various tracking and notification options.
Without any special skills, you can make beautiful and useful proposals in a few minutes.
Nusii also offers the option to reuse templates to send as many proposals as possible in less time if you usually send a certain number of proposals daily. 
With fast notifications, you know right away if the client has read your proposal and you can also send him a reminder.
You can take advantage of their amazing templates and, by using your own custom e-mail and domain, it will look like you did it all by yourself without the help of any online proposal software.


What makes the whole proposal even more modern is the option of electronic signature and its interactive pricing.
Their proposal editor is extremely functional and offers the option of adding videos, images, tables, and what is especially important are the variables that automatically enter the client's data every time you write a proposal so you don't have to waste time by repeating this process.
Nusii integrates with many platforms such as Zapier, Slack, Basecamp, HubSpot, Intercom, and more.
Offered features:
Drag and drop editor

Tracking options

Notifications

Content library

Variables

Customization

Live chat
Pricing: Nusii offers a 14-day trial for free and for all plans. There are several packages and prices start at $29 per month and go up. You can choose between a monthly or an annual subscription.

4. Qwilr

If you no longer want to bother with PDFs but use interactive and beautiful web pages, then Qwilr is a good alternative.
Without any designing skills, you can use a simple editor, beautiful ready-to-use templates, videos, and more, and create proposals that will leave your potential clients breathless.
With automation and electronic signature options, speed up the whole process.
Interactive pricing tables enable your clients to change amounts smoothly and get the deal closed as quickly as possible.
Analytics can help you to pay attention to the details that need to be changed in order to convert a larger number of clients in the future.
You can customize your business proposal by using the Qwilr editor and add different images, videos, and even change colors and fonts on every page.


With this amazing tool, your business proposal will be equally easy to interpret but also interesting enough to impress your clients and help you grow your freelancing career.
In addition to the option for notifications and tracking analytics, this tool is both desktop and mobile responsive.
Qwilr also offers the possibility of integration with various popular platforms and some of them are HubSpot, Salesforce, Xero.
Even if you decide to share your proposal with your team members, you can update it whenever you want and prevent typos from happening.
Offered features:
Easy-to-use editor

Beautiful templates

Interactive pricing

Analytics

Integrations

Responsiveness

Electronic signature
Pricing: You can opt for either a monthly or annual subscription option. There is a 14-day free trial period, so you can try this tool out. When it comes to packages, you can choose between business and enterprise packages as shown below.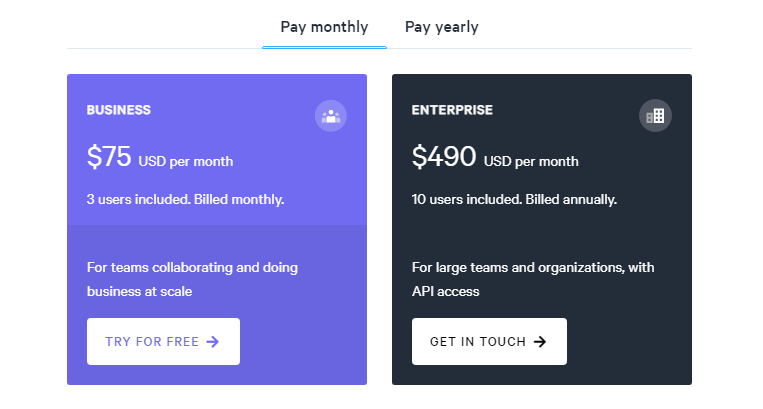 5. GetAccept
What is primary to any freelancer is to win as many buyers as possible.
GetAccept is a tool that will provide you with multiple solutions in one and help you increase engagement and close more deals.
In a very short time, you can reach a large number of potential clients with this tool which is very important because the competition is huge and you need to be proactive.
It provides various case studies, videos, and makes everything even more personalized by using live chat to communicate with clients.
To know if your document has been received, read, or shared, use the notifications and insights option and don't waste time waiting in ignorance.
Edit their ready-made templates, add introduction video, pictures, or more, and add a personal touch.
By using tracking options, you manage the whole process wherever you are but also understand how prospects experience your content.
GetAccept has its own content library which anyone can access, and if you want more information, leave your e-mail address so that you can receive notifications.


It integrates with HubSpot, Microsoft Dynamics, Pipedrive CRM, and more.
Offered features:
Notifications

Insights

Live chat

Ready-made templates

Content library

Integrations

Electronic signature
Pricing: There are several paid packages and prices start at $25 per month depending on how many users are enabled.


6. Smallpdf
Smallpdf is another useful tool for your arsenal as a freelancer. It's widely used and seen as an agile, free/cheaper competitor to Adobe and DocuSign. The reason it works so well is that it doubles as (1) document and PDF management software and (2) a contract and signature tool. Once you've created your documents for proposals, contracts, and so on, you're going to want a quick and easy way to handle them, share them, sign them and request signatures on them. All of this is easy to do with Smallpdf.
Smallpdf started out with the aim of making compressing PDFs to send via email a simple and easy thing to do. Since then, they have expanded but their goal is still to keep things simple and easy.
Using the tools is intuitive, and they have an excellent support structure. You can also find lots of walk-throughs and youtube videos for their different products. The eSign tool is relatively new, but it works quickly and easily, making signing contracts or requesting signatures quick and easy.
Offered features:
–   Over 20 tools for merging, splitting, compressing, converting, and signing PDF documents
–   Workflows for converting other file types to and from PDF for easy transitions
–   eIDAS compliant eSign tool with military-grade encryption  
–   Send and request signatures to dozens of people
–   Built-in document management hub
–   Available on all platforms, including mobile
Pricing: Smallpdf offers both free and paid Pro accounts. Users with a free account can use tools two times a day. Pro account users can use all the tools as much as they like, and they can also use the stronger compression tool. Their free, basic compression tool compresses PDFs 40%, so it seems unlikely most users will need the strong compression tool unless their documents are very large files. In any case: Pro accounts start at USD 9 per month, but other options and pricing are available for larger organizations.
The Bottom Line
Today, in the world of freelancing, it is too important to leave a good first impression because the competition is overwhelming.
So, you need to make the best business proposal in order to quickly gather as many clients as possible and create a loyal base.
If you are searching for an easy-to-use solution that will guide you through the whole process of writing proposals, try out Prospero right now.
It's time to create amazing business proposals and stand out from the crowd!