Here are the 3 best PandaDoc alternatives to try out
Creating proposals can take up a lot of your time. We all want to introduce ourselves or a particular offer as well as we possibly can, and also to attract as many clients as possible.
There are tools on the market today that can help you not only get your proposals done in less time but also save a considerable amount of money. 
You no longer have to hire people who have more skills than you, and your presentation will still be more effective than it was before.
One such tool is PandaDoc. But, if it doesn't suit you for some reason, it is important to know that there are PandaDoc alternatives that can meet your expectations.
In the continuation of this article, I will show you which are the three best PandaDoc alternatives that have proven to be the best ones.
The pros & cons of PandaDoc
PandaDoc helps sales reps to create and track sales documents. According to their words, it simplifies the process of creating, sending, tracking and eSigning sales documents.
What are the pros?

PandaDoc is very easy to use. It has a drag-and-drop builder that allows you to easily create any type of documents you want. You can embed videos, put different variables, different checkboxes, fields, and many other things.
It's also very easy to change your theme and design of your proposal overall, but unfortunately, design capabilities are a little bit limited (but more about that later on).
What I also really like about PandaDoc is that it enables you to integrate payment apps and gateways into your proposals. It's great for reducing friction while acquiring new clients or sending invoices to your existing ones.
PandaDoc has an unlimited number of electronic signatures.
It has really great and in-depth analytics. You can track all the data you need. When you submit a proposal to a specific client, you can track exactly how much time he spent on each section.
It has a content library that is very easy to use, so it is a huge time saver.
PandaDoc's customer support is at a high level, and they are ready to help you if you have any issues.
What are the cons?
PandaDoc is built for Teams, especially sales one. Not for freelancers. PandaDoc is focused on enterprise sales and making their workflows easier. 
One of the biggest problems I encountered while I worked with PandaDoc, is that it restricts you in the number of team members that can work on the same document at the same time. If you want multiple team members to work within one document at a time, PandaDoc does not have this option available, for now.
The follow-ups you send to clients are pretty basic, so you can't over-customize them if you want to. Design capabilities are pretty basic. For example, there are only 7 types of font you can choose from.
You can sometimes occur small errors with the interface and bugs which knows to be really annoying when you in-depth into creating sales documents.
If you want to upload some other document format except PDF, there may be some changes to the document which can require additional work which knows to be really frustrating and time-consuming from time-to-time.
It doesn't include important integrations such as SharePoint.
Moreover, it won't allow you to work at the same time and the user can't add a deadline to the signatures.
The pricing of PandaDoc starts with $9/user/month for the most basic package, and ends up with $49/user/month with the most advanced package.
It always helps to see the negative reviews to see what the company lacks i.e. support and editor issues.
Even the happy users of Pandadoc had the same issue.
This summarizes why you need to always try an alternative too.
Prospero is one of the best PandaDoc alternatives on the market. It enables you to quickly and easily create a sales proposal with stunning design capabilities. There are several reasons why I opted for Prospero.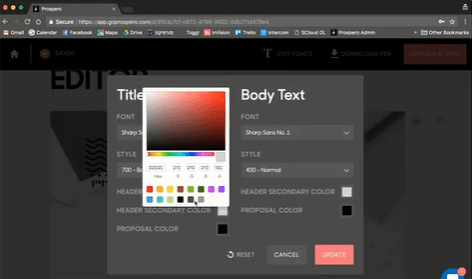 Prospero feature overview
Ease of use: Prospero is extremely easy to use and it can help you save a lot of time. Without any design skills, it is possible to make very effective proposals that will delight your clients.
Any type of content can be added to Prospero proposals. If you get stuck and you need some help to make appealing textual proposals, this tool has ready-made texts that will help you continue with your work.
Analytics will notify you when a specific client opens up your proposal.
If you want, you can save everything you need in the cloud and access your quotes from anywhere.
Customer support: Whatever your questions or concerns, great and reliable customer support is here to help you continue your work without any troubles.
Pricing: If you want to see whether Prospero is the right choice for you, you can start with a trial period that costs only $1. After that, you can opt for a monthly or annual subscription. Monthly subscription costs $8, and annual costs $5 per month. Both packages offer an unlimited number of proposals.

Offered features:
Various number of templates

Content library

Device optimization

Document management

Electronic signatures

Pipeline management
Why is Prospero a great PandaDoc alternative?
Prospero is meant for freelancers and smaller teams, not for enterprise unlike PandaDoc.
Prospero is a great PandaDoc alternative because of the following:
A step-by-step process that is really easy to use

Great tool for a higher number of users, for even more than 1000 people

It has a long trial period that includes 21 days, so you can see whether it is the best solution for you

There are ready-made texts that will help you write your proposals for even less time

Analytics that track your client's every step

Integration with FreshBooks so you can send an invoice and get paid easily

One of the best parts of Prospero is the Proposal Wizard. It will walk you through the key parts, step by step, to help you customize your proposal as easily as possible. All you need to do is enter information about:
Client

Project

Yourself

Deliverables

Milestones

By using Prospero with all his features, you will be able to get more clients in much less time.

Prospero is one of the most affordable PandaDoc alternatives on the market. It has only one plan (and all features are inside this one plan).

The pricing is $8/user/mo or $5/user/mo depending on whether you want to pay monthly or annually.

Lastly, Prospero helps you focus on submitting proposals FASTER so that you can focus on your business. 
If this convinces you, why not give it a try.
2. Proposable
PandaDoc alternatives offer many features, and one of those alternatives with a lot of different features is Proposable.
This tool helps you create customizable proposals and get insight into your viewers' behaviour.
By using a drag-and-drop builder and free templates, you can easily design all the sales documents, proposals and invoices you need.
You can organize the content you created into the content library. Whenever you want, you can share all segments as well as entire documents with the rest of the team.
For the services and products that you want to promote, there are options to add prices, discounts, quantities, and others. Thanks to an organization like this, your customers will be able to receive clear and up-to-date information.
If you have completed your part of the job on a particular proposal and you need to pass it on to another team member to continue working, you can easily re-assign ownership which can be great for big companies and enterprises with a lot of sales reps.

It's also possible to work with multiple team members on the same document – which can be an amazing time-saver.
You can track all activities from your team and see how the proposal you create progress. Control everything that happens and stay on track.
When the proposal is complete, you can submit it and close the deal faster with the e-Signature feature. There is also a counter that monitors the number of signatures.
Detailed analytics record which parts of the proposals clients have spent time mostly on, but also which parts they may have skipped.
For everything that happens when it comes to your proposals, you can receive notifications via email or SMS. If you are waiting for an important announcement, Proposable will notify you in real-time.

Why is Proposable a great PandaDoc alternative?
Proposable constantly improves its features and the team behind it really cares about the product and its customers. Some of the newer ones introduced are:
Custom Google Fonts

Scalability
There is a Pricing Catalog, so if you want to send prices to your client who uses other currencies, this will not be a problem. This feature supports foreign currencies.
This tool costs more than PandaDoc, but it is a better solution for groups and bigger companies.
Proposable is intended for small teams, but larger businesses that need to include more options such as email, chat and phone support, collaboration through the team, sales team stats, department stats, team training, and more.
Proposable's pricing starts with $39/mo with additional $39/mo for each user. If you're an enterprise, they also have a custom plan for $500/mo for 10 team members.
3. Conga
If sales is your main focus, then another tool for making your sales documents engaging is Conga.
With wizard-based document creation, your proposals will meet the needs of both you and your clients.
Proposals are well-organized, so you can easily find what you are looking for.
By using Conga Composer you can create your branded and customizable proposals with ease.
If you want to access your documents from any device, you can do that with this tool.
You are able to collaborate with your team on every proposal that you want to create for your clients. Your efficiency and productivity will be at a much higher level. Of course, you will be able to save a lot of time for other tasks.
To keep your documents accurate, you can use data from your CRM or any other system you use.
Thanks to the ability to schedule sending the documents, you can choose whether you want them sent automatically or upon request. You can also send multiple proposals at once if needed.
This tool includes an electronic signature. When you send a contract or any paperwork to your clients to sign, the validity of the signature gets checked.
Conga uses AI (artificial intelligence) to pull data from your documents, so you can improve your sales performance.
Although the UI/UX of the Conga itself is a little bit outdated (it looks soo 90s), it's relatively easy to use it without any distractions.

The con of Conga is that the learning curve is a little bit bigger than for other PandaDoc alternatives, so you'll need a little bit more time to a custom yourself and your team to the software itself.
Why is Conga a great PandaDoc alternative?
If you lead a team or need an all-in-one solution when creating your proposals, Conga is a better option for you than PandaDoc.

Some of the great features and benefits Conga has over other PandaDoc alternatives are:
File recovery

Document transformation

5-star support

Triggered document distribution

It has a better mobile collaboration
With Conga, you can create workflows to make the sales process even more efficient and faster.
The bottom line
Without clients, no business can exist. And only effective proposals can attract more customers and make your business thrive.
Keep in mind that many clients receive a large number of proposals on a daily basis. In order for them to choose you, you have to stand out in the crowd and convince them that you and your offer deserve to be chosen.
Your proposal should present your offer in the best way possible. If you want to present yourself as a professional, Prospero will be of great help to you.
Great offers will make a "WOW" effect on your clients and they will certainly increase the chances of them opting for you!