E-commerce has grown by nearly 15% from 2019 to 2021. This considers a consistent rise in the business, giving entrepreneurial individuals an excellent opportunity to cash in on the growth.
However, you need to understand how to identify eCommerce trends for 2022 to remain effective.
Our findings have identified eight trending products you can use. To start your eCommerce journey, keep reading to learn how and why to get started and make some money.
eCommerce Product Trends 2022
What makes these trending products for 2022? It comes down to these factors:
These products have shown a significant and recent growth rate.
They have a middle-ground price point that appeals to a lot of people
These products do not cost a lot of money to ship
The products are in low-competitive niches, making them great for entry-level sellers
You can use these factors in your search to identifiable viable items yourself.
While we will revisit the "how-to" later, for now, here are compelling reasons why to pick these items:
#1 Curling headband
Looking at stats over the past five years, curling headbands haven't had long-term popularity. However, they have had a small, consistent audience kept alive by companies like RobeCurls.
Narrowing this growth look over the past few months, there has been a significant upturn in product growth.
Given the growth remains consistent, it is a new trend for those who love to style their hair without using heat.
| | |
| --- | --- |
| Pros | Cons |
| Low manufacturing requirements | Weaker historical data beyond 2021 |
| Incredibly cheap to make | Likely to fill up fast |
| Great entry to the fashion category | |
#2 Rosemary oil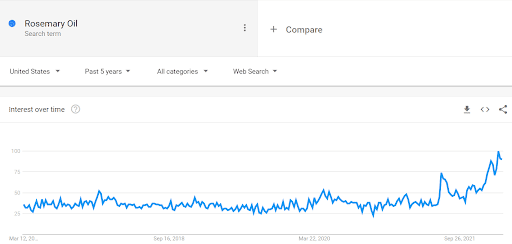 Like the curling headband, rosemary oils have had a consistent group of loyal customers. Much of this has been sustained by the popularity of a 2018 Healthline article showing its health benefits.
The continued push of the essential oils craze has recently seen a solid increase in sales of this oil.
Rosemary is an incredibly likely entry point for those wanting to join the essential oils market.
| | |
| --- | --- |
| Pros | Cons |
| Excellent potential to make cheaply | Requires bottles with low breakability |
| Great way to enter a profitable market | It comes with a lot of customer scrutiny |
#3 Hair tool organizer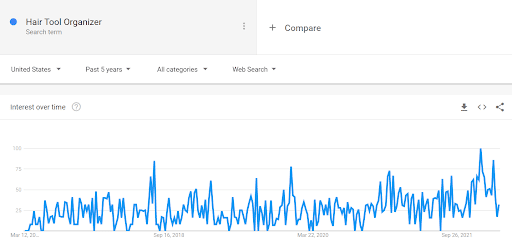 Hair tool organizers are mainly popular on Amazon. As the product type has grown to a sizable amount of searches, it's worth getting into.
With no dominant brands in the market, customers search for better providers.
In the quest of organizing your bathroom, it offers an excellent entryway into the fashion and styling niche that is not ordinarily available.
| | |
| --- | --- |
| Pros | Cons |
| Simple to manufacture and cheap | More volatile historical data |
| Excellent opportunity to become a dominant brand | A perfect entry point to the fashion category |
#4 Curtain opener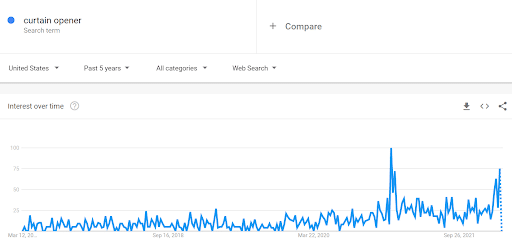 As customers demand more modernization in their homes, the keyword "curtain opener" has changed its use.
Motorized curtain openers are becoming more popular, acting as a cheaper method of hiring a professional service provider to go through the installation process.
Those searching for curtain openers are looking for a more affordable and approachable manner.
If your company can provide this, you'll be able to join the smart home niche with relative ease.
| | |
| --- | --- |
| Pros | Cons |
| Unique product target that's hard to duplicate | Requires technical knowledge to make |
| A possible entry point to smart home products | Not an ideal target for low-budget sellers |
#5 Magic broom
The home and kitchen category has always been an excellent entry point. It's easy, has a lot of manufacturers, and is often loved for its everyday use feature.
A 2021 YouTube demo showed the broom off, allowing it to take off with more popularity than the average broom. The companies currently part of this market are struggling to impress customers.
Given the increased opportunity and consistent sales growth, you might be able to fill in that gap.
| | |
| --- | --- |
| Pros | Cons |
| Excellent entry-point to home category | Customers are very critical of these products |
| Great potential with some design tweaks | It costs more to ship given the unusual size |
#6 Sofa cover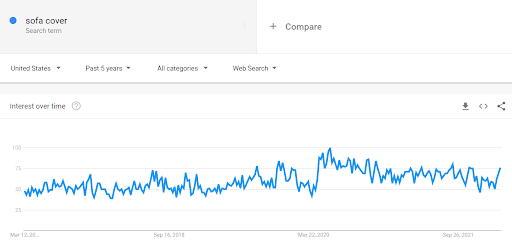 Sofa covers are a popular mainstay of eCommerce sellers because they fill being in a relatively easy niche (home) while being simple the manufacture.
Because Amazon owns the #1 search position for sofa covers on Google, this target can give you 90 thousand customers of potential.
However, you'll want to offer a unique type of sofa cover that stands out. Doing some research on less popular sofa cover targets (l-shaped, larger couches, etc.) will enable you to enter the niche.
| | |
| --- | --- |
| Pros | Cons |
| Weaker competition among unique couch types | Heavily competitive for the general category |
| Cheap to ship despite the larger size | Amazon doesn't have many sub-categories |
#7 Handheld steamer
Handheld steamers (otherwise known as garment steamers) have shown consistent growth over the past five years. You'll find that this popularity comes from those looking for an iron substitute.
Given that this growth will be seen as consistent, it does offer you a unique entry point to the laundry category, one that isn't ordinarily available given that it's typically expensive (washing machines) or special (laundry detergent).
| | |
| --- | --- |
| Pros | Cons |
| A great entry point to the laundry category | It costs more given it requires technology |
| No major dominant brands in the steamer market | Customers are likely to break low-cost steamers |
#8 Wood world map wall
With a bit more of a chaotic history, wood world map walls will require some unique connections and talents.
However, there is no denying an overall demand for wood burning and design.
You can find much of this demand on sites like Etsy, with more than eight thousand existing. Those wanting to get into a more artistic area might find this a unique entry point.
| | |
| --- | --- |
| Pros | Cons |
| A unique way to enter the handmade niche | It has the potential to be expensive to ship |
| An excellent option for those wanting to make a unique item | Requires significant time and effort investment |
How to identify new trends
Knowing good entry-level products is a great start. However, knowing how to identify those products will help you further.
In the interest of teaching you how to fish, here are three different methods you can use to identify new trends:
Amazon Best Sellers
The most sold products on Amazon are under the best sellers list. However, plucking an item from the top of this list is ineffective. Instead, you need to narrow your search by using these aspects of your best sellers:
Stick to looking for bestsellers within narrow product categories
Look particularly close to the Amazon Movers & Shakers category
Focus on items with a small number of sellers
Try and look for products with low customer service requirements (ample for automated canned responses)
The best-selling products on Amazon are too competitive, so focusing on narrow product categories enables you to be more competitive. Even among those, start from the bottom of the list, going up.
Getting into an overly competitive location will waste your money.
Pinterest
Pinterest is an excellent social media site. Despite most popularly being known for DIY crafts, influencers use the site to identify their favorite things.
As a result, following people in a niche you already love is a great way to catch products as they become trending.
You can sell products on Pinterest as well through Product Pins. But when finding the right products, here are some additional tips:
Include the ability for people to pin your products from your eCommerce store
Follow successful competitors in your niche to see how they market on the platform
Follow influencers adjacent to your place to find complementary products
You should have a social media page across major providers with the broadest potential audience. Using Google Chrome extensions for social management will help you save time to cross these various platforms for research and social engagement purposes.
AliExpress
Like Amazon, AliExpress allows you to look at the best sellers list to identify what eCommerce works well.
However, this list won't respect your desired niches, so knowing how to use the platform can help you out.
Here are some extra tips you can use to identify trending products:
Use AliExpress's search filters to narrow down searches by potential niches and product types
You might focus on items with high product ratings, free shipping, specific price ranges, or from countries
Combine this with data from other sources (like Google Trends or Instagram) to find out how other people are talking about it
When looking for suitable products from AliExpress, you should ideally find those with detailed product descriptions.
Companies who put effort into their description also are more likely to put more effort into their products.
You should also seek out manufacturers with reasonable response rates, as they are more likely to be customer-centric.
Conclusion
Identifying the best product trends will enable you to stay ahead of the curve when 2023 approaches.
However, you have to start somewhere, so any of these products can be suitable for your needs.
Using these steps applies only to the first part of your eCommerce business. The other half involves deciding how to sell, where to sell, and providing the most compelling description.
By keeping your eyes on the Prospero blog, you can understand how to do all of these. You might also find some skillsets you didn't know you needed.
Consider it on your eCommerce journey regardless of what you decide to do with this information.