Are you looking for Proposeful alternatives for beautiful business proposals? That's what you'd find here!
Proposeful has a wide variety of tools to replace outdated documents with impressive proposals and share them with clients.
It's the most popular business proposal software nowadays. However, other solutions offer similar benefits and features at competitive prices.
If you want to find out which is the best one, check the list of Proposeful alternatives below!
What is Proposeful?
Proposeful is a proposal management software.

With this tool, you can also track when clients open your proposals and contracts. It also has features for closing sales, including a legally binding electronic signature.
Proposeful is a solution for writing, sending, and managing business quotes and presentations. It offers a wide variety of customizable proposal templates. You can modify them all to fit your brand or project.

However, there are some Proposeful alternatives that you may find much more useful for your business.
Best Proposeful Alternatives for Beautiful Proposals
You can find many Proposeful alternatives on the market, but only a few are worth trying.
Here's a list of the top proposal edition software solutions you can use:

Do you want to create a business proposal to impress your clients? If so, Prospero is for you!
It's the best Proposeful alternative currently available. While there are many similar tools out there, it has optimized features that make proposal design easier than ever.
With Prospero, you can create beautiful proposals in minutes! Do you want to win more projects? It helps you impress your clients with documents that fit any device.
With just a few clicks, you can browse its ocean of proposal templates. There are a lot of options that you may choose and customize.
You only have to edit your favorite one, add your logo, and give it your personal touch.
You can find the perfect proposal template for any scenario. Prospero has various options for graphic design, website development, and miscellaneous. Use its built-in content and element generator to customize them.
If you work in the copywriting or photography industries, you can also find what you need there! It has over 65 categories with proposal templates. Each one has ready-made texts to get the writing done in no time.

Prospero also includes tools to send and track your proposals. With this software solution, you can know how many times and for how long your submission was opened.
It also shows each proposal's status and gives you an email notification when the receiver performs an action.
If you want to get a deal signed by the customer, you can also use Prospero's digital signature feature. It works with legally binding digital e-signatures you may use to sign or get a more secure deal.
Also, your customers can sign and pay from any device.
It also focuses on teamwork. You can add users to your account and manage roles to boost your business.
Furthermore, the software integrates with several apps and platforms such as Stripe, Zapier, Slack, and Xero.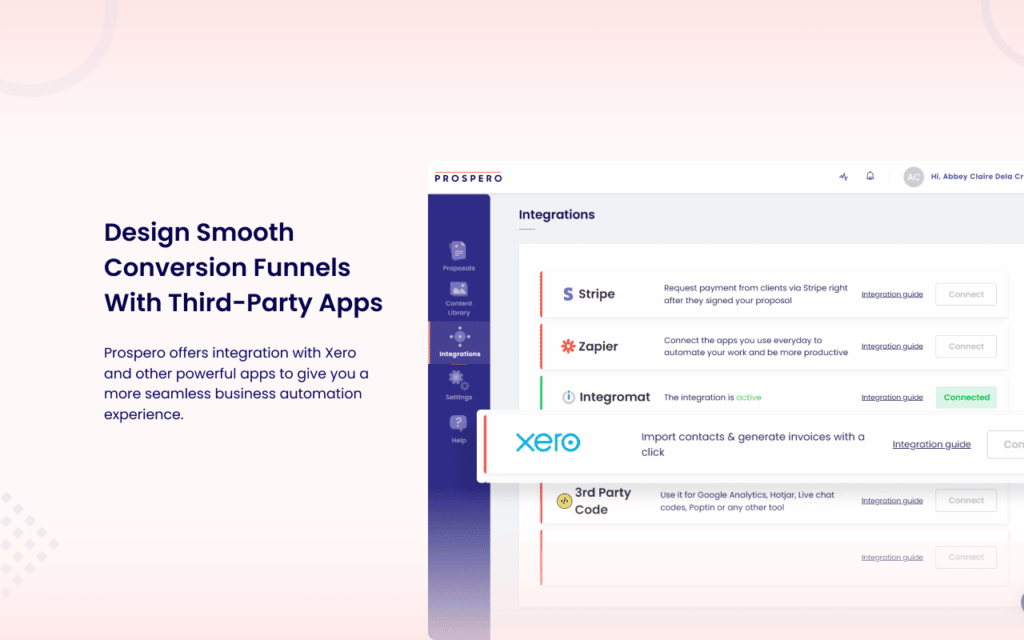 Prospero is a full-featured tool that can help you create proposals in record time. If you want to know what it offers without spending a dime, you can try its free 14-day trial!
You may also purchase its plan for unlimited proposals at only $10 a month. 

Paperless.io
Another Proposeful alternative is Paperless.io. If you use this platform, you only need to follow five steps to create a contract or proposal. It has a template section to get started.
After choosing one, you only have to customize it, send it, and add e-signatures.

Paperless.io has tools for tracking documents' activity. You can get real-time status updates on all proposals, contracts, or quotes you submit.
It also offers a space to secure all the documents called the Paperless library. You can save your proposals there and export them in any format you like.
All documents created in Paperless.io are cryptographically signed. Therefore, you should not worry about security.
Besides, the platform integrates business processes with people's favorite tools. You can build your own customs integrations or use the existing ones. It supports Zapier, Slack, Gmail, and more.
If you want to try Paperless.io, you can start a free trial, buy its Business plan for €24, or request a custom package.

Oneflow
There's another Proposeful alternative for creating proposals, contracts, and other documents. It's Oneflow.
The platform automates the entire contract process. It assists the user from creating to e-signing and managing. 
Oneflow is an all-in-one tool. It gives you a complete overview of your documents with the managing features you need at your fingertips. Once you sign up, you can create contracts or proposals and add signatures.
With this platform, you can also analyze your individual or group performance by seeing real-time insights at every step. It also allows you to work together in real-time with its edit-live feature.
Do you want to reach a successful deal? Make changes to the contract live and flow through negotiations effortlessly.
Oneflow also has powerful integrations to boost efficiency. Connect your document to your favorite tools, including Google Workspace, Membrain, and Hubspot.
You can try Oneflow through a free trial with 14-day access to its premium plan or purchase one of its packages, starting at €28.

Lancelot
It's an easy-to-use platform designed to create, sign and automate documents, including proposals.

You can use Lancelot to make digital contracts without trickery and get proposals done quickly. The platform has an intuitive interface with several templates to craft your proposal in just minutes.
When you're ready, you only have to send your proposal and get real-time notifications if your client views the document or performs any other action.
Also, your client can accept and sign your proposal directly through Lancelot. In other words, it reduces the friction of sending documents back and forth.
It doesn't have integrations but offers many features, including custom branding, PDF generation, and e-signature. Others are cover image, fee summary, reusable library, formatting, and send & track.
Do you want to try Lancelot? It offers a single plan with everything you need for $20 per month.

Dealhub
You can create a business proposal and convert deals in minutes with Dealhub. It's a proposal management software that automates workflow for quotes, contracts, and other documents.
This platform lets you focus on selling and forget the tough admin work. It also provides you with the tools you need to create proposals and achieve success.
Dealhub has several contract management features to streamline contract creation and signing. However, it's not a proposal editor only.
This software solution has been designed as a revenue amplification platform that speeds up deal execution and boosts sales.
If you choose this Proposeful alternative, you can use its subscription management to promote products and services. This feature can help you increase revenue and drive faster growth.
Dealhub has various integrations with major CRMs. Some are Salesforce, Hubspot, Freshworks, and SugarCRM.
Are you interested in using Dealhub? It's available in two packages under a personalized budget.

Conclusion: What is the Best Proposal Management Software?
Each Proposeful alternative mentioned here has its pros and cons. Although they have some differences, they all focus on customization and can help you speed up negotiations.
Also, they all have proposal templates to make the process easier and faster. Creating a beautiful business proposal has never been so easy!
However, Prospero is the tool you should choose. It's a full-featured, first-class software solution ideal for creating, managing, and signing your documents.
If you need to create a contract or a proposal but don't want to burn your pockets, Prospero is the perfect platform for you.
Sign up to Prospero and discover all its benefits!