Applying to the new job or a project can be pretty stressful, especially if you've found a perfect role for you and you want to present yourself in the best way possible.
No matter if you work as a freelancer or in a company, your business proposals should look flawless and professional.
If you feel a lack of creativity in a moment, worry whether you're gonna forget any detail, or simply, are just starting with writing these types of documents, you should use tools that can be of great help to you.
Proposable is one of these tools, but if you're searching for alternatives to Proposable, you're in the right place.
After a short overview of Proposable, you will have the opportunity to be introduced to the following alternatives:
Prospero

BetterProposals

Proposify
Let's start right away!
Proposable: Overview
Proposable is a tool that offers a lot of different features.
Thanks to them, you can customize your business proposals with ease.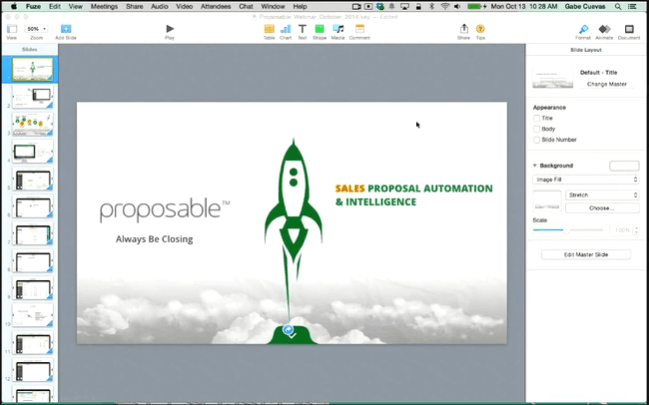 Proposable's editor functions by drag and drop system.
On the left side, you can see all of your slides, while important customization options are on the right side of your dashboard.
Offered features:
Drag and drop editor

Customization

Content library

Team working

Electronic signatures

Analytics

Real-time notifications

Integrations
The pros and cons of Proposable
It's time to see what are the pros and cons of Proposable.
What are the pros?
Proposable provides easy collaborations with other members of your team, so it is a great solution for small companies.
There is a content library where you can save all of your works and share them across your team.
Thanks to real-time notifications, you will know if there is any new download, comment, or share when it comes to your documents.
All of your prices, discounts, quantities, and more can be well-organized in a Pricing Catalogue.
What are the cons?
It would be great if there were more customizing options which are very important for writing business proposals.
Proposable belongs to the more expensive tools of this type, so that could be a problem.
Prospero
Prospero is another writing proposal tool that provides you with a high-level of customization.
Why I love Prospero?
Ease of use: It is extremely user-friendly and detail-oriented.
It doesn't require any designing skills, because it has a simple drag and drop editor.
Customization: Customization is one of the strongest sides of Prospero. You can choose colors, fonts, sizes, add images, tables, and other types of content as well as your logo.
Features: Prospero has a feature called The Proposal Wizard. It is literally a guide through the whole business proposal writing process. 
When you enter this feature, you can type in information about:
Client

Project

Yourself

Pricing strategy

Deliverables

Milestones
Based on the information you added, Prospero will help you to make the most adequate proposal for your project.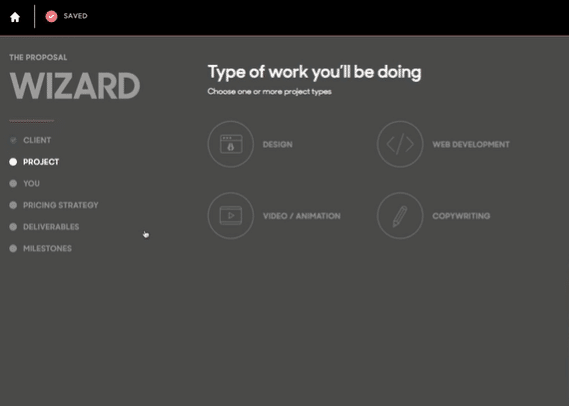 Everything you do is saved in the cloud, so you can access your work at any time and from any device.
Other Prospero's features are:
Drag and drop editor

Templates library

High level of customization

Ready-made texts

Electronic signatures

Pipeline management

Device optimization

Analytics

Integrations
Analytics: Accurate analytics of Prospero shows you when someone opened your document, how many times they opened it, and how long someone watched it in total. You will be notified so that you could know exactly what is happening with your proposal.
Customer support: Customer support is responsive, ready to help you and to answer your questions.
Pricing: Prospero has a simple pricing table and it also offers a 21-day trial for $1 so you can see if it suits your needs perfectly.

Why is Prospero a perfect Proposable alternative?
Prospero is one complete platform for writing effective business proposals.
It allows you to send your documents and receive electronic signatures, as well as collect payments.
Even if you were a beginner, it would be easy for you to create proposals thanks to The Proposal Wizard feature.
Prospero also includes ready-made texts if you get stuck with some writing parts.
This alternative to Proposable integrates with FreshBooks, Zapier, Crisp, Intercom, Stripe, and other platforms and supports the installation of 3rd party scripts.
To sum up: Because of its innovative features and simplicity of use, Prospero is a great tool if you are searching for a tool that can help you to be efficient in writing quality business proposals.

BetterProposals
BetterProposals is a tool that includes templates that are easy to edit and adjust.
This alternative also has a drag and drop builder with different options.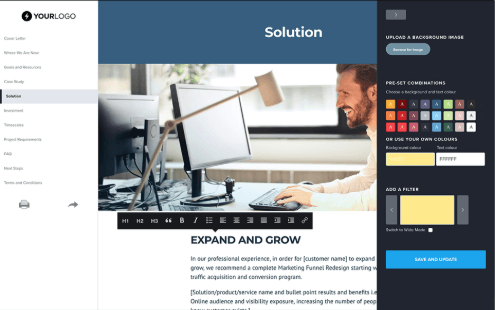 In each proposal you make, you can add a logo and the same fonts that you already use on your website.
BetterProposals allows you to collect signatures and it keeps them secure so you don't have to worry about privacy.
Offered features:
Drag and drop builder

Customization

Templates

Electronic signatures

Analytics

In-depth reports

Integrations
Pricing: Better Proposals offer a 14-day free trial. Afterward, you can upgrade to some of the paid plans depending on which features you need.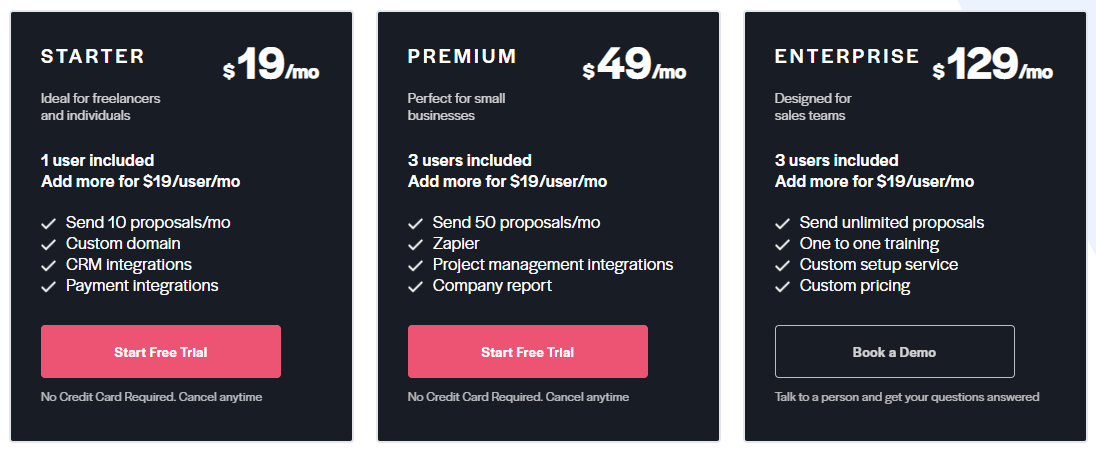 Why is Better Proposals a great alternative to Proposable?
Proposals that you already made and that left a great effect on clients can be saved in Better Proposals content library, so you can use them again and again.
Your every proposal can get a custom domain, so when your clients open them they will look like they're a part of your website.
Thanks to tracking features, you can track who is ready to sign your document and who needs more convincing or solving some uncertainty.
It integrates with Stripe, PayPal, and GoCardless, which is very important for collecting payments online and it saves time.
Proposify
The last alternative to Proposable that is to be mentioned on this list is Proposify.
Proposify is a popular business proposal writing tool and it includes important features, too.
Thanks to analytics, you can track your documents and contracts knowing what is happening with them all the time.
With Proposify, your documents can be organized into categories which will help you to become more organized, too, and find what you're looking for more easily.
Offered features:
Drag and drop editor

Customization options

Templates

Interactive documents

Notifications

Analytics

Electronic signatures

Integrations
Pricing: Proposify has a 14-day free trial and three paid plans to choose from.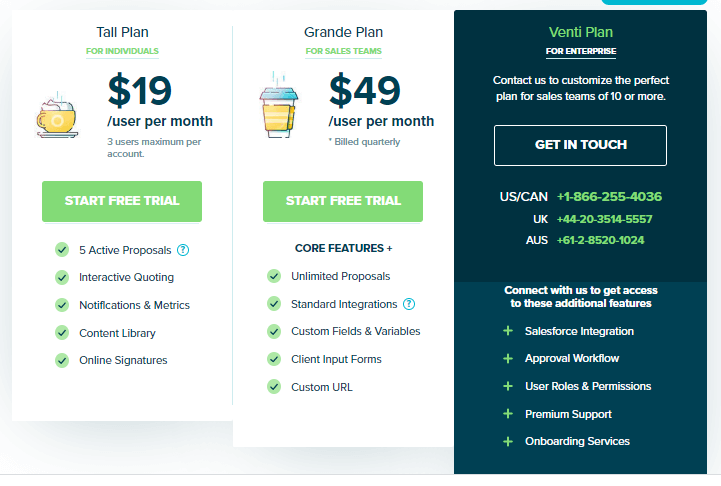 Why is Proposify another great alternative to Proposable?

Proposify has a content library where you can collect and save all of your important pieces of content as well as fees and descriptions of your products.
Different repetitive information can also be saved, and you can access them whenever you need to insert them into your documents.
The great thing about Proposify is that it allows you to create interactive documents with videos, chats, and interactive pricing tables.
It has integrations with many important platforms such as HubSpot, QuickBooks, Zoho, Basecamp, and more.
The bottom line
Using some of these tools to help you create an amazing business proposal is a smart move, for sure. It is great that they do not require previous designing experience.
They will save you time and effort so you can apply to different jobs and raise your chances to get more work and earn more money.
If you can't imagine that something like this is possible, then try out Prospero and start making your winning proposals right away.
Professional-looking proposals are the perfect way to represent yourself to your future clients.