Underestimating the power of email campaigns can negatively affect your business.
You have probably seen that the vast majority of popular brands and companies offer different benefits "in exchange" for email addresses of their website visitors.
Getting their contact details can help you build brand awareness and increase sales up to several times.
Having this in mind, it is of high importance to choose the reliable mailing platform.
Using this platform, you can run effective and consistent campaigns much easier than sending emails manually and spending hours and days that could have been more productively used for other important tasks that can't be automated.
To help you decide which platform suits you the best, I have been testing Reply.io, SalesHandy, and Mailshake for two months already.
Now, I will present to you the overviews, pros, and cons of each of them.
After reading this article, it will be much easier for you to choose which one should deserve your trust and would most likely meet your criteria.
So let's start right away!
Reply is intended for inbound and outbound sales.
It is a platform that can automate LinkedIn email searches, outreach emails, personal emails, and calls.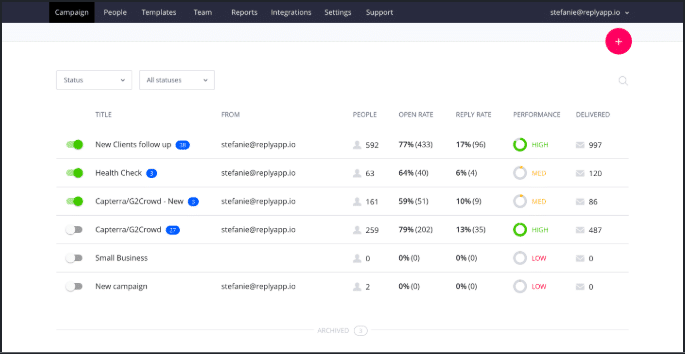 Reply has a Chrome extension that allows it to research and find prospects for your business through the entire web.
It has a clear scheduling board, so you can simply add dates when you want to have your emails sent.
Analytics track all performances so you have them collected in one place which makes it easier for you to analyze them and improve your campaigns in the future.
Don't forget that personal touch is very important in the digital world. With Reply, you can make personalized emails without creating separate campaigns.
Offered features:
Email templates

Team edition

A/B testing

Custom caller ID

Local phone numbers

Dashboard

Inbox email categorization

Integrations

Analytics
Pricing: You can choose between three categories: Individual, Business, and Enterprise. The first two offer three different packages and prices for each of them. If you want to choose the Enterprise category, you can contact their support team and find a solution that works best for you.
Here are the prices for the Business category.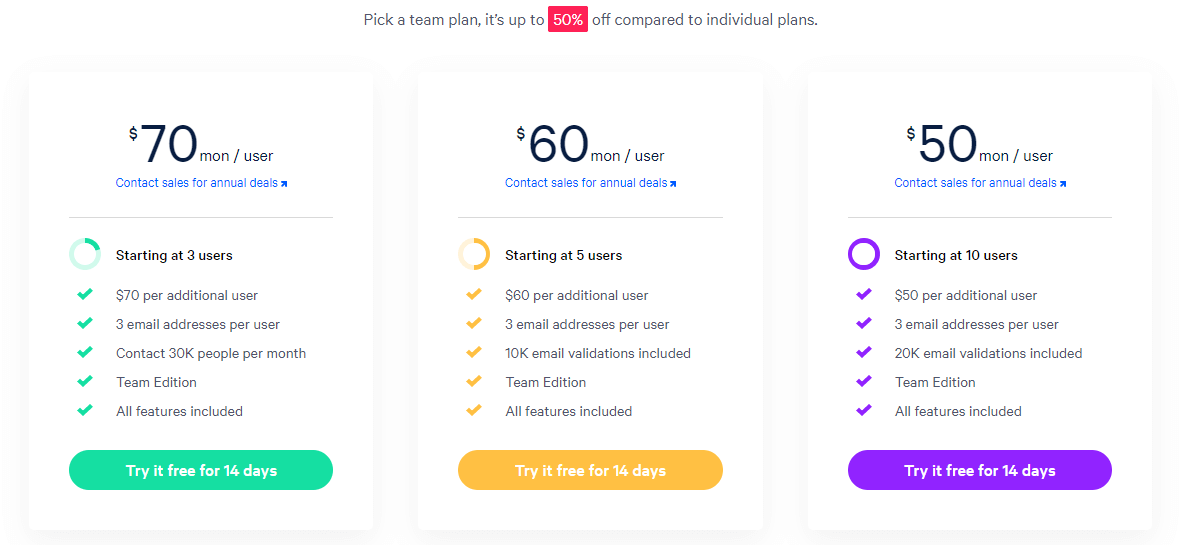 What are the pros of Reply?
Reply.io helps you to automate your mailing tactics. It can increase your sales by communicating with old leads and sending them cold emails.
With a combination of A/B testing and analytics and stats, you can see all of your performances and find out what your best techniques are.
Reply sorts your emails as interested, uninterested, and by more categories which will lead to a better organization.
Great features mentioned above provide more productivity throughout your whole business team.
It has important integrations with native CRMs, APIs, and Zapier.
What are the cons of Reply?
It would be excellent if there were more options for editing emails. There is no HTML formatting.
Customer support does not always have the right answers for your problems. They are often very busy, and Reply does not offer some premium support that you can pay for and thus rely on them completely.
To sum up: Reply is a very helpful platform with a lot of useful features but sometimes, if you have issues using this mailing platform, you will have to figure out the right solution by yourself.
SalesHandy is another very popular mailing platform that is already used by over 100000 users.
The great thing about SalesHandy is that you can use their extension for Google or Outlook and you can start using it right away.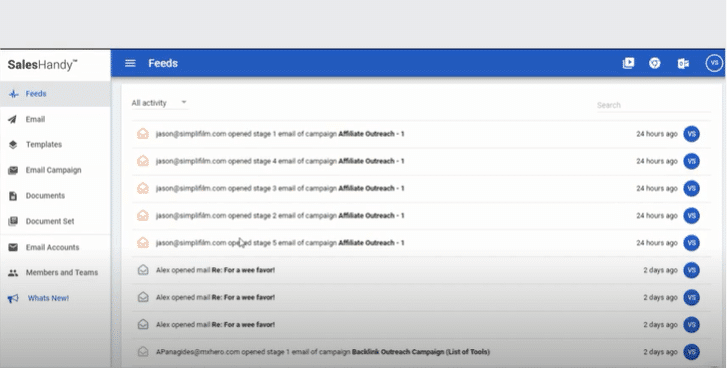 With automated follow-up emails, you can choose recipients, personalize emails, and send up to 2000 emails all at once.
If you use custom mail merge fields from your CSV, you can even send up to 5000 emails.
Scheduling emails is also very easy. You can choose the time zone and schedule emails based on the best time for them to be read by your target audience.
Using email templates, you don't have to write email messages from scratch, which will save you a lot of your precious time.
Offered features:
Pricing: SalesHandy offers a free package and three paid packages to choose from.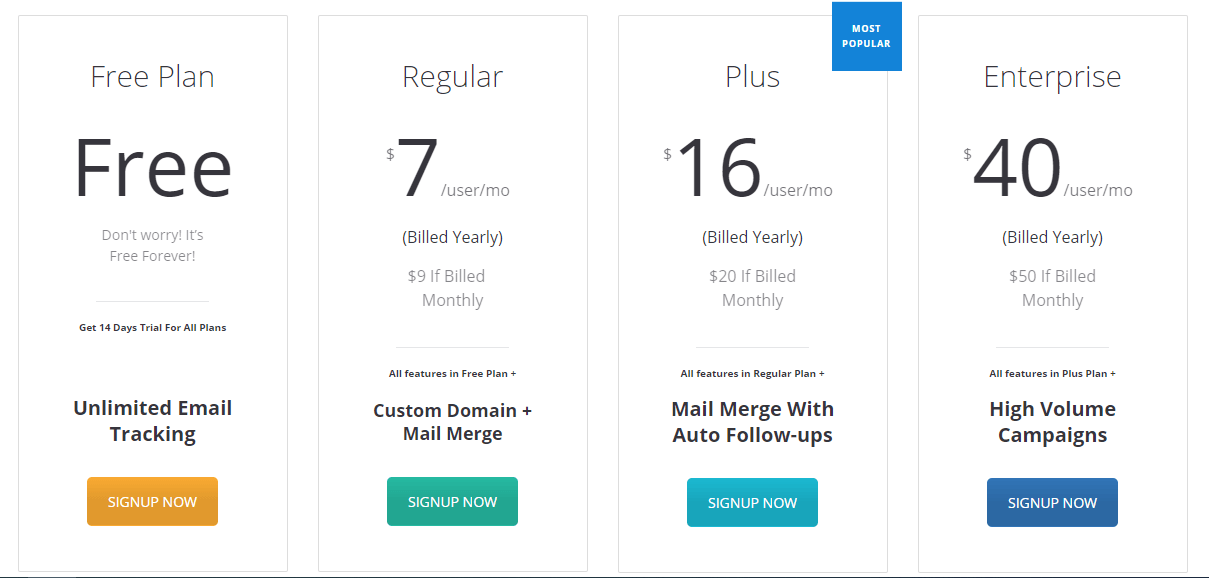 What are the pros of SalesHandy?
For each email, you can get real-time notifications on your desktop so you will always know what is happening with your prospects.
You will be able to find out for each email from which device they came and which browser they were using.
Scheduling emails brings more on productivity, and with SalesHandy, you can schedule an unlimited number of emails.
This platform allows you to track documents with engagement analytics. Engagement analytics include statistics for:
Document opens

Document views

Time spent on each page

Forward tracking
If you don't want your readers to download documents you are sending to them, you can disable downloading.
What are the cons of SalesHandy?
There can be some bugs from time to time that can have a certain effect on the overall experience.
The interface can be more user-friendly, but the SalesHandy team is constantly making improvements so this doesn't need to be a permanent issue.
To sum up: SalesHandy is a powerful mailing platform with many options to make your business less challenging and more automatized. Improvements make SalesHandy better through time, though.
Mailshake is a platform intended for different types of businesses and organizations.
Using this platform, you can connect to your prospects via mail, phone, social media channels, while doing it all from one dashboard.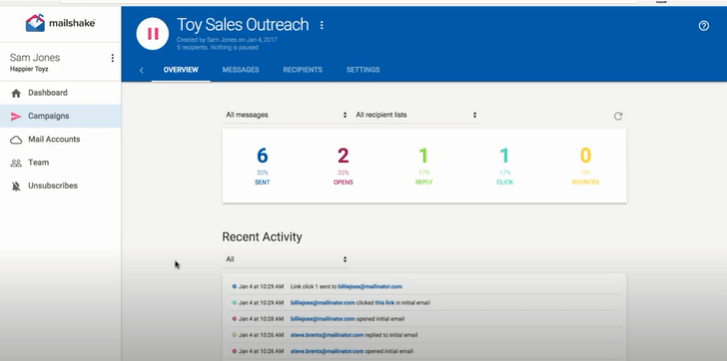 With Mailshake, you can send personalized cold emails to your prospects.
Customize your emails and send them automatically when scheduled.
You can make drip emails that will be sent whether the recipient answered on your email or not. And you can pause it anytime.
When you send an initial email, you can choose after how many days you want to send another one making a consistent email campaign effortlessly.
Offered features:
Personalized emails

Scheduling emails

Dashboard

Drip emails

Autopilot

Follow-ups

Integrations
Pricing: Mailshake offers two paid packages to choose from.
What are the pros of Mailshake?
This platform offers great customer support with live training that you can go through and improve your knowledge.
Mailshake is easy to use and it allows you to track everything that is happening with your emails.
It also includes advanced scheduling and throttling.
Thanks to the Lead Catcher feature, communication with the audience is simple and you can gather all messages in one place.
Mailshake offers integrations with SalesForce and Zapier. With Zapier, you can connect with more than 1000 integrations.
What are the cons of Mailshake?
The thing I don't like about Milkshake is that you have a limit on how many emails you can send through one day.
Analytic is good, but it should be more in-depth.
To sum up: Mailshake is another great platform that is easy to use and understand. It would be great if there were more features that would make this platform more user-friendly and even better.
The bottom line
Now, when you took a closer look at some of the most popular mailing platforms, it should be easier to choose which one is the best for your business.
Communication with your prospects is something that should not be ignored.
Create powerful mailing campaigns, and they will help you to reach your goals.
Offer your target audience additional valuable content through email messages and earn their trust.
If your content educates them, inform, or entertains them, they would be more likely to read your emails regularly and buy from you rather than from your competitors.
It is completely understandable that running a business can be a huge obligation as it takes a lot of time, so it is a smart move to use all the marketing and sales tools that you can to automate some parts of your business techniques and make it all more efficient.
Using these platforms, you are able to send automatic emails to a really large number of recipients and run a consistent mailing campaign.
Use them and start increasing your sales for less time than you could ever imagine!