Do you have at least one solid lead generation channel that drives your business growth such as outbound or PPC?
Have you ever thought about how much faster your SaaS could grow if you complemented well-performing channels with inbound?
Here, we want to show you how to diversify your lead acquisition effort and boost the number of inbound leads by creating content your users are looking for now on Google.
What is inbound marketing?
Inbound marketing is an approach to creating content that is useful and searched for by your target audience. Inbound marketing is all about helping your customers resolve their challenges through content — be it a blog article, a newsletter, or a YouTube video.

Unlike reaching your target audience with ads by defining specific target audience criteria, with inbound, your potential customers find you through the content you publish online.

If you are working out a strategy for your SaaS business, you should be aware of some differences and specifics this concept holds for SaaS.

With SaaS inbound marketing, apart from aiming at generating more leads, better customer onboarding and retention will be also core to the success of your inbound marketing strategy.

To measure the impact of inbound marketing on your SaaS business, you will also use slightly different success metrics compared to a typical B2B business — just take the new MRR metric as an example.
Tips and tricks for generating more SaaS leads with inbound marketing
You have probably experimented with different inbound marketing tactics — created a social media post or a blog article.
But are they driving any meaningful volume of leads?

To help you maximize the impact of content on lead volume, we have prepared some tips and strategies for SaaS content optimization.
1.Apply conversion-focused copywriting
Conversion copywriting is the way of designing your content to drive a user's desired action.
Signing up for a free trial, buying a product, downloading a resource, or joining an online training are all examples of such actions.
Let's check this example of the page.
This website copy communicates a key value proposition of this SaaS tool, its benefits, contains a clear CTA, and the elements encourage action and eliminate fear (review sites ratings, no requirement to enter credit card details, etc.).

To drive more conversion with your copy, make sure you review and improve the following elements:

Create more actionable CTA — Instead of using generic CTA, be more specific. When thinking of what copy to use, consider the goals you will help your customers to achieve after they click a button.
Put the most important information on top of the page — People consume information online differently than they do when reading a printed book or magazine. They skim and scan text — often, only on top of the page, the so-called above-the-fold area. That's why the most important information should be there.
Show a solution to a problem — Don't write content for the sake of publishing something to rank on keywords. Instead, create a strategy focussing on delivering answers and solutions to challenges that your users face. Think of what they can be looking for online first.
Don't be overly promotional — show your tool in a good context and as a solution to a problem. Don't scatter your free trial banners in random spots in a blog article, but post them where you communicate a product as a solution to a problem.
2. Improve Your SEO strategy
You probably have a few blog posts that could perform better and bring you more conversions. How can you optimize those for better results? If you are thinking of writing more content, how can you make sure this content will perform well and rank high in search results?

No matter if you are working with a startup consultant or doing SEO on your own, good keyword research before writing content or during the optimization phase is a must.

Start with keyword research — the analysis of search terms that will help you identify high-potential keywords to use in your article.

To run this analysis faster, use Ahrefs. With this tool, you can identify the difficulty of ranking on your chosen keyword, search volume, and clicks among the core elements.
For example, when running a search for the phrase "invoice template", you can see that it can attract a lot of traffic if you rank high in search results, but this keyword is also quite difficult to rank for — your competition already knows it converts well.

Nevertheless, it's worth trying to create content around this keyword — with the right strategy in mind (by building more links leading to the article or writing more optimized content).
Once you know what keyword you want to use, continue with assessing search intent — a purpose for an online search of your users. There are four main types of search intent — informational, navigational, transactional, and commercial.

Just type your keyword into a search bar on Google and check the first 10 results to get an idea of what content people expect to see when searching for it online.
When running your search start with these questions:
Do you see mostly articles, product listings, or landing pages?
Do people look for a specific tool or solution to use, want to buy it, or want to educate themselves on a certain topic?
You can use SurferSEO to perform such searches for specific locations and check some other metrics such as content optimization score and backlink profile of companies that already rank for your keyword.
All this information will give you some ideas on how to create better content and outrank your competitors.
3. Nurture leads with email
Apart from driving top-of-the-funnel leads, SaaS businesses should also have a content plan for converting those leads into paid users. Email is a core tool for converting your trial users into paid customers.

Do you already have a strong email onboarding sequence in place? If not, it's time to write one for your users.
When planning email onboarding, think of the key tasks your users have to perform to get onboarded and familiar with your tool, so that they derive the maximum value out of it.

Check out this onboarding sequence that a user receives after signing up for a free trial.
To help get the most out of this sales engagement tool, this SaaS business is sharing useful tips with users during their free trial.
Once a free trial is over, a user receives an email encouraging them to switch to a paid plan and is reminded about the key benefits of the tool.
4. Distribute content on social media
Social media is getting more saturated — these days, fewer than 6% of your page followers will see your post on Facebook.

No wonder — social media platforms want advertisers to pay to reach their audience.

However, even though it's more difficult to reach your audience organically on social media, this channel can still bring you a lot of SaaS customers if you follow the rules and keep up with the changes in platform algorithms.
When checking the social media accounts of SaaS businesses, you can notice two possible situations — almost no engagement under posts that are published regularly or quite a good one — a lot of likes, comments, and shares.
So what sets those two cases apart and how can you achieve the latter situation? Let's see an example first.

This SaaS has good social media engagement, but there is a catch.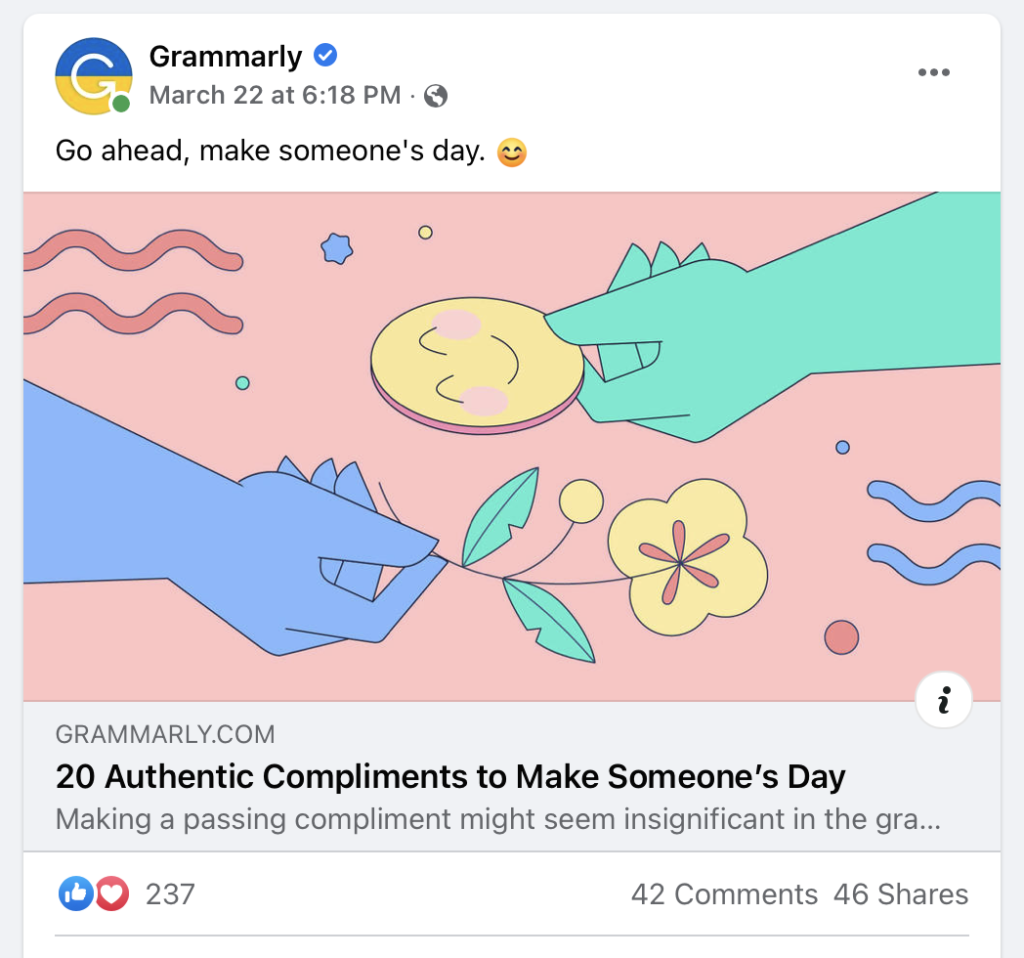 If you head over to the Page Transparency section of their Facebook fanpage, you can quickly notice that to get this engagement, they actively promote this post.
The bottom line — if you want to distribute content effectively on social media, prepare to pay for boosting posts.

Is it the same for other channels? Let's check LinkedIn. Not long ago, companies would post some random updates on their corporate LinkedIn pages, often linking to their blog. They would also openly promote their services.

These days, it seems that LinkedIn doesn't favor that standard type of promotional content, especially if it contains links.
To get successful on LinkedIn, you have to provide a lot of value — share tips or an interesting story without any hint of promotion (directing users to a blog or asking to buy your products).

That's exactly how Gong has become successful. They are publishing short stories that get people to comment and engage under posts.
Such content helps Gong attract the right audience and build awareness about the company without being overly promotional.
5. Incentivize users to recommend your tool
With word of mouth marketing, it's users who create content for your SaaS brand — they spread the word about your tool and convince their friends or followers to buy it.

Here is how referral programs work to extend that theory into the digital world — your users join a program and get a unique link or code to share on social media.

Then, they can create content on their own blog, describing the benefits of your tool, or even make a post on social media recommending your tool to their friends.
After a referred user clicks a unique link or uses the referral code, a referral program participant receives points or rewards.

How does it really work in practice? Let's see an example of Dropbox to illustrate it.

Dropbox is a file hosting service that offers tools for companies to collaborate and streamline workflows.

Their referral program is simple — refer a friend and you'll both earn 500MB in additional storage space. If you continue referring a tool to more friends, you earn up to 16GB in free storage.
6. Build out your knowledge base
SaaS businesses often don't see a knowledge base as a part of their inbound strategy — that's mostly technical content that your existing users need the most.
That's not entirely true as, in some cases, your knowledge base articles rank high in SERPs and, as a result, can attract new users and drive conversion.

The highest potential for conversion is usually in the pages that answer a specific question a user types in Google, showing a solution to a problem a user faces.
To convert new users, such articles should have a direct connection between a question and a product, and show how a certain problem or challenge is solved using your tool.

To make your knowledge base work for lead generation, you have to optimize it — use your knowledge base software to add some banner or call to action under each article that would direct users to a free trial.
By doing so, you make it easier for new users to find a way to get started with your tool after reading a knowledge base article.
Let's wrap it up
Inbound marketing is a powerful tool for lead generation that can complement other channels that already perform well for your SaaS business.
To make inbound a solid sales channel, you have to have a solid plan to optimize the content you already have and create new content the way to drive higher conversion.
Hopefully, with the tips we have shared, working out the right inbound marketing strategy will be much easier.