So, you're looking to move away from Qwilir and trying to find the alternatives?
Whether you are working as a freelancer or as an employee of a small or large company, creating proposals is something that can't be missed.
You must convince your clients that you or your company are the right choices for them. To achieve this, your proposal must stand out.
Of course, your knowledge and skills are the most important parts, but you have to promote them in the right and engaging way. Today, there are many tools and apps that can help you with that.
But, I assume that you do not want to spend your precious time on endless research. That is why I have singled out the 3 best Qwilr alternatives for you.
Although you have probably already tried Qwilr, it still does not fully suit your needs? Or do you simply want to find out is there any other tool that can bring you more clients?
However, it is one of the most popular tools for making proposals, but there are Qwilr alternatives that can do a lot for you too.
The pros & cons of Qwilr
Qwilr helps you to create marketing and sales documents for your business.
What are the pros?
What I really like about Qwilr is that it offers you features and packages for individuals, teams, and organizations, so you can choose the best option according to your business type and team size.
It has a really good (but not complete) design and customization capabilities. In some cases, you can play with your designs however you want.
Integrations are what make Qwilr dominant on the market. Qwilr integrates with many platforms and software, such as Google Maps, Google Adwords, Calendly, Typeform, Pipedrive, and it also integrates with QuickBooks online. These integrations are presented as a huge time-saver.

What are the cons?
There were a couple of bugs I faced while trying and using Qwilr, usually, they're happening when I want to import already uploaded images.
There should be more customization when it comes to fonts and colours. People often want to make a proposal as they have previously imagined it, even if they do not have any designing or coding skills. And, let's be honest, fonts and colours are one of the most important customization options. I really don't want my fonts to look soo 90s.
Many Capterra users complained that it does not let you do dynamic deck design.
Mobile version of Qwilr isn't so powerful like the desktop ones. It doesn't even allow you to add changes while you go along. Thus, it knows to be frustrating when I need to make some urgent changes to the proposals and documents. Sometimes, I just don't have time to wait for coming home or in the office.
Qwilr does not offer an integration with PayPal which can be frustrating for freelancers. There are certain errors occurring when you want to add more people from your team to collaborate.
Also, sections are not quite editable inside Qwilr. We can't customize the theme's option as much as you and I would like to.
Here's another review from Capterra sharing the same thoughts:
Even, the happy customers have the similar complaint.
Prospero is one of the best Qwilr alternatives on the market.
It allows you to create really professional-looking proposals in order to achieve a lot more clients.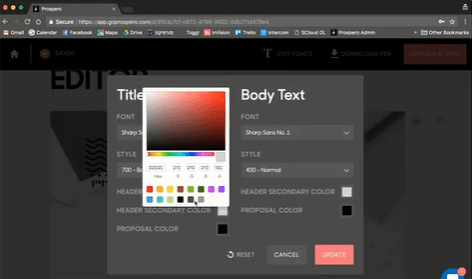 Why I love Prospero?
Ease of use: Prospero is really easy to use and it is perfect for creating proposals exactly as you have imagined them to be.
It has a step-by-step process that will guide you through designing and editing. You do not need any designer or developer skillset at all.
There is a great feature within Prospero called The Proposal Wizard. This is where you should type in the information that is important for your proposal, such as information about:
Client

Project

Yourself

Pricing strategy

Deliverables

Milestones
If you do not know how to sell your offer in the best way possible, this feature will help you to simply choose which are your biggest strengths that you want your client to be aware of.
Also, Prospero Analytics will track when someone opens your proposal, and notify you about it.
Anything you do in this Qwilr alternative will be automatically saved in the cloud, so you can access your documents from any place or via any device.
Customer support: If you are wondering about anything in particular, you can reach out to their customer support. They will assist you, and you will be able to continue with your work smoothly.
Pricing: Prospero is offering a 21-day trial that costs $1. You have plenty of time to decide if this tool meets your requirements. Paid plans are also affordable. There is a monthly membership that costs $8 or a yearly membership for $5 per month. Both of these options offer an unlimited number of proposals.
Offered features:
A large number of different templates
Why is Prospero a great Qwilr alternative?
These are some of the main reasons why Prospero is the right solution for you:
Feature such as The Professional Wizard that will help you make a proper proposal even before you start the creative part

It has pipeline management

Ready-made texts that will save you time when it comes to writing a proposal

Because of analytics that tracks their behaviour, you will get to know your clients even more and find out what interests them

You will get paid faster because of FreshBooks integration

It costs three times less (it does not hurt our pocket)

To sum up:
Prospero will be a huge time-saver for your business no matter which niche it belongs to. Smart features make your proposals engaging and customizable for every client.
2. BetterProposals
Proposal branding would be much easier with a tool such as BetterProposals.
It includes templates, so you do not need to make your document from scratch if you do not want to. All templates are completely editable and adjustable to fit your needs and desires.
The editor is designed so you can easily create proposals no matter how much design knowledge you actually have. It has an relatively easy drag-and-drop builder. Just like you're building the website with Invision for example.
If you want to make use of some of the earlier proposals that had turned out to be great, you can easily save them into BetterProposals content library and use them again.
Add your company logo and fonts that are already on your website. For every proposal you make, you can add a custom domain. It will appear to your clients as if it was a part of your website.
There are many features that will help you when it comes to determining the price for your offer, such as:
Recurring fees

Quantities

Bolt-on
If you want to submit a proposal for a client to sign, you can do it easily because BetterPriposals has an option for digital signatures and they are always secured and encrypted.
Pricing: There is a free trial. Subscriptions start at $19 per month.
Why is BetterProposals a great Qwilr alternative?
Some of the main BetterProposals' features are:
100% editable templates

Proposal branding

Analytics with real-time notifications for you

Intelligent pricing tables

Live chat integration

In-Depth reports
They also claim that they have a better mobile design that Qwilr.
BetterProposals templates are completely editable and you can customize them more than you are able with Qwilr.
Pricing features will help you with your financial segment and be organized.
It has integrations with PayPal, Stripe, and GoCardless, so your clients can pay you right away.
3. GetAccept
GetAccept is an all-in-one solution for any business. It includes creating offers, contract management, live chats, and other features.
By using GetAccept, you can easily manage sales proposals. However, it might not be for freelancers.
It combines document tracking and electronic signatures.
Thanks to the different options this tool provides, you will be able to make deals much faster.
You can add different types of content you want to be in your proposals and create them in less time, too.
Analytics will track and collect data about your clients' behaviour. You will know if your proposal was opened and how many time the viewers spent on each section of your document.
Every proposal you make is saved in their electronic archive so you can easily find them whenever you want.
Your clients can sign every document electronically with only one click.
Pricing: You can try it out for free and then use some of the paid plans that start at $25 per month.
Why is GetAccept a great Qwilr alternative?
GetAccept offers you many solutions. Features that this tool includes are:
Proposal templates

Electronic signatures

Analytics

Real-time chat

Video introductions

Deal accelerator
It integrates with many CRMs, so you can upload the documents from them also.
When creating a proposal, you can also make a video presentation. Video as a content type is really popular and people respond to it.
In this way, you will be able to establish even stronger connections with your clients.
The bottom line
People are visual types. Therefore, your presentation must be carefully designed and fitted.
The proposals should represent your skills and knowledge in the best possible way.
It may not seem easy to make such a proposal, but with these Qwilr alternatives, most of the work will certainly get easier for you.
I know that planning, creating, and editing can take a very long time.
But instead of spending hours and hours creating the perfect proposal, you can now use a Prospero. Your clients will be delighted and it will bring you new jobs and save a great deal of time.
This tool offers many ways to make proposals for your choice.
You will be pleased when you manage to carry over something that you have previously envisioned on your desktop.
Start right now, and create outstanding proposals that will show off your professionalism and convince your potential clients that you are the perfect choice for them!
👉 Try Prospero for 1$ only for 21 days.