When you find the job that you want to apply for, the first thing you have to do is to make a great proposal.
Proposal writing is often the part that most freelancers want to skip. However, it is the first and at the same time a crucial step that leads you to the desired job position.
Therefore, it is important to show your skills and knowledge in the right way.
Website Planet points out that 50% of organizations have increased the use of freelance workers in the last five years.
This means that the demand for freelancing is increasing in the market, but the number of freelancers is increasing too.
Your proposals must outperform your competition. And, if you want to apply for several jobs to increase your chances of finding a job as soon as possible, you also need to write more proposals in less time.
In order to make your presentation to clients effective, but also to save valuable time, you can use certain tools that will help you greatly.
Take a look at these 4 best proposal writing software for freelancers, and choose the one that works best for you.
Presenting your skills does not have to be a problem nor does it require a huge amount of time when using Prospero proposal writing software.
Keeping in mind that proposal is a serious professional document that leads you to success, Prospero is created as a convenient tool to guide you through the entire writing process step by step.
Prospero's The Proposal Wizard asks you specific questions regarding:
Client

Project

You

Pricing strategy

Deliverables

Milestones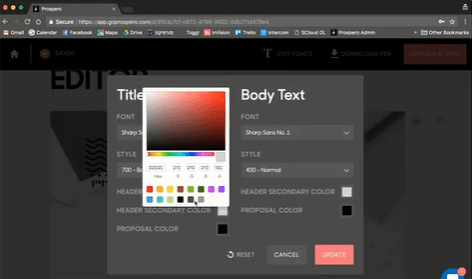 By typing in the answers, the software records all the information that helps customize your proposal.
Of course, yu are able to modify it further. You can change the text itself, font colours, add pictures and tables, insert your logo, and more.

Thanks to the abovementioned questions, you will not forget any important detail. And, it is very important that the proposal is extremely informative for your future employer.
When you add deliverables, it will be much easier for you to calculate the cost of your work and the potential discount.
Prospero has integration with FreshBooks. Turn your proposal into an invoice with ease.
Unless you are adept at writing proposals, this tool already has ready-made text content that will make writing no longer a problem.
After you finish and customize your proposal document, you can click the "Client preview" button and see how it actually looks.
You can send it as a PDF file or a responsive link, depending on your client's request.
Also, every Prospero proposal is fully responsive for mobile devices, so you do not have to worry about how it looks like when your client opens it via mobile phone.
You can access your proposal at any time, whether you are working from a desktop or a mobile phone. You will also be notified of the client's activity related to your document.
Prospero's analytics monitors and records:
when the client first opened your proposal

how many times your proposal has been opened

how much time did he spend reviewing your proposal
That way, you are aware of what is happening at all times, and also whether your document has reached the client, or not.
At the end of each proposal, you can allow the client to sign it electronically, saving both yours and your client's time.
Pricing: You can try this proposal writing software for 21 days for only $1.
Prospero offers you the option of a monthly subscription with a price of $8 dollars, or an annual with the price of $5 a month. Whatever option you choose, you can make an unlimited number of proposals.
2. PandaDoc
PandaDoc allows you to create proposals and contracts using pre-built templates.
Customer data can be used from the CRM that you are using.
There are over 200 different themes, so you can choose the one that suits you best. Use embedded media to make proposals look more detailed and visually appealing.
Any proposal can be created according to your taste with the help of the Custom CSS. You are able to add videos by which you can contact your client directly.
PandaDoc contract management software alerts you with real-time notifications so you know whenever someone opens your proposal. You will find out when the proposal you sent to the client was viewed or completed.
Quoting software prevents any error when it comes to calculating prices and discounts from occurring. Using custom pricing tables you can specify your prices for certain services, and the customer can choose the service that he or she needs.
The electronic signature is also one of the features that this software possesses. There are UETA and ESIGN compliant eSign technology.
PandaDoc offers integrations with HubSpot, Zoho, Pipedrive, Stripe, PayPal, and more. You do not have to copy prices and information from one platform to another, you just need to link the one that you use with PandaDoc.
Pricing: Every package has its own free trial. After that, you can upgrade to some of the paid plans. Individual plan costs $9 per month, and it includes creating up to 60 documents. Other larger paid plans offer an unlimited number of documents and even more features.
3. Proposify
Proposify is another one of the best proposal writing software for freelancers on the market.
It includes a content library where you can store all your images, templates, and other things you need. You can even save product descriptions and fees.
Source: Capterra
Proposify automates tasks and saves you a lot of time. For example, you can save certain repetitive information such as customer data and avoid repeated manual entry. You just need to insert it when writing a new proposal.
You will know when your proposal is open, as well as when a client leaves a comment.
You do not have to check again what is going on because you have been notified. You can immediately answer the questions you are asked and speed up the entire negotiation process.
If you need to remind the client to sign your proposal, you can use the automatic reminder option.
Clients can sign a proposal from any device they are currently using.
You can organize all your documents into specific categories to help you find them when you need them more easily.
Proposify has integrations with Zoho, HubSpot, SalesForce, Highrise, InfusionSoft, Basecamp, Harvest, Xero, QuickBooks, and more.
Pricing: You can start a Proposify with a 14-day free trial. There is a package for individuals with 5 active proposals and a maximum of 3 users per account. It costs $19 monthly.
4. Bonsai
Bonsai also allows you to make proposals online and get more clients.
You can select a proposal template of your choice, add a header image, add the "Why me" section, and more.
Just after your clients read your proposal, you will be notified and able to connect with them in real-time.
When they accept your proposal and want to sign it, they will be able to do so with just one click.
No matter if you work as a freelance photographer, developer, writer, designer, or consultant, Bonsai will help you make a proposal that will fit your needs perfectly.
You can design your contract and send it to your clients.
Proposals are integrated with other Bonsai tools for freelancers such as contracts, time tracking, invoices, payments, and reporting.
Invoices for your work can be scheduled and sent automatically so you do not miss any deadline. You can also choose the templates that you want for them.
Bonsai allows you to run your business in an organized and efficient manner.
Pricing: You can start using this proposal writing software for free and then upgrade it for $12 per month.
The bottom line
Choosing the right tools can make it easier for you to do various job segments, and with these tools, writing proposals has never been easier.
Sometimes you simply cannot be fully concentrated or have enough budget to hire a designer to create proposals, and this is completely understandable.
So, take advantage of all the opportunities offered by this proposal writing software and save yourself a considerable amount of money and time.
If you want a simple yet extremely effective tool, try Prospero. It will take you just a few minutes to complete the proposal after filling the information in The Proposal Wizard.
Make changes, read your document, and send it to the client. It is as easy as that.
With more demand for freelancers, the competition has increased, but, with this proposal writing software, your proposals will be surely noticed and remembered, and your customers delighted.
Present yourself as a true professional and expand your business!