Time is a valuable asset, especially for freelance business owners.
We say this because, unlike most business owners, freelancers are wearing different hats at once. They are the development lead, strategist, social media manager, recordkeeper, and whatnot.
Juggling all these roles can be difficult. Plus, there are the obstacles that come with leading a freelance life.
You have to maintain a good work-life balance to avoid burnout, stress, and health issues.

While this situation may seem overwhelming, it is actually not. Having good control over how you spend time can make everything simple and manageable.
You need to cut down the time wasted on procrastination, and extra activities and devote it to things that matter.

So, to help you do that, we have compiled this amazing list of the best time-saving tools for freelance business owners.
All of these tools help save time by either tracking systems or taking some work off your shoulders through automation, and much more.
Let's unravel more below!
8 Time-Savings Tools for Freelance Business Owners
Prospero: Best Business Proposal Tool
Let's face it. The content of your business proposal does matter, but what really makes it stand out is its looks.
No client would ever choose a poorly-designed proposal in front of a professional-looking one.

It is why you need to have Prospero in your digital tools arsenal. The innovative business proposal software enables you to create impressive documents quickly and effortlessly. It features more than 35-templates designed by experts.

You can choose anyone, edit the details, and send it to your clients. Or, you can fully customize the proposal templates to represent your business better.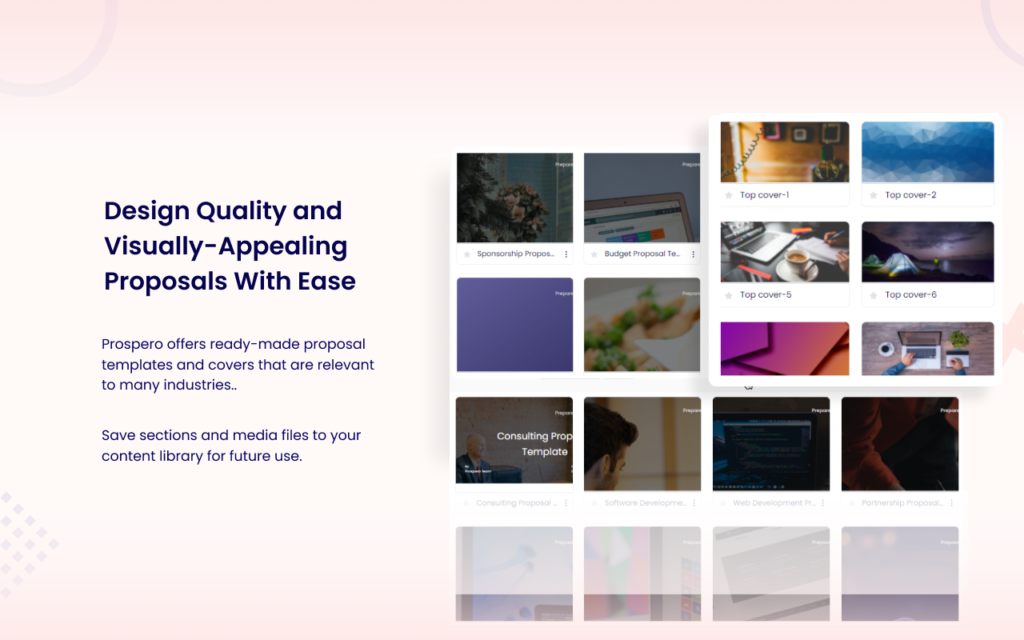 The software also offers detailed analytics, such as how many times the client opened the proposal.

What's more, Prospero allows you to legally bind digital signatures to the proposals.
So, in case something wrong occurs, you will have authentic and legally-verified documents. You also get the option to draw, type, or upload the signatures.
Trello: Best Task Management Tool

Trello is a simple and easy-to-use tool designed to manage any kind of project easily. It allows you to create boards and organize project-related tasks on them.
What's even better, you can add your team to the project and assign tasks for a more streamlined workflow.

So, with Trello, you can always stay on track of what's being worked on, who's working on it, and what's the overall progress.
You can use the no-code automation features to surface upcoming deadlines and reminders. It's also possible to integrate different tools, like Google Drive and Slack, for easy data transfer. Also, you can check more options on how to export data from Trello easily.

Trello is available as both web-based software and mobile application. You can immediately start using it after sign-up.
However, you can benefit from much better features through the premium plan.
Dubsado: Best Business Management Tool
Have you calculated how much time you gave away to small administrative tasks? It can end up being in hours per week! Well, Dubsado is here to help save that time.
It is a business management tool that means it helps you complete those small time-consuming tasks necessary to run a business.
These include scheduling appointments, generating invoices, and building client relationships. It also allows you to create a client portal to keep all the files, deliverables, and communication in place.

Perhaps, the highlight of this tool is automation. It sends out emails, invoices, and forms automatically to the respective people.
In case you set up the lead capture form, it can also help convert potential leads to customers by sending out follow-up emails. How amazing!

Learn more about writing killer follow-up emails that close deals here!

Strict Workflow: Best Time Monitoring Extension Tool
Distractions are unavoidable as a freelancer, regardless of how many timers you set. Sometimes, your mind wanders to the ideal future where your business makes thousands while you enjoy a vacation overseas.
And, sometimes, your eyes keep darting to the incoming emails, messages, and notifications.

In any case, if you find blocking distractions difficult, allow Strict Workflow to step into your life. It is not a software tool but a chrome browser extension.
Using it, you can have 25-minutes of uninterrupted work time or more with a 5-minutes break afterward.

Strict Workflow makes it possible by blocking particular websites and sending friendly reminders about getting back to work. So, you always have someone holding you accountable for the time – amazing, right?!

Wave Apps: Best Finance Management Tool
Wave Apps lets you take a breath of relief by taking over your accounting duties. It is a fully-automated finance management tool, which helps you understand and track your transactions.
There is a detailed dashboard that showcases all incomes, expenses, profits, losses, and more.

You can also connect the tool to other products by Waves, such as payroll and invoicing. These tools take things one step ahead by enabling you to send branded invoices, upload receipts, and print reports. It can even receive automatic payments and organize the data.

If that sounds great, wait till you hear it is a free management tool. You can have unlimited access to all of its features. However, there might be some fees associated with payments.

Canva: Best Graphic Designing Tool
Graphic designing is not only a job for creative heads and artists. It's an essential skill to give your business the headstart it needs. You will require this skill to create logos, banners, post thumbnails, proposals, videos, and much more.
It is where Canva comes into play. The powerful designing platform features thousands of professionally-designed templates for social media posts, invitations, business cards, etc. You can pick any template and personalize it to create impressive visuals quickly.

Or, you can dive in and make unique graphics from scratch. The online software has a plethora of easy graphic designing assets, like fonts, images, and visual elements. You can even edit videos!

Although the tool is free, you can subscribe to the premium plan and avail yourself of advanced features. For example, adding team members and using pro templates. It is present as both a web-based platform and a mobile application.
Klutch: Canned Responses and Knowledge Management Tool
Klutch is a knowledge base software that lets users manage all their company documents, records, and canned responses in one platform.
When you're busy growing your business, the pile of documents continue to burn you out and it's hard to manage and share them across your team. Klutch paves way for a more productive collaboration and support as you give your team direct access to all the necessary files they need for their work.
You can store company pages, employee records, contracts, benefits, guidelines, and more. You can also add and edit your canned responses so you avoid answering repetitive questions. This feature is highly beneficial for your sales and support team when they need to answer a client. Klutch has a Chrome and Edge extension that you can install for seamless access.
Klutch is entirely for free! You can get its paid version for only $5 a month and unlock unlimited items, unlimited storage capacity and more.
Grammarly: Best Grammar Editing Tool
It does not matter whether you're a native English speaker or not. From missing commas to misspelled words, almost everyone makes grammatical errors in today's digital era. And so, having a grammar editing tool is an absolute necessity.
Fortunately, Grammarly is here to make your life simple, convenient, and efficient. It is primarily a free cloud-based typing assistant, which scans your text for mistakes. It'll review grammar, punctuation, spelling, and clarity.

You can download it in the form of a chrome extension to receive corrective suggestions for all of your text. However, it's also available as a separate online tool. You can copy and paste the written piece on it to check.

The free grammar editing tool makes your emails, documents, and everything else grammatically good.
But, to achieve perfection, you should consider investing in the premium plan.
Its paid version turns your work flawless by identifying and correcting advanced mistakes like tone, fluency, word choice, plagiarism, etc.

Mailchimp: Best Automated Marketing Tool
Social media marketing is inevitable if you wish to run a successful freelance business.
So, you would probably have considerable experience in it. You would also know how incredibly difficult it is to send emails and post on all platforms individually.
Besides difficulty, it takes away a huge chunk of your time. But, worry not because Mailchimp allows you to get it back. The marketing automation tool helps you create an email list, send emails, and receive useful analytics on the dashboard.

You can use this insightful information to learn about the audience and optimize email campaigns for better results. Mailchimp also enables you to link your social media platforms and post all at once. Or, you can create multiple posts and schedule them for later!

Other Ways to Save Time
Apart from fulfilling different jobs, a freelance business owner can also face other problems that can waste valuable time.

For example, having an unreliable and slow internet connection can take away time in loading.
You can overcome this issue by buying a quality WiFi card for your PC. These cards connect directly to the motherboard and deliver fast internet.
Another example would be the time wasted gathering work resources from around the house.
The best strategy to conserve this time is to build a good home office. It will not only keep all of your work things in one place.
But, it will also help establish work/life balance and boost productivity.

Final Thoughts
There goes a saying – when there's a will, there's the way. So, instead of feeling overwhelmed by freelance business, try out the time-saving tools discussed above.
You will notice an amazing difference in your work life as things will become more streamlined and efficient.

If you enjoyed reading this article, let us know your thoughts in the comment section below. Happy freelancing!