Have you noticed that you are not getting as many B2B leads as you are putting effort into the B2B lead generation process? Then, it is obviously the time to change your strategy.
The alternative strategy is to learn top growth hacks for B2B lead generation. These hacks help you adopt more effective strategies in order to reach more audiences, improve SEO, and boost your business. 
What are the Top Growth Hacks for B2B Lead Generation?
To know the top B2B growth hacks that help you boost your lead generation, keep reading this ultimate guide:
1. Always Do Some A/B Testing
You may know the meaning of A/B testing but you may not use it much. A/B testing is the process of testing the two or more versions of a strategy to see which one gives you the highest profit. You can use A/B testing in all your marketing strategies to evaluate websites, apps, emails, social media, etc. 
For instance, let's see how you can use A/B testing in your email marketing strategies. Email marketing mainly focuses on the content management of the email that you send out in bulk to your subscribers' list. To find out the kind of content and design that leads to the best responses, you need to perform A/B testing. 
The question here is that how should you know if the version is working so that you stop A/B testing? Well, the solution is simple. You should analyze the data achieved from the actions taken by your email subscribers. For instance, you can analyze the open rate and reply rate. This is how you will know if you are taking the right strategy for your email marketing. 
2. Create Interesting Content 
How would your future clients know if you can meet their needs and are professional in the services that you offer? There may be a lot of ways for increasing your brand awareness but the most secure one is to create interesting content. Think of white papers, case studies, client testimonials, eBooks, webinars, etc. to capture the attention of your target audience. 
You can also write SEO-friendly blog posts and strategize through your knowledge base so that you increase the rank of your website on search engines. Moreover, you can attract a lot of new clients who have found the answer to their problems in your blog post, especially if you're into a demand generation funnel as well. Remember that cross-promoting your content on other channels and social media is crucial.  
Look at how MailChimp uses textual and visual content to attract its leads:
3. Use Brand Ambassadors
Your current clients are a precious source for your B2B business. You can turn them into your business referrals or brand ambassadors and make the most use of them. For instance, ask them to invite their friends to be able to use your 20% off offer. Accordingly, you get more leads in return for the incentive that you announce.
If you think that this strategy may not work, it is better that you take a look at the statistics. 74% of buyers get influenced by the word of mouth. Therefore, the conclusion can be drawn that people prefer to buy something or use a service that is recommended to them by their friends, colleagues, or relatives. In other words, it is much smarter to use the word of mouth of your clients than to invest in paid advertisements. 
Here is how Happy Earth asks its website viewers to be its brand ambassadors: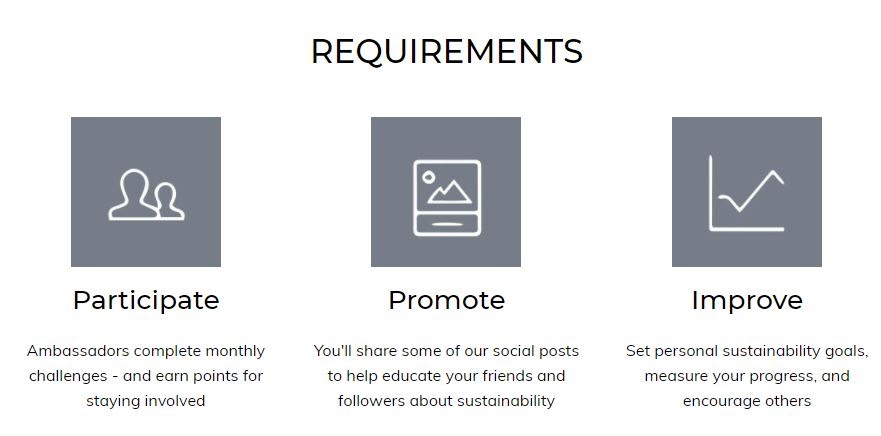 4. Send Newsletters 
Sending out newsletters to your email subscribers constantly is quite advantageous to your business. By sending out regular newsletters, you keep yourself there in the center of attention. Your clients will remember you and they will think of buying from you again. On the other hand, sending newsletters constantly shows that you are working hard and doing your best to elevate your business. As a result, you always have some news about the latest products or services, promotions, events, webinars, etc. 
Both advantages give your B2B business credit and you can increase your clients' retention or attract more clients out of your leads. You can also build referral programs to boost customer retention and bring new customers.
5. Create Ultimate Guides 
One way to create captivating and engaging content in order to attract more B2B leads is to create ultimate guides. Ultimate guides address the issues that your target audience is struggling with. Accordingly, you can generate a lot of new leads who search for the same problem for which you have provided solutions in your ultimate guide. This increase in the traffic of your website results in getting a higher rank on the search engines which is a perfect credit to your B2B business. 
Here is an ultimate guide by Hootsuite:
6. Include Live Chat
Live chat is a tool that facilitates the communications of your clients or leads and improves your customers' satisfaction. Knowing that you are always there to assist your clients with any issue can give them a kind of assurance that makes them want to buy from you. 
7. Cooperate with Influencers
Cooperating with influencers is a great way to establish your brand and generate more leads to your B2B business. If you are willing to invest some money to advertise and promote your business, collaborating with influencers is one of the greatest ways. Influencers can promote your business on their social media, write a post for your blog, be an interviewee in your webinars, etc. 
Remember that you should choose an influencer that best suits your niche and budget. If you do not consider these two important factors, your efforts will not lead to the results that you expect. 
Send outstanding proposals to influencers using Prospero. Sign up with Prospero today!
8. Offer Free Trials
If your B2B business works in a way that you provide services for B2B companies, you can attract your clients or newly-generated leads by offering them some free trials. A free trial gives your leads the option of trying your service and sees if it is worth the price they are going to pay when the free trial expires. Since people prefer to try a service before paying for it, the strategy can have great results. 
What you should pay careful attention to is that your free trial should be extremely appealing so that it can easily convert your leads into clients.  
Here is how LinkedIn offers a free trial: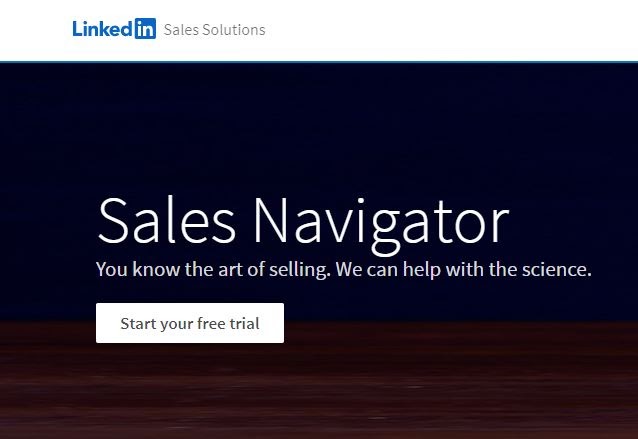 9. Simplify Your Website UX/UI 
Any barrier that frustrates your clients or newly-generated leads on your website can result in losing your generated leads. When it comes to websites, matters like loading time, simplicity of the design of your website, UX/UI design, etc. are of great importance.
Consequently, you should eliminate or remove these barriers as much as you can. If the new leads get lost in your website due to its user-unfriendliness, they would immediately leave your website and instead, check for your competitors who have user-friendly websites. 
To avoid such a major problem, you should constantly check your website to see if everything is working properly. You can also check the heat map of your website and see which part of your website has caused the highest number of exits. 
10. Use Social Media
Social media is an integral part of people's lives these days. Therefore, considering social media to generate more leads for your B2B business is a must. You can organize social media marketing campaigns and win a lot of new leads. Take Instagram for example.
If you keep up with a detailed Instagram content plan and share interactive content as well as a good profile for your B2B business, you can generate a lot of leads for your business. If you do not have a large follower base, you can grow it by benefiting from Instagram growth services and gain organic followers. 
Conclusion
Sticking to the above growth hacks helps you enhance your B2B business and increase your lead generation. So, revise your previous growth strategies and adopt these growth hacks to get closer to your goals.
Wish you the best of luck!
Author's Bio:
I am Parichehr Parsi, a born writer, and a freelance copywriter in the fields of travel, fashion, and Instagram marketing. I currently write for DMpro, Realtormate, and online magazines in Italy, and I love reading, writing, and researching. Find me on LinkedIn!