You can go alone if you want to upgrade your business proposals and communications to customers and other businesses. There's always the option to build your proposals from scratch.
Many businesses are looking into different software services to boost their proposals and win clients. Zoomforth is just one of many other software-as-a-service (SaaS) programs that make that possible.
Zoomforth allows businesses to win new clients and sales using an easy-to-build site. This SaaS will enable companies to build branded microsites quickly, securely, and with high scalability. Zoomforth can be an excellent tool for your branding strategy if you want to improve your brand communication.
This article looks closely at seven Zoomforth alternatives and competitors you can consider. It all depends on your business needs.
7 Zoomforth Alternatives to Consider
Many other software services can help your business or enterprise get winning proposals out there quicker. The more effectively you can communicate your proposal, the faster you can grow your company and scale.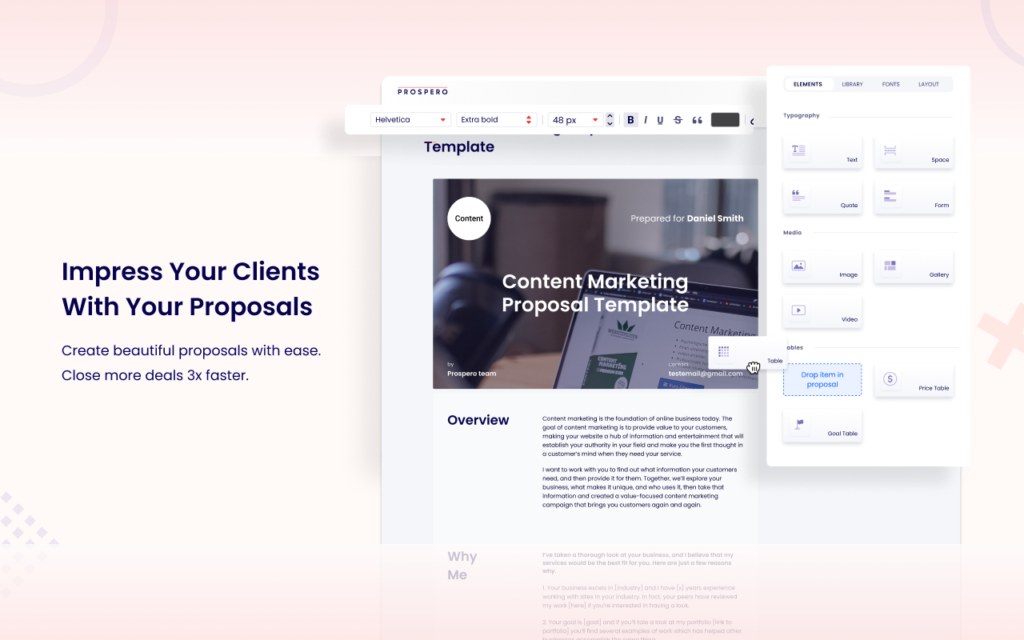 The first of the Zoomforth alternatives we will look at is Prospero. With this platform, you can create beautiful and professional proposals without hassle. The process can speed up your proposal creation by as much as three times.
With Prospero, you get over 140 proposal templates to choose from and customize your product with ready-to-go content, flexible elements, and a vast content library.
When you have found a template that you find interesting or unique, you can customize it to fit your needs. The impressive template collection in Prospero is sure to give you many options for designs and layouts to impress your clients.
Once you have your beautiful proposal set up and ready to go, Prospero allows you to send and track the level of engagement for all your proposals. Finally, the platform simplifies the process you must go through when closing a deal. Prospero has digital signatures and email notifications you can deploy to wrap it all up online.
When engaging in new software solutions, many people want to know about how a new software program might affect their existing business solutions. Proper integration is needed so your different software solutions can work together without much interference.
Prospero integrates several platforms, including Stripe, Zapier, QuickBooks, FreshBooks, Slack, Xero, Wix, and more. You can have your proposal software, accounting platform, and website all working together without glitches.
Regarding pricing, you can use the 14-day free trial to create your first proposal and see what the platform offers. No credit card is required for this, and it is easy to cancel at any point.
A monthly subscription will cost $10/month and provide access to unlimited proposals. With an annual subscription, you pay $8/month.
Create your first proposal now!
2. Oneflow
Next up, let's look at Oneflow, another platform that brings ease to closing a new deal. Oneflow focuses on reducing the administrative procedures required when you have a new contract to finalize.
Instead of paper contracts and back-and-forth emails, Oneflow allows you to utilize easy-to-use digital contracts. There is an automated flow for the entire contract process, which also caters to the creating, signing electronically, and managing of your contracts.
One of the worst parts about the contract finalizing process is needing to know what the other party is doing or thinking when you have completed your side. Oneflow includes real-time insight into where you are in the contract process. You can easily keep track of any updates and changes that you or your potential clients are making on either side.
To start using Oneflow, you can select the free plan or one of the monthly plans: Essentials for 17 euros and Business for 45 euros per user per month. You save up to 17% with an annual plan. The Enterprise plan is customizable.
3. Juro
Juro is quite similar to Oneflow, another all-in-one contract automation platform. This tool streamlines the creation, execution, and management of legal contracts.
Some of the top features of Juro include:
Contract repository, which stores all your contracts together in a safe place and orderly manner
Self-serve contracts, allowing businesses to use dynamic contract templates
Contract workflow, which keeps all the contract steps within your browser
There are three flexible plans available for your company to use Juro. The Lite, Team, and Scale plans allow up to five, 10, and unlimited users, repectively. Price quotes are available on demand.
4. Proposeful
Another option if you are looking to send proposals and contracts online seamlessly is Proposeful. This proposal software gives you professional proposals, notifications, electronic signatures, and faster deals and sales.
Document template management allows you to keep track of past proposals and reuse them as needed. It's also possible to tag them for easy access when you need them. all proposals can be customized to your likely, and you can change content, graphics, and more.
Proposeful also offers CRM integration and automation, which allows you to incorporate the proposal and contract platform into your existing systems. You can send your completed applications by message or email and generate a PDF, which grants access to your materials online or offline.
Starting and scaling with Proposeful is straightforward. The monthly pay-as-you-go plan costs $19. There is a 7-day free trial and an additional $10/month for each extra user.
5. QuoteWerks
Next up, we have QuoteWerks, a software solution that can radically improve your sales quoting and proposal process. This platform allows you to create professional quotes using your company branding in no time at all.
There are many small and medium business problems that QuoteWerks can help you solve. You get greater transparency in your sales pipeline and can track every step of the way. Through peer and management approval workflows, QuoteWerks helps you reduce errors and misquotes.
Some other perks of the software include easy integration with existing CRM and accounting solutions, electronic signing and acceptance, and payment collections on the platforms.
The Standard Edition costs $15/month per user to use QuoteWerks monthly without a contract. The Professional Edition costs $21/month per user. Finally, the Corporate Edition costs $30/month per user. If you enroll for the annual subscription, your charges are $13.75, $19.25, and $27.50, respectively.
6. Expedience Software
Expedience Software is another proposal solution to think about, particularly if you regularly have to create proposals in Microsoft Word. This software makes proposal and request for proposal (RFP) writing simpler. The best thing about Expedience Software is that it is built into Word.
Some features of this solution include checkbox proposal templates, Excel and portal RFP responses, Statements of Work (SoW), a centralized content library, and complete formatting and branding on all the writing materials you develop.
This unique offering could benefit many job functions, including proposal writers, sales teams, and subject experts.
Pricing for Expedience Software depends on the custom package you require, which may vary by the number of users, features, and add-ons you select.
7. Scoro
The final Zoomforth competitor we are going to explore today is Scoro. Scoro is a proposal software that helps businesses streamline and automate the process of writing a proposal. When you employ it in your company, you can save time and get more deals.
Scoro has many templates available, allowing you to save time on creating beautiful proposals. You can send the final proposals in pdf format. Better still, the software allows you to convert the proposal into a contract or invoice with nothing more than a click.
To keep track of your clients and proposal, Scoro proposals, clients, and project on the platform. With this project management functionality, you always have to keep track of who is who.
One other excellent feature of Scoro not to miss is the easy tracking. You can request reports on your proposals to see what stage you are at with each submission you have made.
You can request a demo and try Scoro free of charge. There are various plans available, depending on what your business needs are. The Essential, Standard, and Pro subscriptions cost $25, $37, and $63 per user per month. With the Ultimate subscription, you can get customized features and a custom price.
Conclusion
Gone are the days when growing businesses and larger enterprises are bound to create each business proposal and contract in a Microsoft Word document. The various software services we have looked at here show the many options available to make the process simpler and better, allowing you to create a proposal online.
Each of the seven Zoomforth alternatives has a lot to offer. You might be looking for better-looking proposals, faster deal finalization, online contracts, or a way to track progress with new contracts. There's an option for each business need.
If you are looking for a software service that knits together the proposal creation, sending, and deal sealing seamlessly, we recommend Prospero. It is sure to streamline much of your sales and business development activities.