So, you're looking for And Co alternatives to grow your freelance business? Probably, you need a proposal solution that could satisfy your proposal & sales. 
Whether you want to make a proposal for a new job position, or you want to present and sell a new offer to the already existing client, in order to promote something the right way your proposal has to be exceptional.
Many clients get a bunch of proposals on a daily basis. You want to be the one who closes the job. 
Show them what they want to see, make stunning presentations that will make a "wow" effect, and it will surely guarantee you another great opportunity for progress.
Let's assume that you already tried And.co, but it didn't turn out to be the right choice for you.
Finding the great And.co alternatives can take a lot of time because there are many different, but also to a certain degree similar tools on the market. 
This is why I have already done that part of the job for you, and I will show you which of these tools deserve your attention the most.
The good and the bad things about And.co
And.co is a really good tool for making proposals, sending invoices, and receiving payments.
What is good about And.co?

Designing and sending proposals and contracts to your clients turns out to be a very simple task to do.
You can create automated invoicing by offering a subscription for long term clients. Also, you can track your expenses and earnings.
Another great thing about And.co is that you can upload your files for safekeeping. If you want to send more documents to your clients besides a proposal, just upload and simply attach them to it.
And.co works well on mobile devices, so I was able to make changes whenever I wanted to.
Customer support is reliable and they are really listening to your suggestions and trying to improve your overall experience as a user.
And.co integrates with many important applications such as PayPal, Stripe, MailChimp, Zapier, Slack, and more.

What is bad about And.co?
The time tracking part can be a little complicated. Setting the date is not simple enough.
I also found this pro and con arguments useful.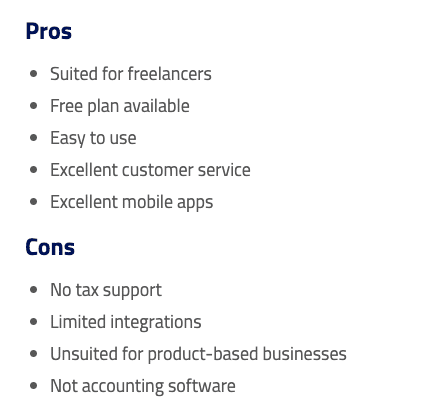 If you wanted to add hyperlinks to your text, they would not work, and that could be a really annoying disadvantage.
When I wanted to customize invoices for each client, I ran into a problem because I could not customize them just the way I wanted to.
The same thing happens when it comes to templates for contracts. They could be much more editable. This tool does not have many options for designing a proposal, it is very clear and basic, but, in the end, proposals should be more visually appealing in order to gain interest from the clients.
Also, if you need a payment reminder email, there is no option for automating it, you will have to do it manually.
It would be great if And.co offered integration with some of the organizational tools such as Todoist, or similar. It would also be much easier to track all the tasks and sync similar tools with And.co for suggestions.
And.co doesn't announce when they are making new features and options and, as this can cause a small error, there should be a warning when this is going to happen.

Prospero is a tool that represents the best of all And.co alternatives and you will soon understand why.
Why I decided on using Prospero?
Ease of use: If you think that making proposals is hard work, Prospero will convince you otherwise.
It is really easy to use, and you can make stunning proposals that will get you the desired jobs. The proposals have to be visually appealing but at the same time clear enough to be understandable.
I always want to showcase my skills in the best way possible, and I am able to do that with this tool for far less time than I have ever done before.
If you are a starter or you simply love the step-by-step process, you will be delighted with The Wizard Proposal feature.
The thing that I love most about Prospero is certainly this feature. It literally guides you through the proposal making the process.
In a couple of different sections, you can type in information about:
When you organize all of your information like this, it will be much easier for you to create an adequate proposal that stands out from others.
Prospero offers ready-made texts, so, whenever I was stuck with the writing part, I was able to find what I needed, continue with my work, and save even more time.
Analytics: Prospero tracks whenever a client opens my proposal and notifies me about it instantly, so there is no question about whether he saw my proposal or not.
I am also able to see how many times a certain client opened it, and how long they have been looking into it. If someone spends much more time than I think he should, I can ask the client is there any ambiguity and resolve it right away.
Customer support: Although everything is pretty easy to use if you have any problems you can contact customer support. 
They are ready to help at any moment, so you will be able to continue where you left as soon as possible.
Pricing: You can try Prospero for 21 days with a price of only $1 and explore how this tool works. Afterwards, you can decide if you want to continue using Prospero. You will see that the pricing is really affordable.
There are two options: a monthly subscription that costs $8, or you can start immediately with an annual subscription that costs $5 per month. They both offer an unlimited number of offers for your business.
Prospero features:
Content library

Document management

Electronic signatures

Pipeline management

Device optimization
Why is Prospero a great And.co alternative?
Prospero is more focused on making proposals than And.co. Some of the main advantages are:
It has many templates that will save you a lot of time and give your proposals a professional look.

The Proposal Wizard makes proposals making much simpler than you expected.

Analytics tracks the most important information about your clients' behaviour.

The ready-made texts help you promote your offer more effectively.

You can convert your proposal into an invoice with ease and get paid in one click because of integration with FreshBooks.
2. PandaDoc
PandaDoc is an all-in-one tool for creating sales documents. There are pre-built templates so you don't have to create your proposals from scratch.
You can also import your content marketing and data from your CRM. For me, it is a lot easier when I have everything I need in one place.
Instead of waiting for your clients to sign, you can send your proposal and require electronic signatures from them so everything can be done much quicker.
You just have to make a box for a signature in order for your clients to know where they should sign.
PandaDoc analytics will show you which of your recipients are engaged. This will help you realize which deals you should close.
This tool monitors the behaviour of your clients and sends you notifications in real-time, so you will know what is happening in every moment.
PandaDoc integrates with many platforms. Some of them are HubSpot, PayPal, Pipedrive, Stripe, Zoho, and many more.
You can gather your team and increase overall productivity which will improve your business, surely.
Pricing: PandaDoc offers a free trial so you can see if it fulfills your needs. Paid plans start at $9 per month. The individual package is basic and offers to create 60 documents per year and allows 2 users. 
If you need more options, eSignature and Business packages include an unlimited number of documents and many more benefits. If you want to customize your package, you can choose Enterprise and make an agreement with their team to find the best solution for you.
Why is PandaDoc a great And.co alternative?
PandaDoc allows you more customization than And.co. It will be easy for you to create your proposal exactly as you wanted.
There are unlimited templates and you can add any type of content that you want such as case studies, product catalogs, videos, testimonials, and more. All the images you upload keep the high quality.
Collecting electronic signatures is very simple and it does not require any special software for signing documents.
You can add prices, tax, and discount, and simplify the pricing of your work.
Everything in these tools is well-organized which provides more efficiency. You are able to track the performance metrics of your team or yourself.
It also integrates with Xero, which is what And.co is lacking.
Here is a comparison table for these three tools:
| | | | |
| --- | --- | --- | --- |
| Items | and.co | prospero | pandadoc |
| Ease of use | Medium | High | Medium |
| Pricing | $18/month | $5/month | $9/month |
| Customization | Basic | High | High |
| Customer support | Great | Great | Great |

To Sum up
I understand very well how applying for a particular job can be stressful. It is always important to show yourself in the best light possible. 
On the other hand, there is often a huge competition and we do not know if they have a better offer or skills than us. But that should not discourage us, it should push us to make our proposals even better.
This is the biggest reason why you should use these tools that will help you close more jobs and stand out from others. 
When I'm presenting my abilities and applying for a job, I always try to keep my professionalism at the highest level and to get the attention of a potential client. 
Try out Prospero now, and create proposals that will generate you even more projects than you ever expected!