Templafy has been assisting organizations with file management since its start. It has established a reputation as one of the best document-creating software options. Templafy, on the other hand, is not a one-size-fits-all answer. While you may be intrigued by what it offers, it may not be able to meet your operational demands.
To assist you in resolving your issue, we've developed a list of Templafy alternatives based on its usability, functionality, and price. 
What Is Templafy?
Templafy allows you to manage, edit, and distribute your business's brand assets, proposals, and company document templates from anywhere and on any device. This system may be trusted and used freely by compliance, IT, and communication teams.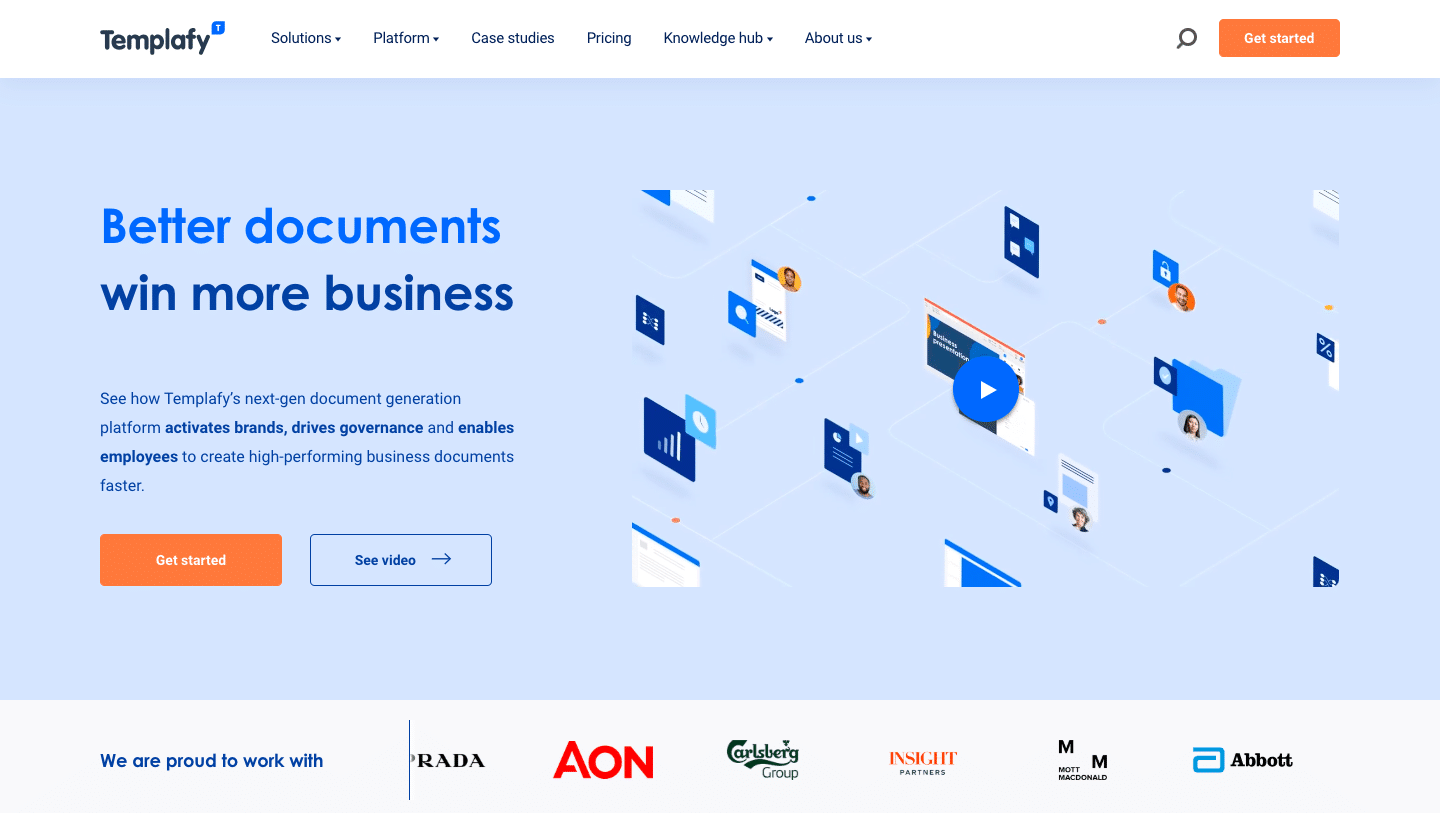 Additionally, Templafy makes it simple to generate documents, proposals, and presentations, and the task panel allows you to access approved information. However, if you're looking for Templafy alternatives that can power up your proposal generation and automation process, this list is for you!
5 Templafy Alternatives to Generate and Automate Better Proposals
Prospero is an excellent writing proposal platform that offers you industry-specific templates with high levels of customization.
You can use it to submit papers, collect payments, and receive electronic signatures.
Even if you were a complete novice, creating proposals would be simple because of The Proposal Wizard function.
If you get stuck with writing sections, Prospero also contains ready-made texts.
This Templafy alternative connects with Zapier, FreshBooks, Crisp, Stripe, Intercom, and other systems, as well as allowing third-party scripts to be installed.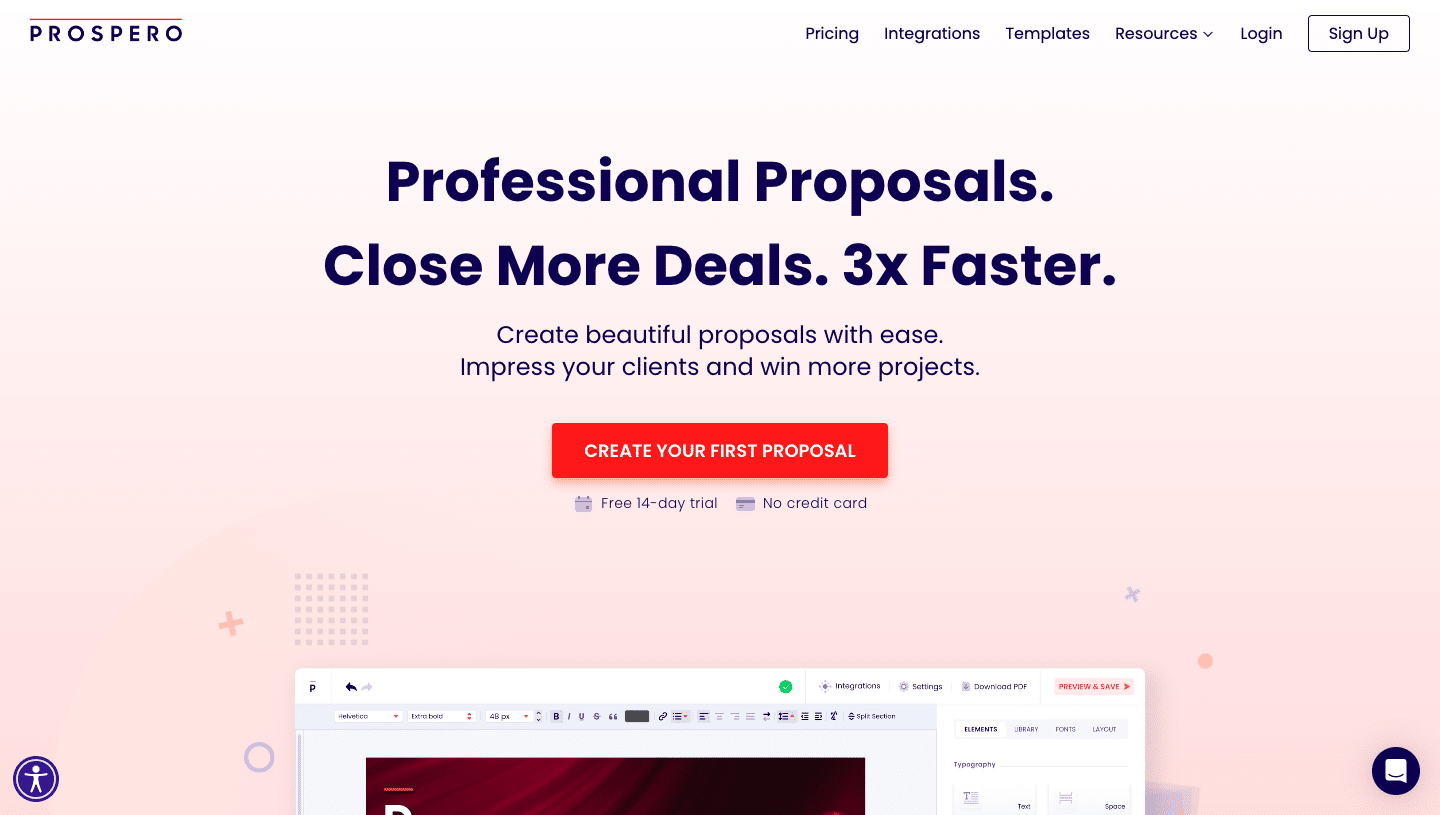 Why should you consider using Prospero? This platform is extremely easy to use, as it focuses on being detail-oriented and user-friendly. The basic drag-and-drop editor also ensures that you do not need any designing skills. 
In terms of customization, this is one of the best features Prospero has to offer. You are free to choose fonts, colors, sizes, and add tables, images, or any other types of content you want, not forgetting your company logo as well. 
Features
A few of the general features Prospero offers include:
Templates library 

Dag-and-drop editor

Electronic signatures

Integrations

High level of customization 

Device optimization 

Ready-made texts

Pipeline management 

Analytics 

The Proposal Wizard 
Analytics shows you when another person opens your document, the number of times they viewed it, and how long they viewed it. You receive notifications from Prospero, so you know exactly what happens with your business proposal. 
The Proposal Wizard feature is essentially a guide for the entire proposal writing procedure. It allows you to add information about the:
Project

Yourself 

Client

Deliverables

Pricing strategy

Milestones
Prospero helps you to make the most appropriate proposal templates for the project based on the information you provided. You may also access the information from any device at any time because all your progress is saved in the cloud. 
Additionally, Prospero offers a customer support team that is responsive and ready to help you by answering all your questions.  
Pricing
Prospero's pricing is extremely simple. It offers you a 21-day trial for only $1 so that you can determine whether it satisfies your requirements.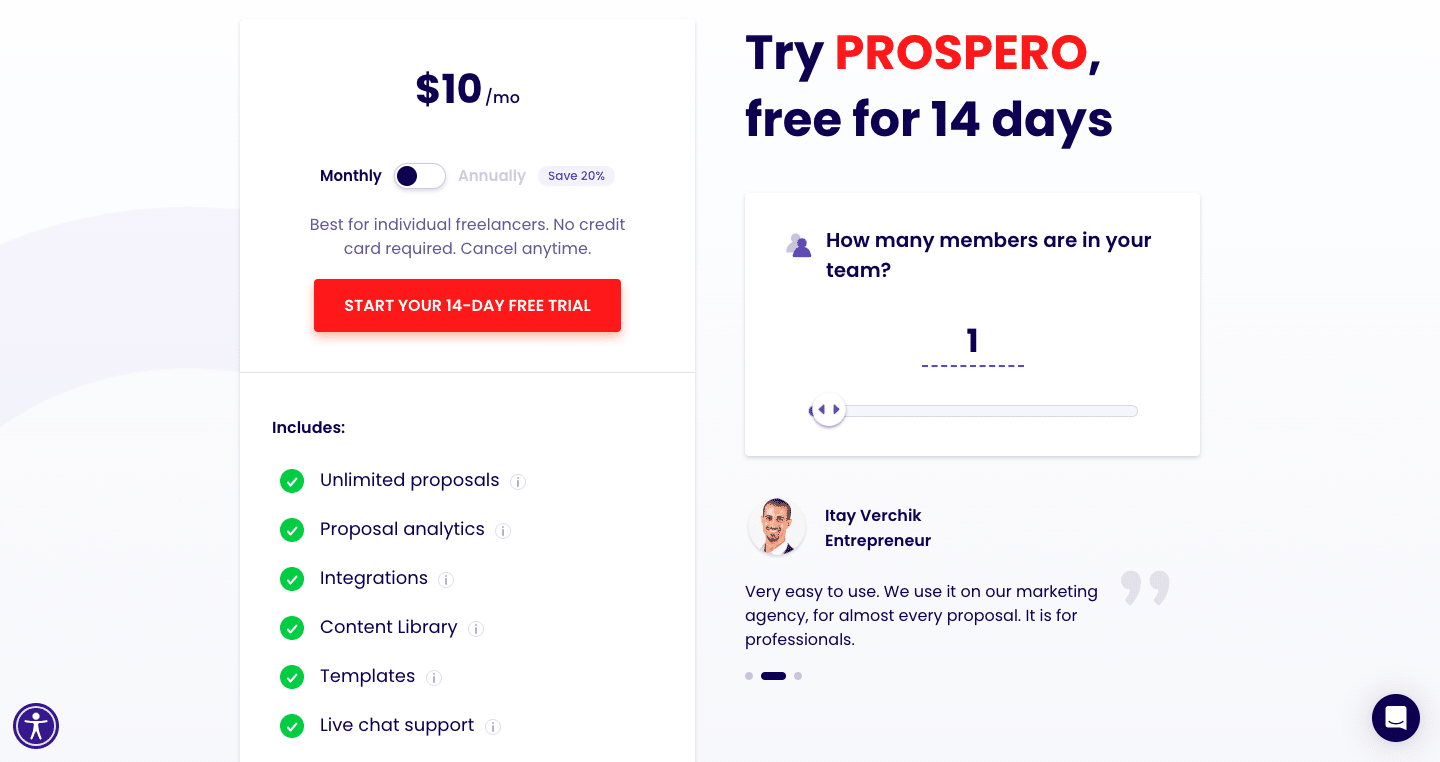 2. BetterProposals
Do you want to create business proposal templates? BetterProposals is a tool that comes with editable and adaptable templates.
You may include the same fonts that you utilize on your company website and the logo when using this proposal software.
BetterProposals lets you gather signatures and keeps them safe, so you do not need to concern yourself with privacy.
Proposals that you've already prepared and that have had a positive impact on clients can be preserved in the BetterProposals content library and reused.
Each proposal can have its own custom domain so that when your customers open them, they appear to be part of your website.
You may track who is ready to sign your paper and who requires further convincing or clarification using tracking features.
Features
This platform offers the following features:
Customization

Drag-and-drop builder

Electronic signatures

Templates

In-depth reports

Analytics

Integrations
Pricing
You receive a 14-day free trial when considering BetterProposals. Once the trial is up you may upgrade to one of the paid plans based on the specific features you require.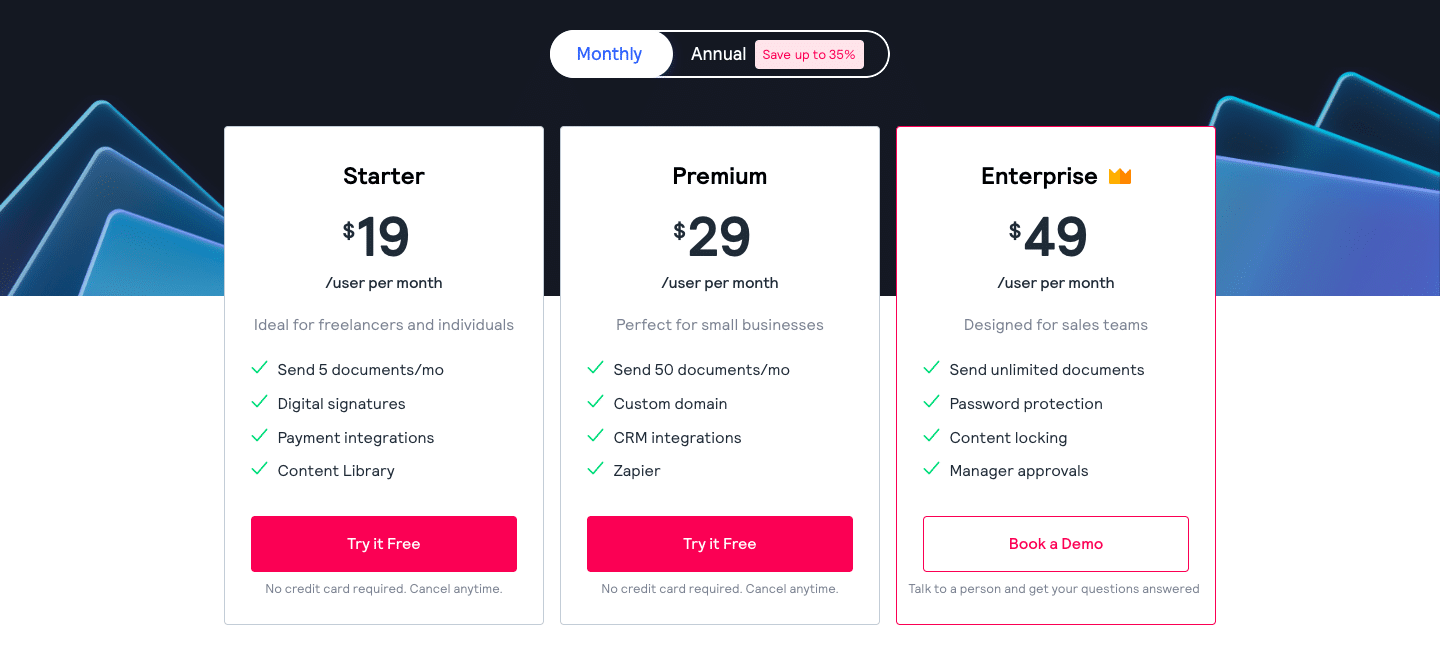 3. PandaDoc
PandaDoc helps over 27,000 growing businesses succeed by removing the work from document workflow. It is an all-in-one document workflow automation application that enables fast-growing teams to develop, manage, and sign electronic files such as proposals, quotations, and contracts faster.
Many people love this proposal tool because it offers flexibility, which helps businesses set themselves apart from competitors. Another added bonus is that PandaDoc has email tracking, so you can monitor when people open your documents. 
If you are looking for a great way to communicate the value you offer, PandaDoc might be ideal for your firm. 
Features
PandaDoc's features include:
Document signing

Signature workflow

Reminders and expirations  

Reporting 

Mobile signatures

Signature document creation

Sign-in process
Pricing
PandaDoc has four different pricing plans, including a free version. You receive different and more advanced features depending on the plan you select. A free trial is also available. 
The plans include:
Free

Essentials – $19 per month

Business – $49 per month

Enterprise – Negotiable 
3. Proposify
Proposify is a well-known business tool that incorporates many helpful features. 
You can keep track of your contracts and documents thanks to analytics, and you always know what's going on with them.
Additionally, your business documents can be categorized into groups with Proposify, which helps you become more organized and find what you are searching for faster. 
Proposify features a content library where you can preserve and organize all of your critical material, as well as product descriptions and fees.
You may also keep different repeated information and access it whenever you want to insert it into any documents.
This tool is wonderful because it lets you make interactive documents with chats, videos, and interactive pricing charts.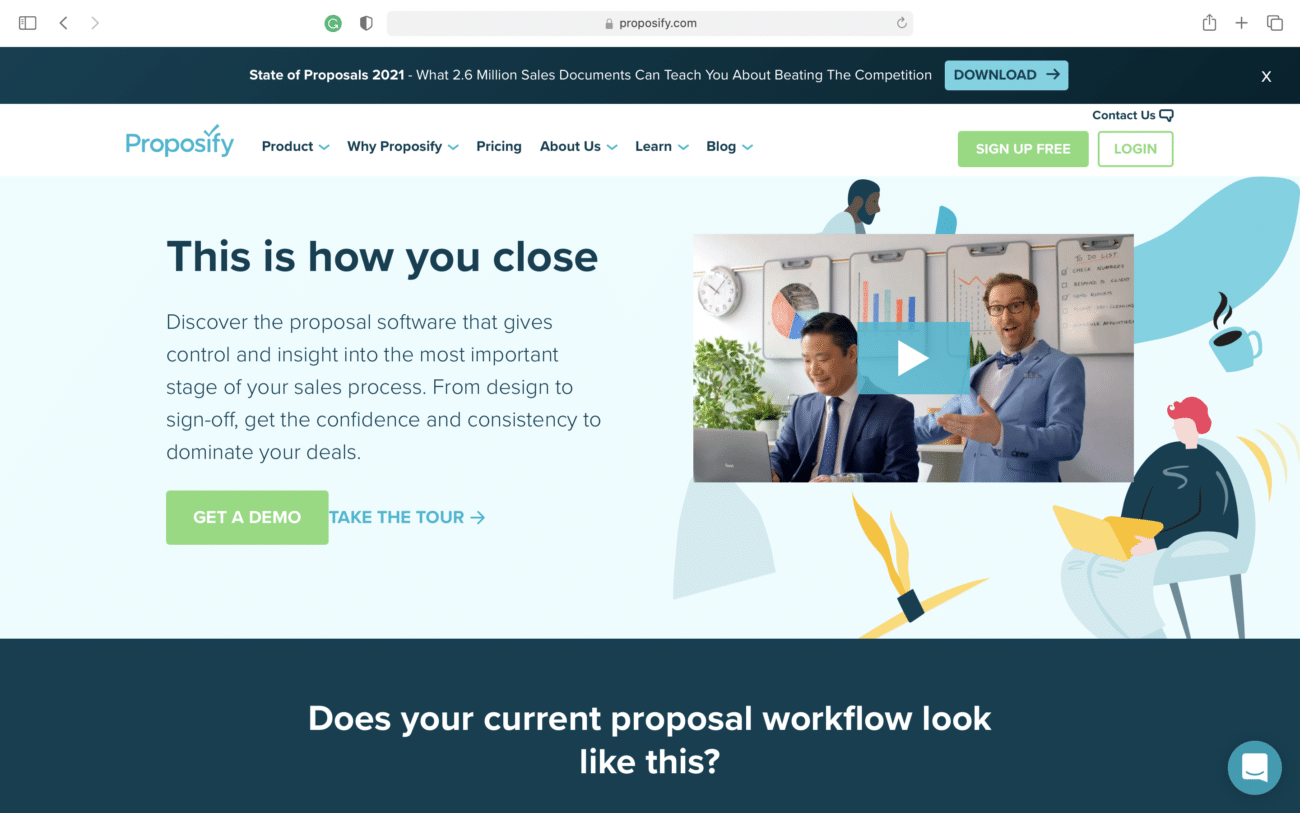 Features
Various features offered by Proposify include:
Templates

Drag-and-drop editor

Interactive documents

Customization documents

Analytics

Electronic signatures

Notifications 

Integrations
Pricing
You can choose between three paid plans once you have used the Proposify 14-day free trial.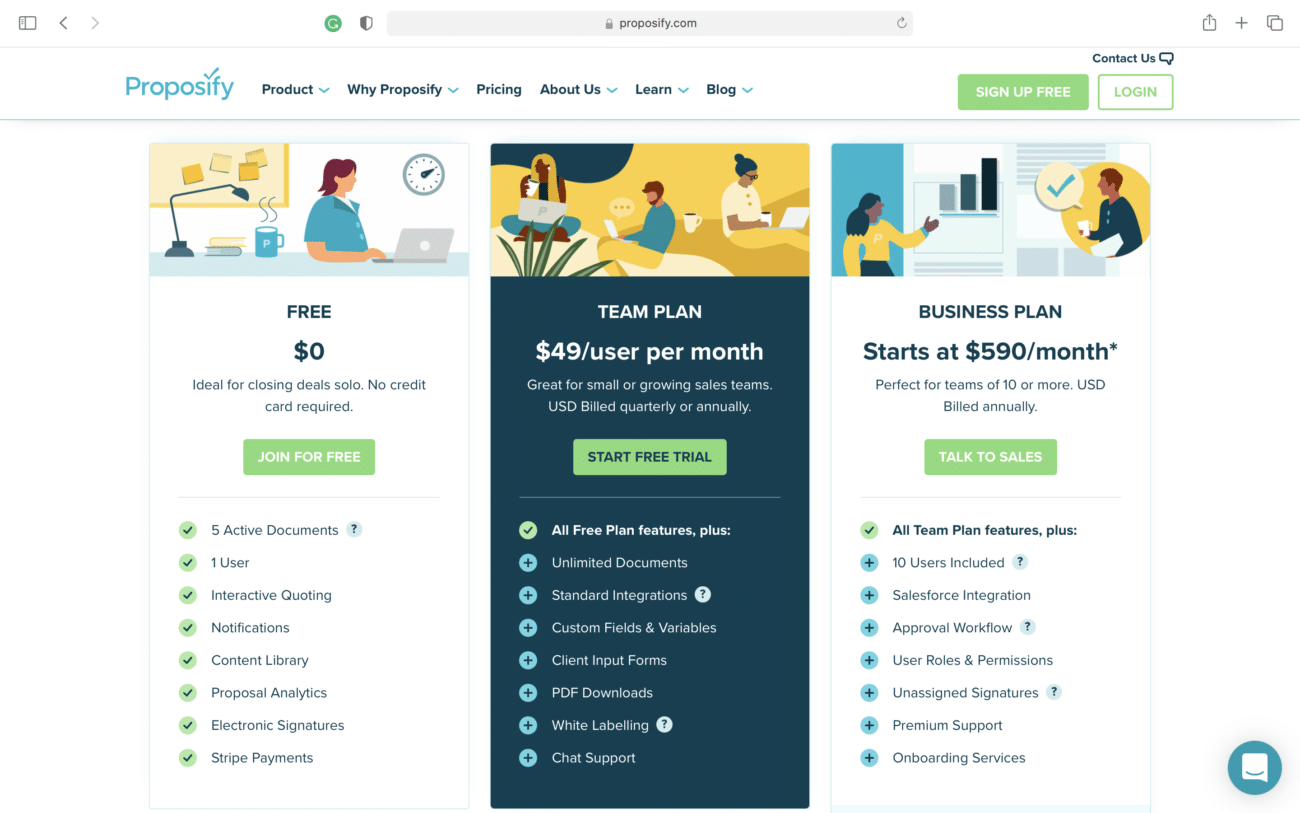 5. Qwilr
Create the ideal pitch, proposal, and sales quote, among other things. Each Qwilr page you send has a high level of visual polish, as well as intelligence tracking, analytics, and automation. Wave farewell to your stagnant PDFs and hello to Qwilr's powerful sales force.
Send stunning-looking papers that get recognized with the easy-to-use page builder, vast video and image library, designer-created templates, and more when using Qwilr. 
Features
A few of the features you can expect from Qwilr are:
Custom branding

Rich media

Customization 

Template flexibility and creation 

PDF creation 

Online document creation 

Collaborative creation 

Document builder interface 
Pricing
Qwilr offers you a free trial so that you can determine whether you want to choose one between one of the two available paid plans. 
The paid plans are:
Business – $75 per month

Enterprise – $5,880 per year
The Bottom Line 
Using one of these tools to assist you in creating an outstanding business proposal is undoubtedly a wise decision. It's fantastic that they don't require any prior design knowledge.
These save you effort and time, allowing you to apply for more positions and increase your chances of getting more work and earning more money.
We have to recommend Prospero, as it is a terrific tool if you're looking for something to help you be more productive when generating exceptional business proposals because of its creative features and ease of use.
Sign up today so you can start creating successful proposals immediately.