Not every marketer has a friendly affair with sales, and if you're one of them wondering how to leverage social selling strategies to sell products and services, we've got you covered.
What Is Social Selling?
Social selling is a sales practice where sales professionals use social media platforms to connect with potential customers and build meaningful relationships to sell their products and services.
This modern sales technique focuses on nurturing the prospective customer by providing immense value about the product. You can do this by focusing on the potential customer's pain points and tying their solution to their challenges.
To implement social selling, salespeople and marketers use the company's social media channels, such as Facebook, Twitter, LinkedIn, and so on, to actively engage with prospects and develop a connection with them.
How Do Social Selling Strategies Differ From Traditional Sales Strategies?
| | |
| --- | --- |
| Social Selling | Traditional Selling |
| Social sellers use warm introductions to make the coinitial connection. | Sales reps rely on cold calling and cold emails. |
| Sales reps use thoughtful conversations, ultimately leading to conversion. | Sales teams use sales scripts to convert target customers. |
| It uses a personalized approach to convert each customer‌ — ‌depending on their ideal customer persona. | It uses the same approach to convert each potential customer. |
Benefits of Implementing Social Selling Strategies
Let's dig in to find out some of the benefits of social selling:
Builds trust: When you communicate with your potential customers and build a relationship with them, it builds trust and they're likely to feel comfortable with you ‌ — ‌ ultimately buying your products and services.
Yields long-term rewards: When you focus on long-term relationship building and maintaining those relationships, you're likely aiming for repeat buyers and not one-time buyers.
Gives insights into your customer base: When you leverage social listening, you'll understand more about your customers ‌ — like ‌their concerns and interests, which will help you craft better marketing campaigns and reach your sales goals with ease.
7 Effective Social Selling Strategies for Revenue Generation
Are you ready to put social networks to use? Here are seven social selling strategies to help you lock in more revenue and kiss those dreaded cold calls goodbye.
Strategy #1: Anchor to the most fruitful platform
The first step to any social media endeavor is to find where your audience hangs out online. If your target market is Gen Z, then maybe Youtube, Instagram, and TikTok are your go-to platforms.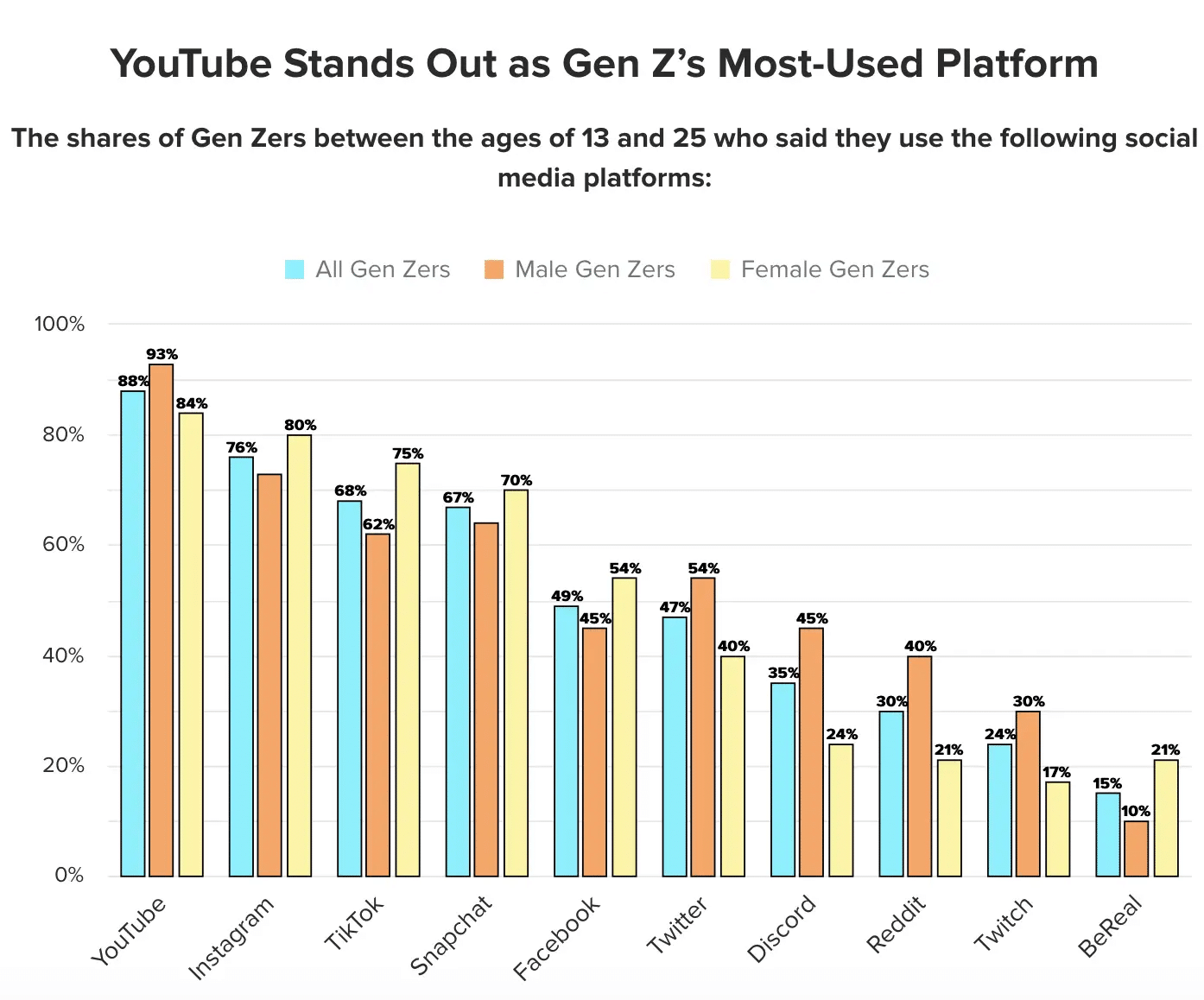 Remember, as social sellers, finding the right platform isn't about throwing spaghetti at the wall and hoping something sticks. ​Personalization is the name of the game. And thankfully, you should already have access to a vast database of first-party data (think Google Analytics or data from your CRM).
Then, using reverse ETL tools, you can feed that treasure trove of data from your warehouse directly into a dashboard or other software to help you gain useful insights about your target audience.
However, you also need to make sure that you have a secure and seamless way to protect ‌customer data. That's where OAuth comes in. OAuth is a standard protocol that allows you to authorize users to access your online resources without sharing their passwords. 
It also enables you to integrate with other services and applications that your users may already use, such as Google, Facebook, or Twitter.
By using OAuth, you can provide a better user experience, increase your conversion rates, and follow data privacy regulations. After all, the last thing you want is a lawsuit on your hands when your goal is to reduce spammy efforts from your brand.
So when in doubt, it's also good practice to identify your social selling goals before diving too deep. Based on these goals, you can pick the following social media platforms that work for you.
1. LinkedIn: Best for interactions with B2B buyers
LinkedIn is a B2B social platform where companies and employees build their personal brands to create brand awareness and land business partnerships. LinkedIn Sales Navigator is your new best friend.
Ideal for: To sell digital products and services
Jeremy Moser, the CEO at uSERP, does an excellent job establishing himself as a thought leader in the SEO space by sharing actionable tips with his followers instead of promoting his SEO agency.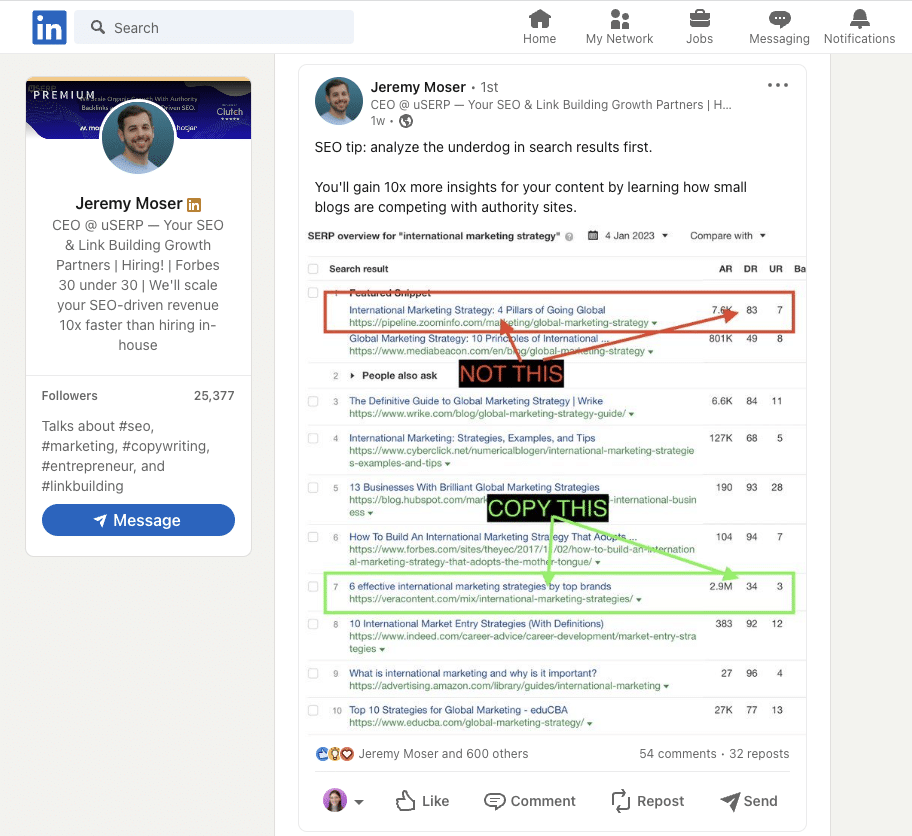 The result? More than 25,000 loyal followers tune in daily for ‌fresh SEO tips while simultaneously building brand awareness for uSERP. Well done, Jeremy.
2. Instagram: Best for D2C interactions
If you're in the D2C space, then Instagram is your go-to platform if you want to strengthen your relationship with new or potential customers. As a visual platform, your goal is to create eye-catching videos and images that stop users from their never-ending scroll.
Need some inspiration? Take a page out of Olipop's book and use a photo editor online to create a cohesive aesthetic with every image that you publish. That way, you give your profile the best chance of standing out from the masses.
Oh, and don't forget to leverage all of Instagram's features like reels, stories, and carousels to engage with your audience. Adding quizzes and polls to your stories is an excellent way to boost interactions with your followers.
Ideal for: E-commerce businesses and skill-based businesses that sell consultation and coaching services
3. Tiktok: Best for a younger audience
Tiktok's audience is younger than other social media platforms, which creates an opportunity for e-commerce brands to sell to this younger demographic.
Regardless, don't underestimate the power of TikTok. Its popularity continues to grow like wildfire. And before you know it, your brand could go viral.
Ideal for: E-commerce businesses targeting millennials or Gen Z
4. Facebook: Best for selling products
Facebook has a diverse audience. So e-commerce brands, product-based businesses, and skill-based businesses like coaches and consultants can all leverage this grandfather social media platform.
Ideal for: E-commerce business, coaches, and consultants
5. Twitter: Best for customer interactions
Twitter works best for brands that want to interact with their customers and provide a social customer support system. Plus, this is a great social listening tool for brands to understand more about their customers.
United Airlines goes above and beyond to leverage Twitter as another social selling tool to respond to the thousands of inquiries it gets daily from upset travelers.
Ideal for: B2B, B2C and D2C businesses
Strategy #2: Build a solid professional profile
First impressions are everything. And a solid, professional profile is what a potential customer will notice first. To build your professional profile on social media platforms, you need elements like:
A logo that represents your brand
A cover image to match your brand visual identity
A recognizable username
A social media bio that includes your website and other important details
Each platform might have slightly different requirements, but the goal is to keep it consistent.
For example, here's a look at Wordable's LinkedIn profile. They incorporate their tagline, cover photo, purple and white brand colors, and a short bio.
And now, here's their Twitter profile. Looks pretty similar, right?
Well, that's the goal. Because that way, potential customers will know it's the same brand upon arrival to each of their individual profiles, reducing bounce rates and building trust.
Strategy 3: Continually deliver meaningful insights
Once you have set up your social media profile, it's time to publish your social media posts. Through these posts, you need to communicate the value of your products and services.
For example, Planable creates Twitter threads on their Twitter profile to educate their target audience about their product features.
When people read the thread, they'll get a better understanding of their product features, further encouraging them to buy the product.
A good way to deliver meaningful insights through your social media profile is to share a mix of educational and promotional posts. For this, follow Pareto's rule: 80% educational posts and 20% promotional posts.
Educational posts: The goal is to make the potential buyer aware of their pain points and discuss the potential solutions available in the market.
Promotional: The goal is to put your product at the forefront and talk about its features and benefits and share customer stories and case studies.
To amplify your social media publishing, use a business intelligence platform to analyze the performance of your educational posts through charts, graphs, and dashboards. Plus, you can also identify the right times you should post on social media.
The idea is to work smarter, not harder. That way, you'll spend less time sifting and cleaning data and more time writing relevant content that you know converts.
Strategy #4: Actively engage in conversations with your audience
At this stage, you need to connect with your potential customers and interact with them in the comments. You can do this in two ways:
Use hashtags that your target audience uses and look for ongoing conversations or posts. Comment on these posts and start a discussion.
Keep an eye on your published posts. If someone comments on your post, respond to them back and start a conversation.
Ideally, using both social media engagement techniques is a good way to connect with your target audience and build trust.
Side Note: Brands who respond to people's comments stay in their good books, and their target audience remembers them. Also, use direct messages as you see fit.
Strategy #5: Harness the power of social listening tools
With social listening tools, you can keep a bird's eye on all the platforms where existing buyers and potential buyers mention your brand. This helps you analyze the conversations happening about your brand on social media‌ — ‌which further helps you make informed marketing decisions.
For example, when a Twitter user tagged Nike highlighting his concern about the return of a specific order, Nike responded to them instantly and asked to connect with them for further clarification.
This helps the customer resolve their concerns while building trust in the brand.
Strategy #6: Establish credibility by showing tales of triumphs
Here's the thing: Maximizing your business's sales is directly proportional to your credibility.
To do this, you need to showcase impactful and solution-driven content assets and marketing activities.
Here are some ways you can do it:
Showcase testimonials and transformations and valuable content assets such as case studies that display how your product or service helped another customer.
Conduct PR activities like getting your brand featured in authoritative publications.
Get your company's founders on podcasts and interviews to discuss their business journey.
Interview existing customers and share them on social media.
Here's how HP did a great job by sharing a video of their proud moment as they sponsored the 76th Annual Cannes Film Festival, and the official poster was installed and printed by them.
Strategy #7: Build relationships, not just connections
It's easy to connect with your target audience on social media, but building a meaningful relationship with them — it's not that easy. And that's where your social selling strategy could fall flat.
Suppose you send a connection request to a potential buyer on LinkedIn. They accept your connection request, which means you are now both ‌connected on social media. Mutual connections, if you will. But what about the relationship? Does it even exist? No.
Most marketers believe connecting on social media equates to building relationships. But that couldn't be further from the truth. As the saying goes, Rome wasn't built in a day.
In the above scenario, to build a meaningful relationship, you must engage with your prospects' social media posts. And no, we don't mean a comment that says, "Congratulations on the new job title!" The idea here is to familiarize yourself with the prospect. Show that you think their content is valuable.
Even better, if you can offer something to them that's mutually beneficial — like a shoutout in your next post or a referral as Ankit does for Juwaria.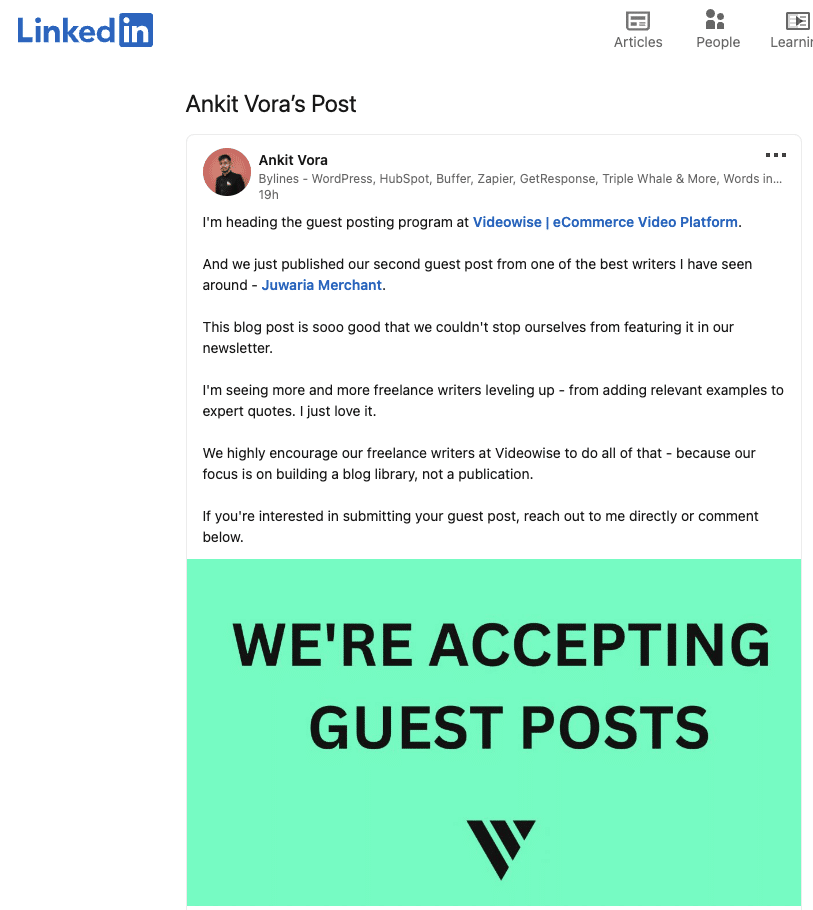 Once this warm connection is established, it's easier to suggest a phone call or direct meeting.
Always remember, when you have a great relationship with a prospect based on trust, the chances of them becoming loyal customers are much higher.
Wrapping Up
The sales process doesn't have to be stressful and spammy. Why? Social channels are ripe for the taking.
And your social selling strategies solely depend on one factor: building thoughtful relationships with your potential customers. Follow the above seven social selling techniques to reach your prospects, convert them, and clock in more revenue for your company.
Now, go, start social selling, and take your online presence to the heights you've dreamt of! Your sales pipeline will thank you, and so will your bottom line.
Author Bio:


Luca Ramassa Outreach Specialist at LeadsBridge, passionate about Marketing and Technology. My goal is to help companies improve their online presence and communication strategy.