So you're in the software business and you want to win that coveted contract or project? Do you have your business proposal ready to impress your clients? Well, it's time to buckle up and get ready to create an amazing software business proposal. 
Trust me, it's not as dull as it sounds. In fact, a well-crafted proposal can be the key to unlocking your success and creating referrals, leads and positive remarks for your business.
Writing a Software Business Proposal
The key to writing a successful business proposal is to do just that. Write it. You can start writing from scratch or editing an existing proposal template.
There are many reasons to write a proposal whether you're a lone freelancer, agency, small business or large conglomerate.
Writing a proposal is important because it gives you the opportunity to showcase your skills, expertise, and unique solutions to your potential clients. It is like a first impression, and you want to leave a lasting impact on your reader.
A well-crafted proposal can help you stand out from your competition and win that coveted contract or project. Each section of the proposal serves a specific purpose and contributes to the overall appeal of your proposal. And there's no better way to create a proposal quickly than with a business proposal creation software like Prospero.
Now, let's dive into the must-have sections that will make your software business proposal stand out from the crowd.
The Introductory Section
This is where you captivate your readers and convince them that you're the software expert they've been dreaming of. But why is a software business proposal so important, you ask? 
A proposal gives you the chance to showcase your skills, expertise, and unique solutions. It's like a first date – you want to leave a lasting impression so they can't help but fall in love with your software.
But hey, don't go serving up a boring, generic business proposal. Spice things up and make it engaging. Throw in some humor, sarcasm, and a little quirkiness, if that's what your brand is about. You want your reader to be hooked from the very beginning. Remember, they've probably read tons of proposals before getting to yours, so make sure yours stands out like a unicorn in a herd of donkeys.
Now, let's talk about the role of different sections in a proposal. Each section serves its own purpose and contributes to the overall appeal of your proposal. From introducing your team and company to outlining your approach and solution, every section plays a crucial role in convincing your prospect that you're the software superstars they need.
With the right combination of engaging content and logical structure, you'll be well on your way to software business success.
About Us
Introducing your team and company is a crucial aspect of any software business proposal. But let's not make it too formal and boring. We know you're awesome, so let's make sure your prospects know it too.

Here's your chance to showcase your expertise and unique selling proposition (USP) without sounding like a corporate robot.
Talk about what you do, why you do it, and how you stand out from the crowd. Show off your skills, but keep it light-hearted and engaging.
After all, who wants to read a robotic introduction?
Did we mention the opportunity to cross-sell your services? That's right! While you introduce your team and company, subtly drop hints about the amazing services and products you offer. Plant the seed in their minds, and who knows? They might just come back asking for more.
Remember, you're not just selling services, you're building a relationship.
Your Proposed Solution
Never make the mistake of sending a generic boilerplate proposal. Be personal, be unique, and show them why you're the problem-solving superhero, right inside your proposal.
Start by explaining your problem-solving approach. How do you tackle challenges head-on? Do you have a secret formula?
Dive into the details of the process involved in solving the prospect's problems. Give them a taste of your expertise and how you stand apart from the competition.
You already know what your prospect is facing, and you know you have the solution. But don't just assume they know that too. Spell it out for them. Show them that you've done your research and understand their pain points.
Use real-life examples and case studies to illustrate how you've successfully tackled similar challenges in the past.
Take the time to tailor your proposal to your prospect's specific needs. Be creative, be innovative, and show them that you genuinely care about finding a unique solution just for them. Stand out from the crowd and leave a lasting impression.
Project Deliverables
When it comes to delivering the goods in your software business proposal, you definitely don't want to leave the prospect hanging. Make sure you list and describe the deliverables in detail, because assumptions are the mother of all disaster proposals.
Even if your prospect knows about the deliverables, give them a taste of your impressive communication skills. Now, making your proposal look impressive is not just about throwing in some fancy graphics and colorful charts. It's about presenting the information in a logical and organized manner. You want your prospect to be able to navigate through your proposal without feeling like they're lost in a maze.
So, break down the deliverables into sections, add headings, and use subheadings to guide them through the information. Clarity is key in your proposal. You don't want your prospect scratching their heads trying to figure out what exactly they're getting.
Project Milestones
Breaking down a project into smaller sections allows you to digest it piece by piece, making it easier to manage and ensuring that nothing gets overlooked.
Defining timelines and responsibilities helps you stay on track and ensures that everyone knows where they're going and what their role is in getting there.
Detailing accomplishments is like building a trophy wall. You want to showcase all the victories along the way, both big and small. It not only gives you a sense of accomplishment but also reassures your clients that progress is being made.
Nobody wants to feel like they're throwing money into a bottomless pit. So, break it down, set those deadlines, and map out what victory looks like for the project. Your project will thank you, and so will your clients. And who doesn't love a happy client?
Budget Options
Let's imagine that you present your prospects with two fee options, giving them the illusion of choice while still maintaining control.
In each fee option, you need to clearly explain what they'll get. If the first option breaks down your high-level solution at the budget that you're most comfortable with, the second option should focus on what can be accomplished with their available budget. It's like a mid-range package, not too fancy but still effective.
If they're feeling adventurous and agree to increase their budget, you can offer them a third option.
But remember, don't overwhelm them with too many choices. Keep it simple and stay focused.
Past Experience & Case Studies
What good is a proposal if it doesn't deliver the desired outcomes? You would agree that nobody wants that.
Clients want a proposal that creates a strong impact. They want to see that you have a track record of success. They want reassurance that their investment in your software will pay off. So, don't hold back.
Highlighting the results you can achieve in your software proposal is crucial for convincing them to choose your services. Here, you want to show your potential client the tangible benefits they can expect by choosing your solution. You also want to emphasize the impact that your previous clients have achieved by hiring you.
Did your software increase efficiency by 50%? Did it streamline processes and save hours of manual work? Let them know how your solution can transform their business and make their lives easier.
Past Client Testimonials
This section holds immense importance, just like your product and budget sections. Including client references is not just a way to show off, but it's also a great way to build trust and confidence with your prospects.
When they see that other clients have had positive experiences with your company, it gives them hope that they too can benefit from your services. If possible, include contact information of your happy clients.
Ask them if you can share their details with prospective customers who may be interested in getting word-of-mouth testimonials.
When prospects see that you have an existing network of satisfied customers, they feel more inclined to jump on board.
Terms and Conditions
Closing the deal effectively is crucial because you definitely don't want all your efforts in creating that perfect software business proposal go to waste.
So, how can you ensure a smooth closure?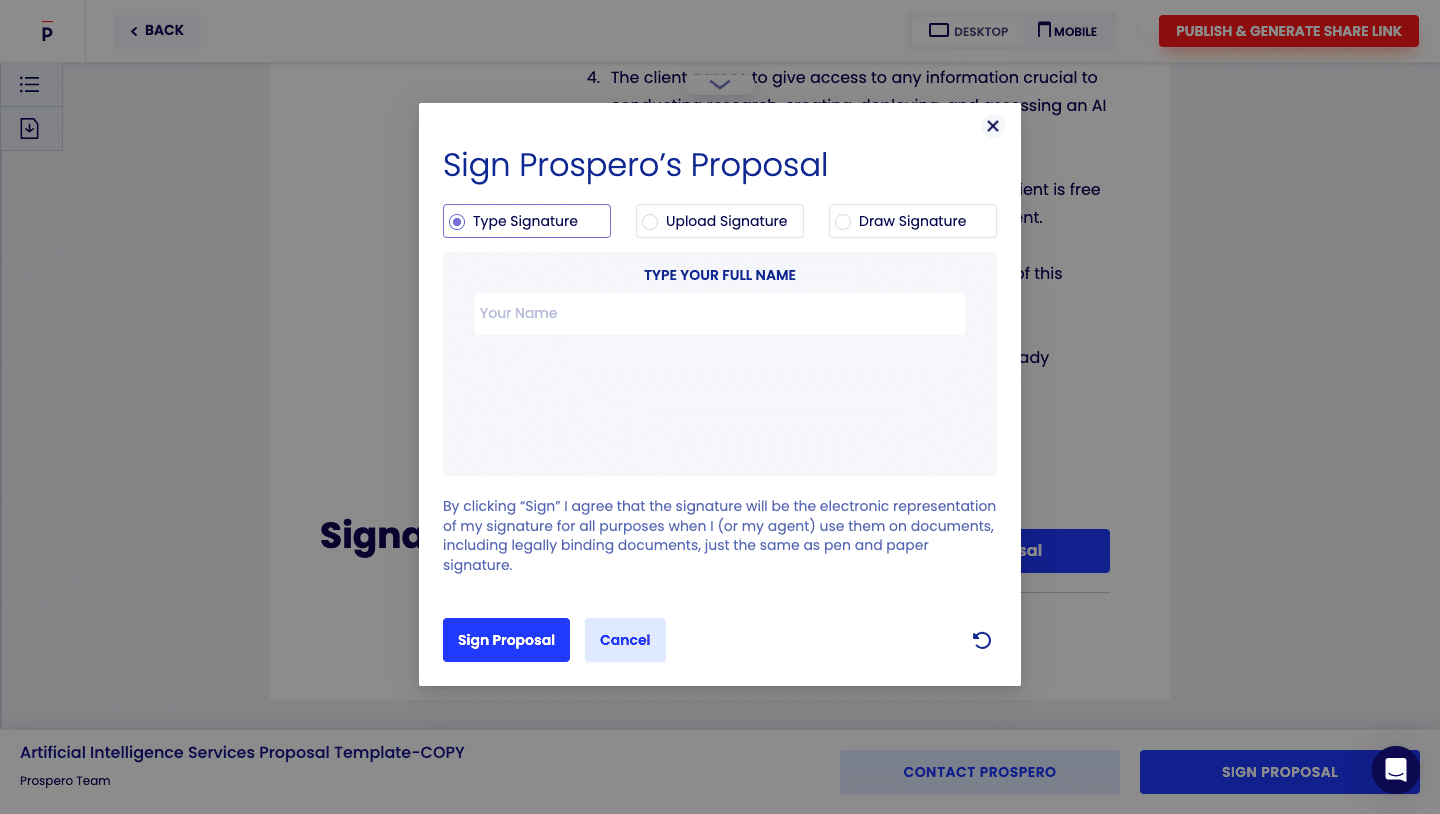 You can offer different methods of closure. Whether it's a formal contract, a digital sign-off using an e-signature, or a simple phone call, make it easy for your prospects to seal the deal.
Remember, your prospect is busy and doesn't have all day to read through a lengthy proposal. So, keeping the content concise is key. Use clear and concise language to explain the terms and conditions without overwhelming the reader with unnecessary details.
Conclusion
Creating an engaging proposal is not just about following a template, it's about connecting with your prospects on a personal level.
Now that we've covered all the must-have sections in a software business proposal, it's time for you to put this knowledge into action. Create engaging proposals, show off your expertise, and seal the deal with confidence.

Of course, you can easily get started on this using our software business proposal template inside our proposal software. Happy proposal writing.