Here's the thing about sending sales proposals: you can't settle for just quantity or quality — you need to have both.
Think about it: if you send out low-quality sales proposals, this obviously won't get you very far. Even if you send out 1,000 proposals in a single day, you might still score zero meetings, which means that all your efforts will have gone down the drain.
On the flip side, if you only send out a handful of high-quality proposals every day, this won't work either. Sales is really a number's game — the vast majority of prospects might not even open or read your proposal, so the more you send, the more success you'll get.
In this blog post, we share 13 sales techniques that you can use to:
Generate leads
Reach out to leads
Develop relationships with leads
Once you've nailed these three processes, you'll have a steady pool of qualified leads who are open to receiving sales proposals from you, and that's when you can start sending out those proposals and hopefully closing more deals.
Ready? Let's jump right in!
Generating leads
Assuming your conversion rates stay the same, generating more leads will help you increase the number of opportunities you get to send sales proposals.
The good news? There are plenty of methods that you can use to generate more leads, some of which are extremely low-maintenance (we're talking set-it-and-forget-it type deals).
1. Use a chatbot
One of the easiest ways to generate leads is to install a chatbot on your site.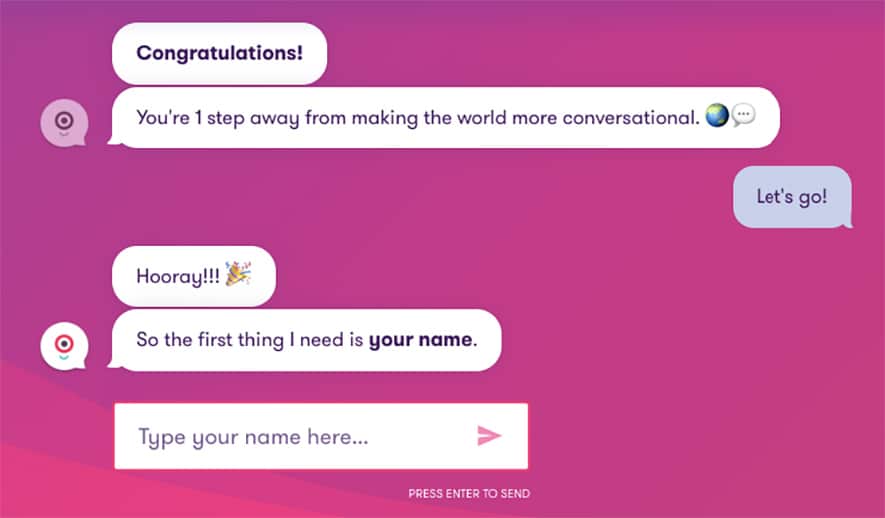 Using a chatbot, you can easily ask your website visitors a series of qualifying questions, then get them to input their contact information. From here, route the information to your sales team, and get your reps to reach out. It's as simple as that!
Now, while utilizing a chatbot might look complicated, it's actually pretty easy. You can get some inspiration from these chatbot examples. Moreover, there are plenty of tools that you can use to build a chatbot with zero coding involved, including SnatchBot.
2. Feature live chat on your website
Chatbots aside, many businesses are also making use of live chat to generate more leads from their websites.
The numbers don't lie: website visitors that engage with your company via live chat are worth 4.5 times more than visitors that don't, and live chat leads to a 48% increase in revenue per chat hour and a 40% increase in conversion rate.
If you're not already on the live chat bandwagon, it's time to get on it, pronto.
3. Monitor the visitors on your website
To make the most out of your online traffic, don't just wait for your website visitors to contact you. Instead, take the initiative and get in touch with them.
How do you do this? Simple. Use an online monitoring tool to track and identify your visitors, and go ahead and reach out to them.
The average website converts just 2.35% of their traffic, so this is a great way of tapping into that other 97%.
4. Make the most out of social media
You might already have your company profiles set up on your social media, but are you making the most out of these profiles?
Firstly, start posting more often, and make sure you have clear Call To Actions (CTAs) on your bio and on each post.
Also, keep in mind that your CTAs should like to a specific landing page, instead of your website homepage. If your company offers a free trial for its product, consider linking to the trial page to encourage more sign ups.
Reaching out to leads
When you conduct your initial outreach, again, the more leads you get in touch with, the more opportunities you get to send sales proposals further down the road.
Here are some tips that will help you reach out in a meaningful way, and hopefully get a response from your leads.
5. Offer them something of value
To skyrocket your response rates, simply offer your lead something of value when reaching out to them.
Say you're working for an SEO agency, for instance. You could run a quick audit on your lead's website, and offer to send them the report in your email.
By doing this, you'll make your pitch stand out, which makes it easier for you to get your foot in the door.
6. Make your email short and sweet
Business executives (especially those in the C-suite) get inundated by plenty of sales emails everyday.
Now, these are busy folks we're talking about, and the easiest way to turn them off is to send them a long, rambly email plugging your company or product.
Bearing this in mind, make your email short and sweet, and get right to the point.
How short is short? According to statistics, the ideal length of a sales email is between 50 and 125 words. Emails this length tend to have a response rate of above 50%.
7. Make it easy for your lead to take the next step
To increase your chances of moving your lead down the funnel, make sure it's easy for your lead to take the next step.
For example, if you want to set up a meeting with your lead, share a link to your calendar and let them book a slot from there. It's important that you take over the prioritization part for your lead. You can also sync SharePoint calendar with Outlook so that everyone can see the meeting or the event and join it.
Don't make your lead respond and propose three time slots and/or venues — this adds unnecessary friction to the process, and might negatively impact your response rates.
8. Send an informal video instead of a boring sales email
Last but not least, consider sending your leads an informal video to pitch to them, instead of hitting them with yet another boring sales email.
There are plenty of email tools that allow you to send personalized videos in emails, including Bomb Bomb.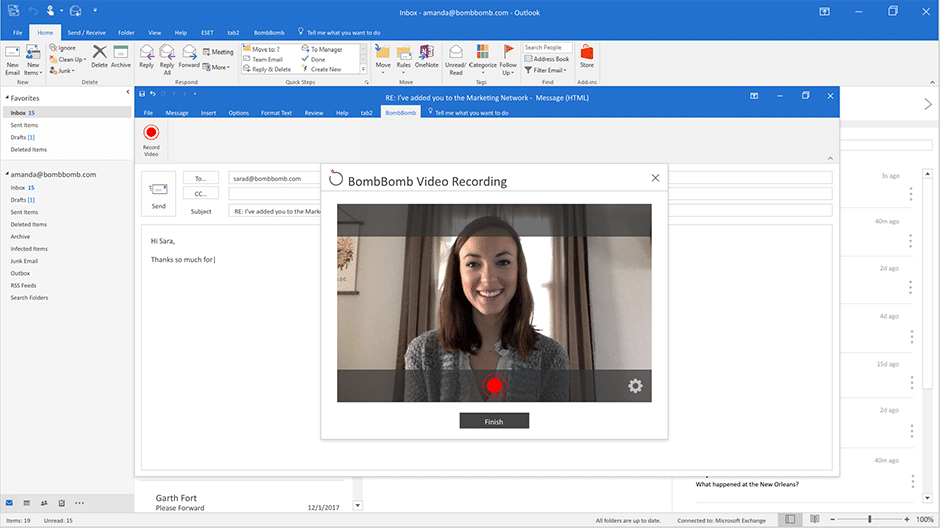 Remember: the goal of this is to humanize your interactions, and make your outreach seem more natural and organic. It's perfectly fine to record a video with your webcam and send it across to your leads… you don't need to spend time producing something that's highly polished!
Developing relationships with leads
Finally, you'll have to develop a relationship with your lead, and earn their trust before you get a request for a sales proposal.
Read on to learn how to do just that.
9. Ask your lead about their goals
When you align yourself with your lead's goals, and support them in attaining their goals, this helps you build rapport and trust.
Don't know what your lead's goals are? Go ahead and ask them!
We're not just talking about KPIs, by the way. Try and understand your lead's personal goals as well — are they trying to attain work-life balance, and spend more time with their family? Do they want to rally their team and build a better culture at work?
10. Match your lead's way of speaking
When you match someone's way of speaking, they warm up to you on a subconscious level.
Say your lead is a startup founder in their early 20s, and speaks colloquially. Make sure you communicate in a casual, non-formal manner, and pepper your speech with startup terms that they're familiar with (eg: talk to them about gaining "traction").
On the flip side, what if you're talking to a CEO in his 40s — someone that's more traditional? If that's the case, speak in a more formal language and convey a sense of professionalism.
11. Connect your lead with someone they want to meet
An easy way to build a relationship with a lead? Help them out by offering a connection.
The most obvious way of doing this would be to refer a potential client to your lead, but if that's not possible, you can also connect your lead in other ways.
For instance, if your lead is trying to hire a marketer, connect them with anyone in your network who might be a good fit.
12. Compliment your lead
A sincere compliment can go a long way. Here are some things you can compliment your lead on:
Their achievements
Their knowledge
Their business acumen
Their leadership/management skills
Their work ethic
Don't lay it on too thick — just a quick "it's amazing how much you've achieved with your startup in just one year" will do the trick.
13. Share useful content with your lead
You probably have a lot of case studies, blog articles, and other content sitting on your site. Don't let this content go to waste… share it with your lead!
The key here is to curate your content based on your lead's needs/wants, instead of sending them content that's generic and non-tailored to them.
Again, this helps you build rapport with your lead, and brings you one step closer to the point where they ask you to send over a sales proposal.