The way a business proposal is crafted can make or break opportunities, interactions, and the overall measure of success that you may have as a freelancer, agency, or business. Thankfully, technology allows you to take advantage of well-curated tools for the best possible outcomes.
Take WBudget, for example. If you're trying to impress your intended audience and create a more streamlined proposal management process, then it allows you to do so with productivity and collaboration tools, integrations, an intuitive workflow, and customization options.
However, before working with WBudget, there are a few well-designed alternatives you might want to consider!
The Eight Top WBudget Alternatives
#1 Prospero
As far as proposal writing software goes, you would be hard-pressed to find a better option than Prospero, if you're going for the most professional-looking product.
Take advantage of ready-made content from an extensive library, flexible elements, over 103 templates to choose from, and more. Bear in mind that this is just the selection and customization element of the proposal.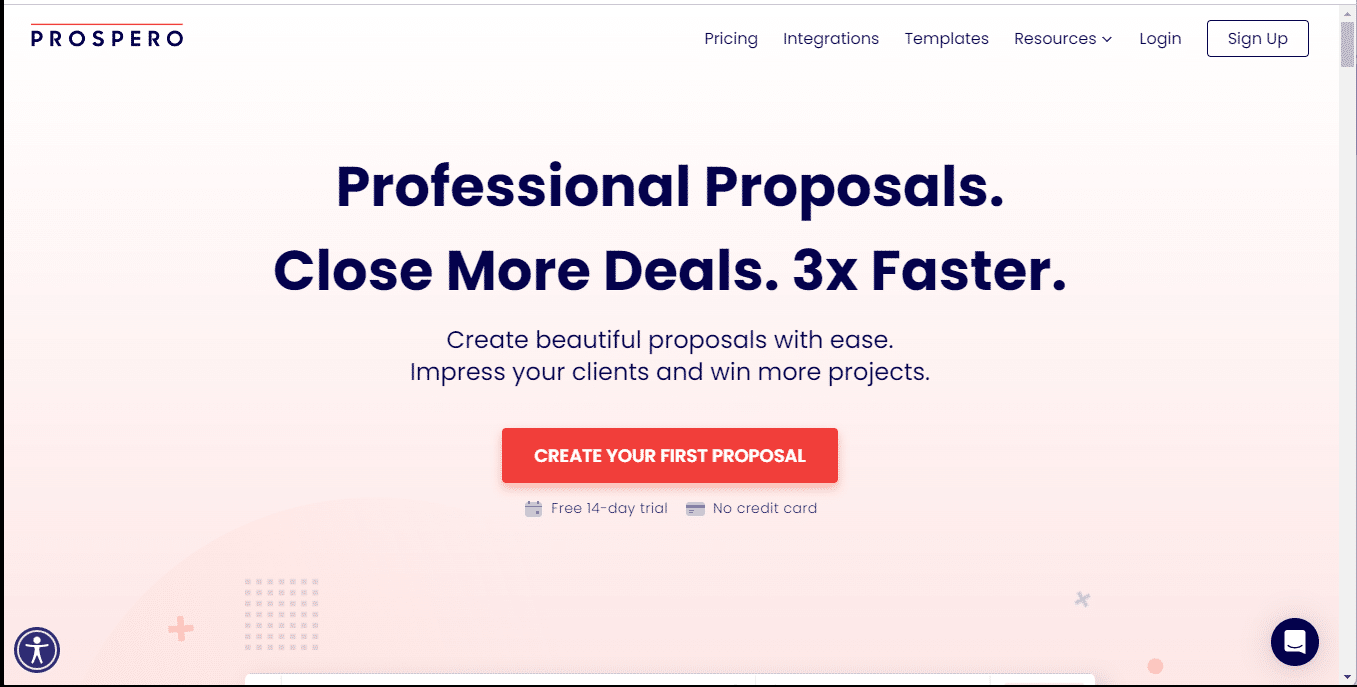 Once it's sent off, you can get reliable insights on performance including a status for each proposal, how many times it was opened, and even how long it was open for.
Of course, client signing is important too, as this is where you get your confirmation. Prospero makes it device-independent, and there is also eSignature allowing your clients to draw, type, or simply upload their signatures.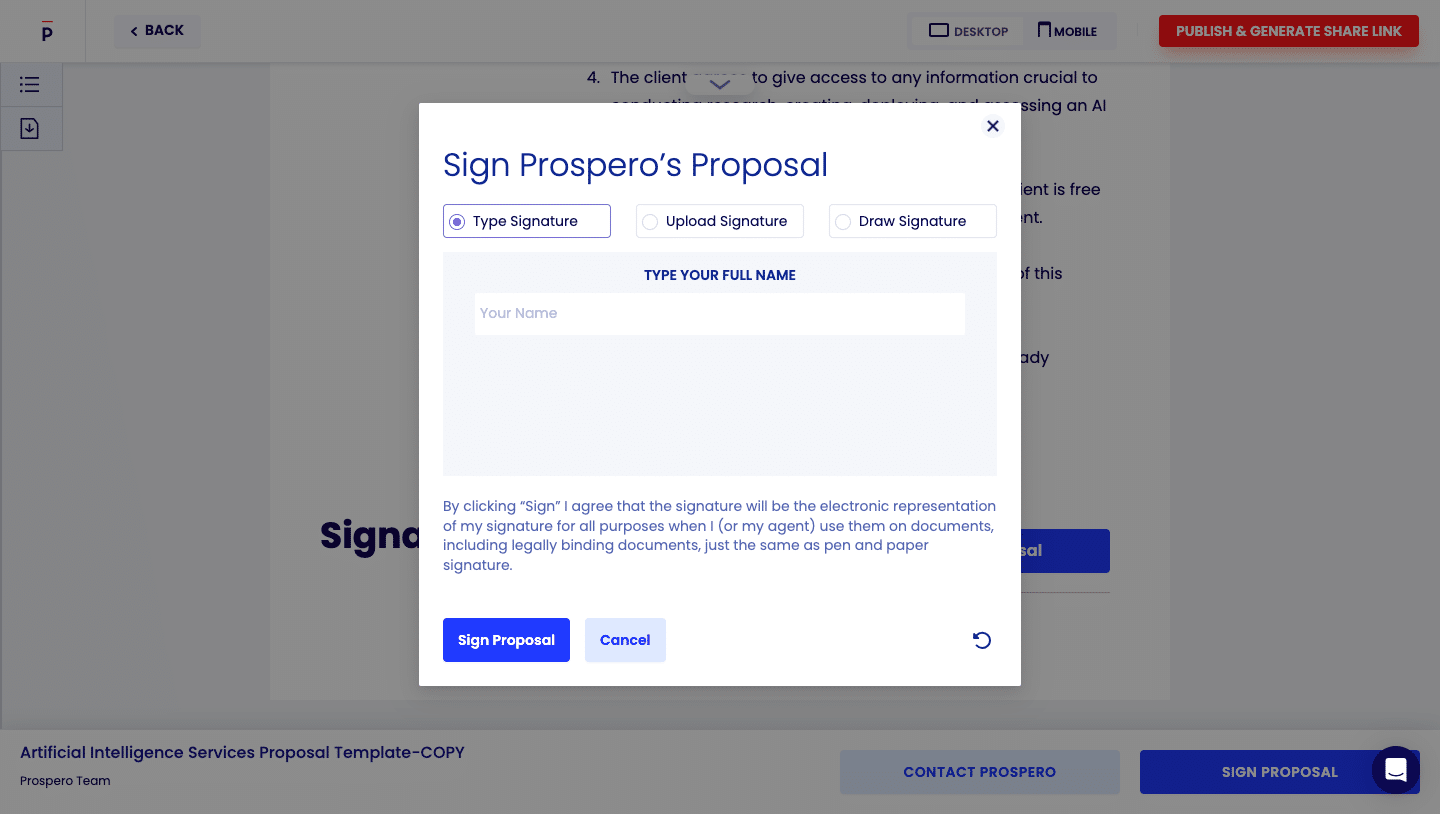 Back-end management is simple too, thanks to a role-based access control setup, which means your team members get access to exactly what they need and nothing more.
Many useful integrations are also present, with some of the more well-known names being Zapier, Poptin, Intuit QuickBooks, and Stripe. There's a reason over 2,000 businesses across 57 countries trust Prospero to create the highest-converting proposals on the market.
There is even a 14-day free trial available for you to test the waters and see the value that you could be getting. Sign up here
#2 Proposify
Proposify is next on the list, and it aims to help you simplify your sales document process. One of the central features that allows you to pull this off is a central library consisting of proposal templates, images, fees, and more.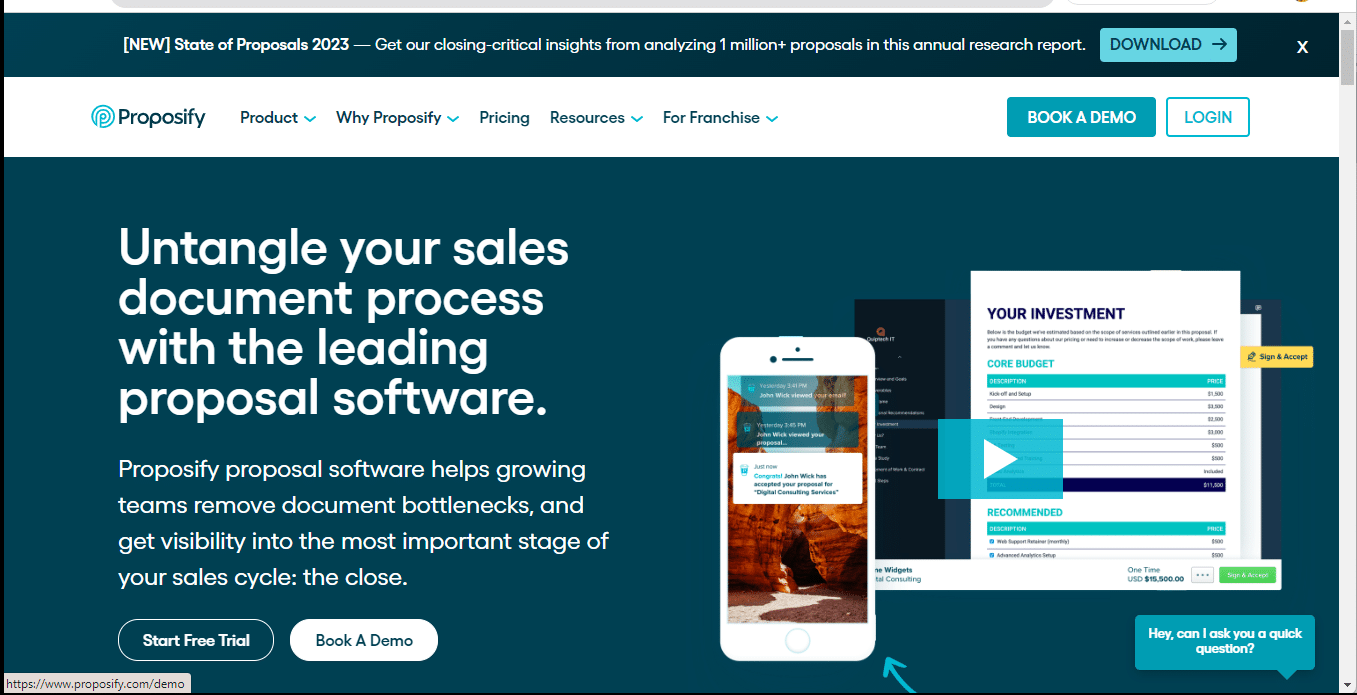 Thanks to a pre-approved content function, there is no need to have your reps waste time reinventing the wheel when the winning proposals can be sent out with just a few clicks.
There are insights into the standing of each proposal, when they've been viewed, and more, to help you close more deals.
It also helps that you can synchronize your instance with CRM software services such as Pipedrive, Salesforce, HubSpot, and more. This is also a good time to mention that you can even have your prospects upsell themselves through interactive pricing.
#3 Qwilr
Qwilr offers a modern experience that is meant to help you impress your potential buyers and take advantage of real-time insights to act from an informed perspective.
Much of the value you're going to be getting comes from the different kinds of insights you can get as you move along the sales pipeline.
Automation is also a big part of the offering, allowing you to do important tasks at scale such as template creation and capitalizing on asset libraries. This means that with a single click from an integrated CRM, it becomes possible to automatically generate impressive sales material.
Buyer empowerment is a big part of how Qwilr works since clients can sign, pay, and even upsell themselves. All this comes through an interactive page that is designed to help you close deals as quickly as possible.
#4 Expedience
As the name implies, Expedience is meant to be a proposal management software option that helps you to get from lead to closed sale as quickly as possible. Its selling point is being an RFP and proposal system that you already know how to use.
How is this possible? Well, instead of having to use a dedicated web page or installed custom application, Expedience is designed to work where you do since it's built into Microsoft Office.
From right within the Office Suite, you can do your statements of work, checkbox proposal templates, Excel and portal RFP responses, and take advantage of a centralized content library with 100% formatted and branded content.
Processes, best practices, and standards can be easily automated, making subject experts, proposal writers, and sales teams much more efficient.
#5 ClientPoint
ClientPoint is all about simplification and engaging content. As you are dealing with different people, organizations, and more, how you communicate and do business may be different from one to the next, which can make your sales process incredibly confusing.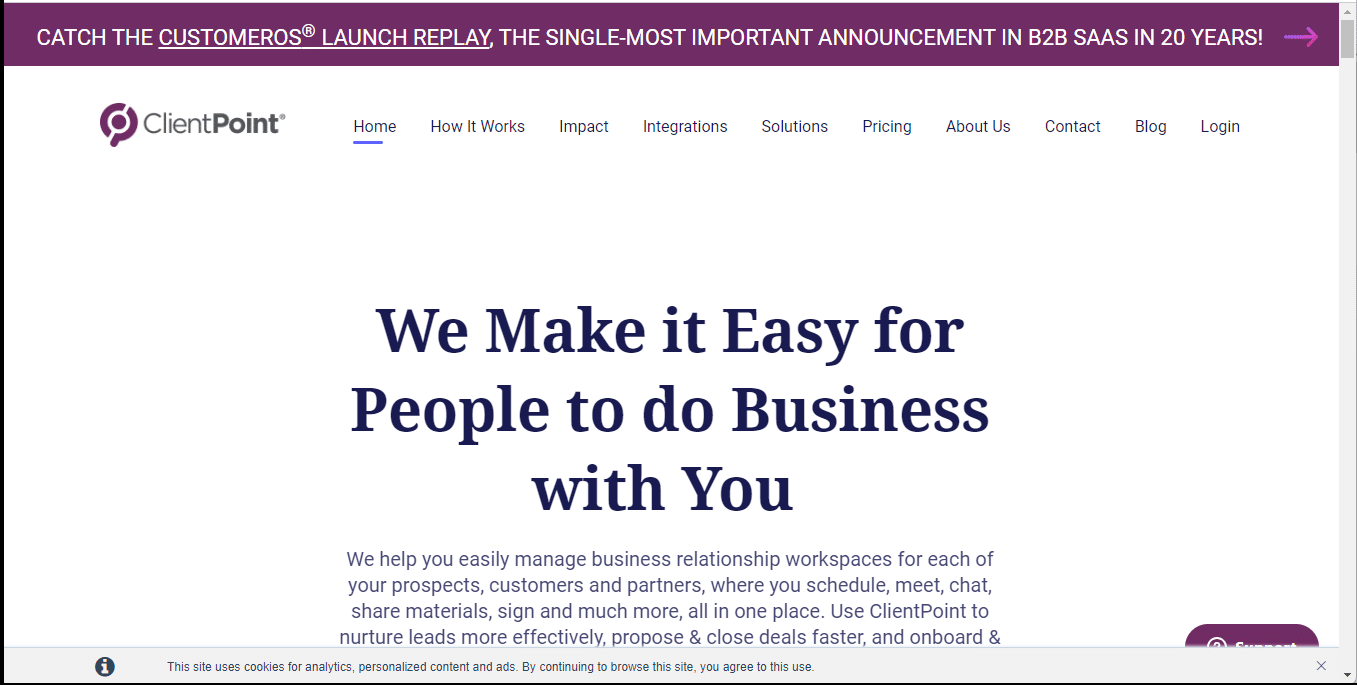 The idea with ClientPoint is to use a single business relationship enablement platform, making it easy enough to educate, nurture, connect with, close, and onboard modern-day buyers.
There's a pretty powerful document generation engine here, alongside templates, merge fields, and built-in editing tools that allow you to quickly create and customize repeatable content.
Of course, you can track the status of your proposals by seeing when they were opened, how long they were opened, and more.
ClientPoint also offers integrations with the top sales, marketing, and CRM solutions including Microsoft Dynamics CRM, Salesforce, HubSpot, Zoho, Pipedrive, and more.
#6 Better Proposals
Better Proposals offers a suite of features that allows you to create, send, and track documents relatively easily. It starts with the business proposal creation feature that bears a white label design making it easy to brand it and give it the identity that you need.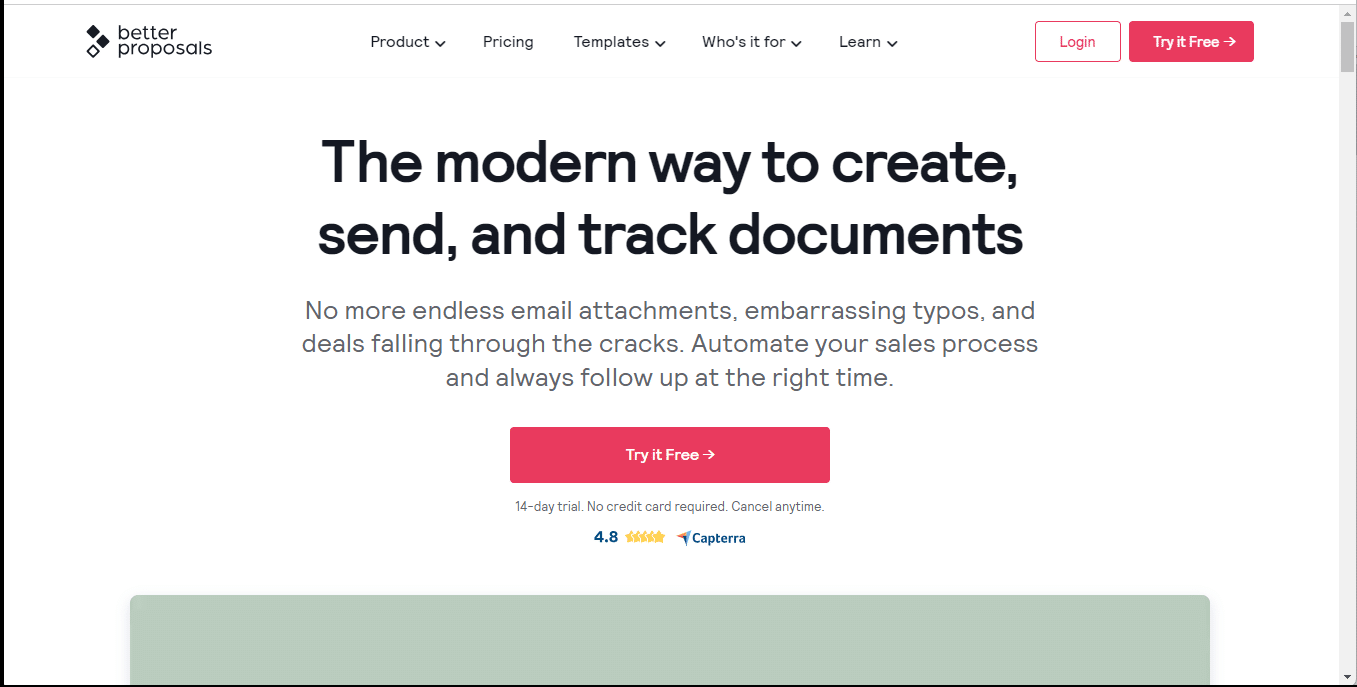 The tools offered as far as customization and media integration go mean that it's incredibly simple to ensure that your design and messaging are on point and that you can evoke the reaction you're looking for.
There is an intuitive and easy-to-use editor, which makes formatting that much easier for you. Of course, you even get a real-time document preview, allowing you to see exactly what a client would see so you can make changes on the fly.
Additionally, eSignatures are supported, and you can even record the date, time, and IP address, and you can lock the document after it has been signed.
Thanks to the insights you get, you can tell when a client has received your document and where they are with it, which enables you to know when and how to follow up at any given time.
#7 Ignition
Ignition's focus is less on just the proposal management side of things, as it caters to the entire process, including billing. Be that as it may, it still features some of the essential elements that you will need to kickstart your sales process.
For example, there is an extensive number of templates present that you can use to create your proposals in the most effortless way possible. It's also great that you can have your clients choose from one of three proposals, meaning that you can offer basic, standard, and premium packages all at the same time.
There is also eSignature support present, meaning that you make it easier for your clients to digitally sign your proposal and move along, regardless of where they are.
At this point, ignition offers a straightforward payment gateway. At the proposal stage, you can easily collect payment details, meaning that automating payment collection from day one is no issue.
#8 QuoteWerks
Finally, there is QuoteWerks, which is all about having your created branded proposal content in minutes. You can reduce misquotes and errors thanks to peer management and approval workflows.
Industry-leading CRM and accounting integrations are present, including names such as Salesforce and Intuit QuickBooks. Your sales quotes and proposals will have access to beautiful layouts, and you can even include important associated documentation such as contracts, conditions, SOWs, and more.
A central database that's indexed and easily searchable makes it a breeze to store and manage all your existing quotes and documentation. Filters include company, sales rep, dates, and more.
Of course, you also get access to proposal tracking after sending, as well as electronic signing and acceptance.
The Bottom Line
Choosing your proposal software is an important decision since it can contribute to your measure of success or lack thereof.
There's no doubt that all the WBudget alternatives presented here are superb, but Prospero is your best bet. With the customization and tracking features, integrations, support, ease of use, and a 14-day free trial, it's hard to go wrong!