Even if you are used to getting many leads in your business, closing deals is often one of the most difficult parts of the marketing process. However, it's the ultimate goal of it, so you need to do what you can to achieve it. There are many proposal software options online that may help you do that. iQuoteXpress is one of them.
iQuoteXpress is an excellent quoting and business proposal software due to its wide range of features that allow you to streamline the sales process. You can use it to boost your efficiency and productivity, as well as develop the right proposals for each client. That doesn't mean it's not the only option online, though.
If you are looking for proposal software, you need to pick one that suits your taste and marketing style. We are here to help you look for the best ones on the market, so read on to know nine iQuoteXpress proposal alternatives for better sales closing.
You can also visit our website to read more blog posts related to online marketing and tools you can use to optimize your sales campaigns. There, you can also sign up for Prospero, which is overall the best alternative you can find for iQuoteXpress, so check it out now.
Table of Contents
What is iQuoteXpress
What Are the 9 Best iQuoteXpress Proposal Alternatives?
Prospero
PandaDoc
Proposify
Qwilr
Better Proposals
Nusii
Bidsketch
QuoteWerks
ClientPoint
Conclusion
What Is iQuoteXpress?
As we mentioned before, iQuoteXpress is, in a nutshell, a business proposal software, but it can do more than just offer business proposals. Let's start with the fact that you don't need to be an online marketing expert to use this platform, as it has a user-friendly interface that won't let you get lost along the process.
Navigating this software is easy for newcomers, and you can learn to customize and create your business proposals in no time. Editing those quotes is straightforward thanks to its drag-and-drop functionality since it offers a seamless experience and helps you save a lot of time.
If you don't feel like creating your quotes, you can simply use one of the many templates the software has available for its users. However, you will still need to customize them to adapt them to what you get from your branding process and the products or services you want to offer.
Similar to other marketing tools, iQuoteXpress has integration capabilities. You can integrate your efforts in this software with other CRM systems, such as Salesforce. That is a priceless feature if you have been working with other platforms for a while and don't want to lose your progress in them.
Tracking your progress is essential if you want to close more deals in the long term, so iQuoteXpress offers optimal reporting and analytics tools. The best part of them is that you don't need to be an expert to understand the data the software gives you.
Suggested Read: How To Write Killer Sales Follow-Up Emails That Close Deals
However, you may wonder why people want to look for alternatives to this software if it already offers the key features you may need. Well, the truth is that it has a few drawbacks. The most important is its pricing structure. It offers a wide array of pricing plans for various businesses, but the higher end of those plans is far better than the others.
Therefore, you may not find any interest in iQuoteXpress if you don't have the money to pay for its most expensive pricing plans. That's a problem for the software itself considering that there are many other options online that give you similar features for a far more affordable price.
What Are the 9 Best iQuoteXpress Proposal Alternatives?
Getting to the main part of this blog post, it's time to know the nine best alternatives you will find to iQuoteXpress online. All the options below are of the highest quality, so don't hesitate to pick any of them.
1. Prospero
Prospero is the best iQuoteXpress proposal alternative you will find online, and you could even say that it's far better than it. As it happens with iQuoteXpress, you can use it without any technical marketing knowledge since it has a clean and intuitive interface.
That doesn't mean you won't find any use to it if you are a pro, as there are still many technical features there for you. However, using them is not as difficult as it would be with other software. Its customization options are almost endless, and you could spend hours trying to find the template that speaks to your heart.
Suggested Read: Top 3 Online Business Proposal Builders For 2023
You have many formatting options, themes, and templates available there. The main benefit of that is that you can make your templates suit your branding and marketing campaign, which will help customers tell your company apart from others that offer similar services or products.
Prospero even has features you don't get with iQuoteXpress. The most important ones are its collaboration features that let multiple team members work on the same proposal at the same time. Moreover, you can forget about many of the drawbacks of iQuoteXpress with Prospero, and we are talking about its pricing problems.
The money you spend monthly on Prospero depends on how many people are on your team, and regardless of the number you pick, you receive unlimited proposals, analytics, integrations, live chat support, and more. Prospero's most affordable plan is $10/mo and offers a 14-day free trial. 
iQuoteXpress, on the other hand, has a $39/mo starting price that doesn't even give you all the features the software has to offer. That doesn't mean it's a bad option, but you need to pay up to $74/mo for its most expensive pricing plan, which will be a problem if you are working on a budget.
2. PandaDoc
PandaDoc is one of the most popular business proposal software online. It lets you create documents, make e-signatures, and track your marketing campaigns. This software excels in its integration capabilities with other CRM systems. Besides that, it's not as expensive as iQuoteXpress.
3. Proposify
Proposify is also relatively mainstream compared to others online. The best feature this software offers is its extensive template library. You could spend hours browsing all the options it has available. Its drag-and-drop editor makes it easier for people to edit their quotes quickly. You can track your proposal progress in real time with it.
4. Qwilr
If you are looking for visually appealing proposals, Qwilr is the one for you. Apart from being highly appealing, these proposals are interactive and their interface is mobile-friendly, so you don't need a desktop device to use this software. You can embed videos and images within the proposal templates too.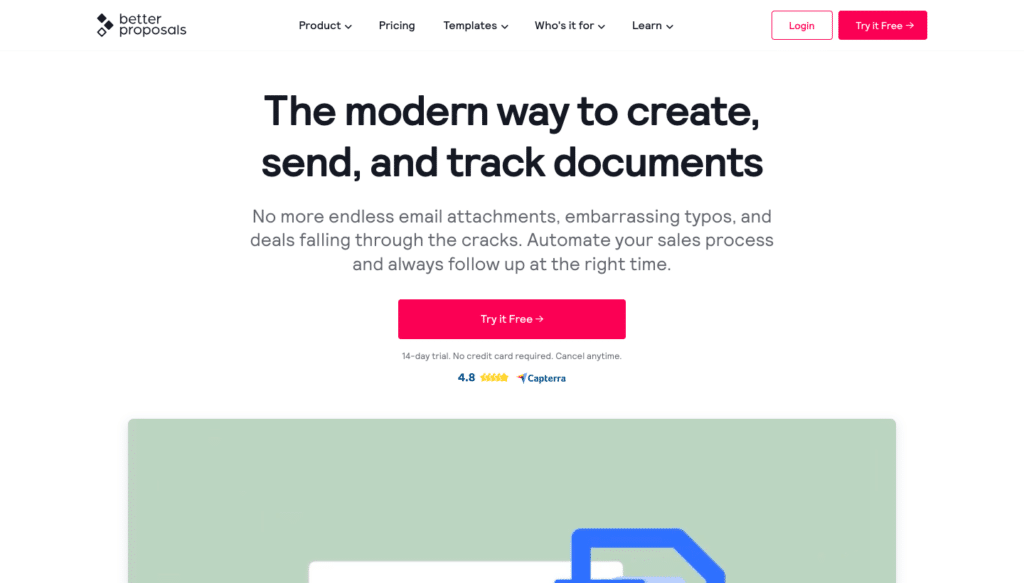 5. Better Proposals
Better Proposals is tailor-made for professional-looking proposals. You can customize them in a matter of seconds, and even if it's made for sophisticated quotes, it's an easy-to-use software.
6. Nusii
Nusii is one of the most straightforward proposals online, so use it if you want to get things done quickly. It offers core features you would need in any marketing tool, such as analytics, e-signatures, and a template editor.
7. Bidsketch
We also recommend that you use Bidsketch to get a proposal software with time-saving features. A few of them are its reusable content blocks, pre-designed templates- and e-signatures.
8. QuoteWerks
QuoteWerks offers integrations with many CRM systems, such as Salesforce or ACT!. Besides that, it optimizes quote generation, product catalog management, and pricing rules customization.
9. ClientPoint
The last iQuoteXpress alternative on this page is ClientPoint, which focuses on making stunning quotes. It does it thanks to the videos and images you can embed within the templates to engage your leads.
Conclusion
Although all the iQuoteXpress alternatives on this page are excellent options, you should start using Prospero now.
Thanks to its features, it's ideal for freelancers and any other agencies or businesses looking forward to increasing their sales. You can learn more about it on our website, so visit it now if you want to boost your marketing campaign.