Are you tired of spending hours creating proposals using outdated methods? An online proposal builder could be the solution you've been looking for this year!
These powerful tools allow you to create, edit and manage proposals electronically. This can save you time and make your proposals look professional and visually appealing.
But with so many online proposal builders, how do you choose the right one for your business?
Don't worry; we've got you covered!
Benefits of Using Online Proposal Builders
Some of the key benefits of using an online proposal builder include the following:
It's gonna save you time!
An online proposal builder can significantly reduce the time it takes to create proposals compared to manually. You can quickly reuse elements like pricing tables, images, and text and collaborate with team members in real-time. This makes the proposal creation process more efficient and effective.
You can look more professional and credible
Proposal builders can create professional and visually appealing proposals using a variety of templates and design options. With these tools, you can easily develop proposals that stand out and convey your message effectively.
Customize the way you want it
Customize proposals to fit the needs of specific clients and projects. You can include relevant information and highlight the points that will be most impactful to your target audience.
Edit fonts, colors, and backgrounds, and add integrations, videos, images, and more. By tailoring your proposals this way, you can increase the chances of winning new business.
Faster delivery and turnaround time
Easily deliver your proposals electronically, which can be more convenient for you and your clients. There are proposal builders that offer digital signature, too.
Let's look at some of the best online proposal builders on the market.
Top 3 Online Proposal Builders for 2023
Prospero is a powerful online proposal management tool that lets you create professional and stunning proposals with so much ease. It offers a range of features designed to make it easier for users to create and manage proposals, such as the ability to customize premade proposal templates and choose from the variety of industries available.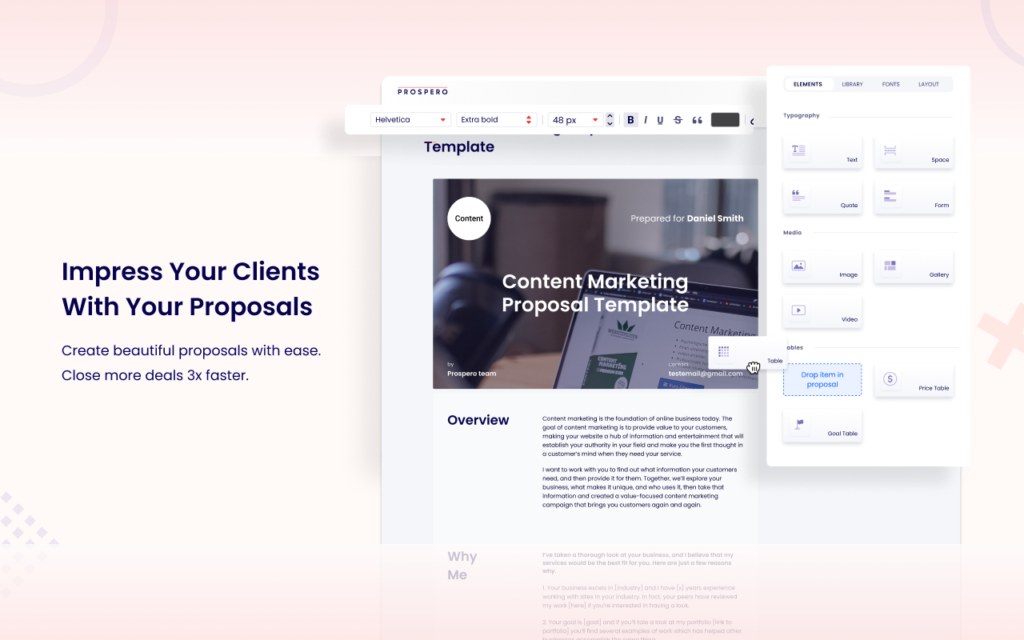 Win more projects with features that can optimize your proposals to maximum conversions.
Enjoy the benefits of having a seamless eSignature feature for securely signing and managing contracts, tracking analytics dashboard, customization options, and integrations.
Such customization options allow you to edit the templates or create everything from scratch. You can add images, texts from the content library, videos, portfolio, and background photos.
With Prospero, you can also get insights into how your online proposals are performing; such as open rate, close rate, and more, and get notified of key events via email. Save your proposals as PDF and close more deals via WhatsApp, email, and call.
Everything you might need for your proposals is already here, and you'll get the best value for your investment, while you close deals more efficiently.
Top Features
Customizable premade templates for various industries
Easy digital signature
Lots of customization options
Compatibility with different devices, including mobile
Add users and manage roles for your proposals
Edit permissions and ensure security
Accurate tracking analytics
Integration with third-party apps such as Slack, Zapier, Make (Integromat), Stripe, and more.
Reliable customer support
Pricing
Prospero is free for 14 days, so you get to familiarize yourself with its tools and features.
Depends on the number of your team, you can subscribe to Prospero's paid plan starting at $10 a month. It already includes all the essential features you need; unlimited proposals, analytics, integrations, content library, templates, and chat support.
If your team has two or more members, you can unlock additional features such as proposal sharing and collaboration, and user roles.
Proposify
This online proposal builder makes it easy to create professional and visually appealing proposals that fit your brand. Plus, you can tailor your proposals to specific clients and projects, including pricing tables, images, and text, to include the correct information and emphasize the essential points to your target audience.
But Proposify isn't just about making your proposals look good – it also includes practical features like customization options, templates, electronic signature, and online payment. And if you're working with a team, Proposify makes it easy to collaborate in real-time and track progress.
You can definitely save time in creating professional proposals and improve your chances of winning new business.
Top Features
Reliable content and brand management
Content library
Privacy and permission
CRM integrations
Analytics and metrics
Notifications
Electronic signature
Client Preview
Availability in different languages
Pricing
Proposify has a free plan that includes essential features such as customizable templates. However, the free plan is limited to a maximum of three active proposals at a time.
For teams that need more advanced features and the ability to create and manage more proposals, Proposify offers paid plans starting at $49 per user per month. These paid plans include additional features such as unlimited documents, custom fields & forms, and integration with popular project management tools.
If your team is more than 10, it's recommended to get the Business plan, starting at $59 per month. You can unlock all the features in the Team plan, plus premium support, integration with Salesforce, and more.
Juro
Juro is a fantastic legal tech platform that helps businesses streamline and automate their contracts and proposal process. It's seriously a game-changer! With Juro, you can create, sign, and manage all your contracts and other legal documents in one place, with features like templates and electronic signature capabilities. Plus, it integrates with other business tools like CRM systems, which makes everything super efficient.
Juro also offers self-service contracts, along with its user-friendly template editor, workflow builder, reminders, storage, and more. This proposal builder is perfect for entrepreneurs, legal teams, sales, HR, and finance specialists.
Top Features
Wide variety of customization options
Up to 5000+ integrations
Workflow builder
Renewal reminders
Digital signature
Smart storage
Pricing
Juro offers a free trial period for businesses to try out the platform and evaluate its features. After the trial period, you can choose from various subscription plans, which may be based on the number of users, the volume of contracts managed, or other factors.
Some plans may also include additional features and services, such as custom branding or integration with other business tools. You have to go to their site and get a quote for yourself.
Final Thoughts
So there you have it – some of the best online proposal builders. No matter which one you choose, you'll be able to streamline your proposal creation process and create professional, visually appealing proposals that will help you win new business. Happy proposal building!
Top Tip: If you're looking to start your proposal building easily, head on to Prospero. It offers a wide array of proposal templates, advanced tools, and customization features to get you going. Plus, you get good value for your money. Create your first proposal today!