The quality of your business proposals can determine whether you will land new business contracts. It's never been easier to submit a business proposal online. One of the top software programs that help businesses supercharge their proposals is pxmo.
With pxmo, you can create a proposal that is very compelling easily. The software is interactive and intuitive. With many proposal templates tailored to suit your industry's demands, you can use pxmo regardless of the products and services you offer.
If you are looking for a range of custom features and excellent online proposal software for your business, you are spoiled for choice.
We have searched for the best pxmo alternatives to bring you the best and have added pricing information for quick comparison.
7 pxmo Alternatives for Your Proposals
As a business, you have an opportunity to impress your potential clients and communicate what you have to offer.
Proposal software can help you deliver results. Consider these 7 pxmo alternatives to take your game to the next level.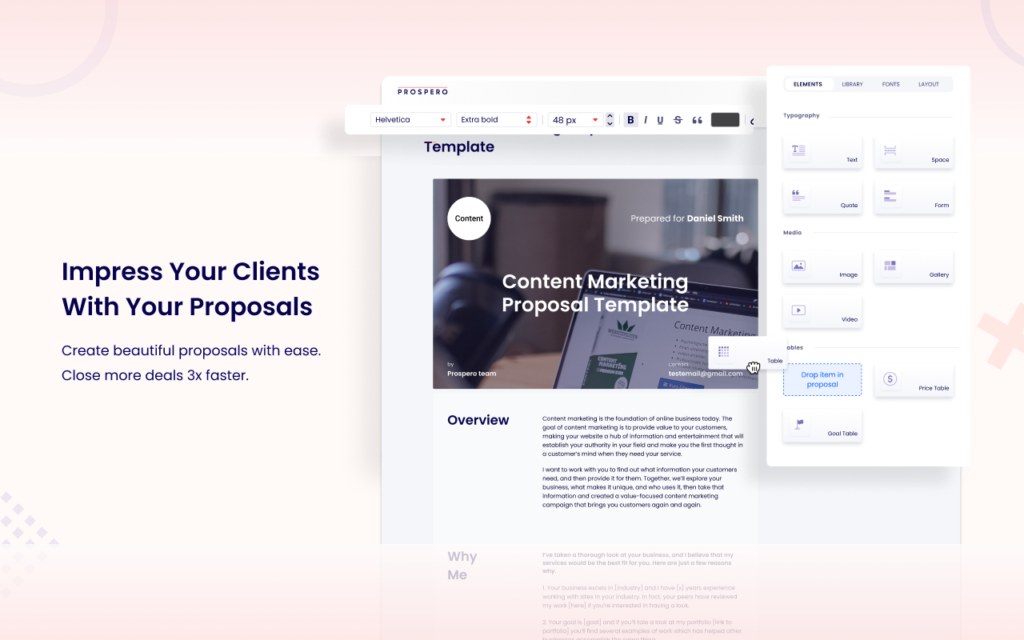 It is time to explore the pxmo alternatives that exist, starting with Prospero. You can develop attractive, professional online proposals without all the fuss that often goes into planning hangouts. The great thing about Prospero is that you can expect to create flawless online proposals in a fraction of the time!
There are various online proposal templates to choose from. Once you come across something you like, you can select it, customize it, and tailor it to your needs with the help of ready-to-use content, thanks to flexible elements and an enormous content library.
Every business and proposal must communicate a unique message that meets the client's current needs. Prospero's range of templates can help you here. You have many layout options available.
Once your professional online proposal is ready to go, Prospero lets you send proposals to your clients. It is simple to track how engaged your clients are with the business proposals you have already sent. The last step you need to get the most value for money from Prospero includes the digital signatures and email notifications you can use.
When engaging in new software solutions, many people want to know about how a new software program might affect their existing business solutions. Proper integration is needed so your different software solutions can work together without much interference.
Prospero integrates without any hassle with several common platforms, including Stripe, Zapier, QuickBooks, FreshBooks, Slack, Xero, Wix, and more. You can have your online proposal software, accounting platform, and website all working together without glitches.
Regarding pricing, you can use the 14-day free trial to create your first proposal and see what the platform offers. No credit card is required for this, and it is easy to cancel anytime.
You pay $10 per month for monthly proposals and get access to unlimited templates. With an annual subscription, you pay $8 per month.
Create your first online proposal now!
2. Lancelot
A killer proposal can soon lead to more deals. That is the value proposition of Lancelot, another business proposal software. Creating a professional proposal on this platform is quick and easy, so there isn't going to be much heavy lifting on your part.
There are three steps to using Lancelot to boost your business and sales. Firstly, you can craft the perfect proposal in just a few minutes. Once your creation is ready, Lancelot allows you to send it to your potential clients through the software.
Lancelot provides real-time updates of when your client has opened the proposal to put you at ease. If they are happy, they can sign and accept your proposal on the platform. You don't have to worry about sending and scanning physical documents to finalize a new contract.
There is a 14-day free trial to start using Lancelot. One monthly plan is available to give you the tools you need to send better proposals, costing $20 a month.
3. Nusii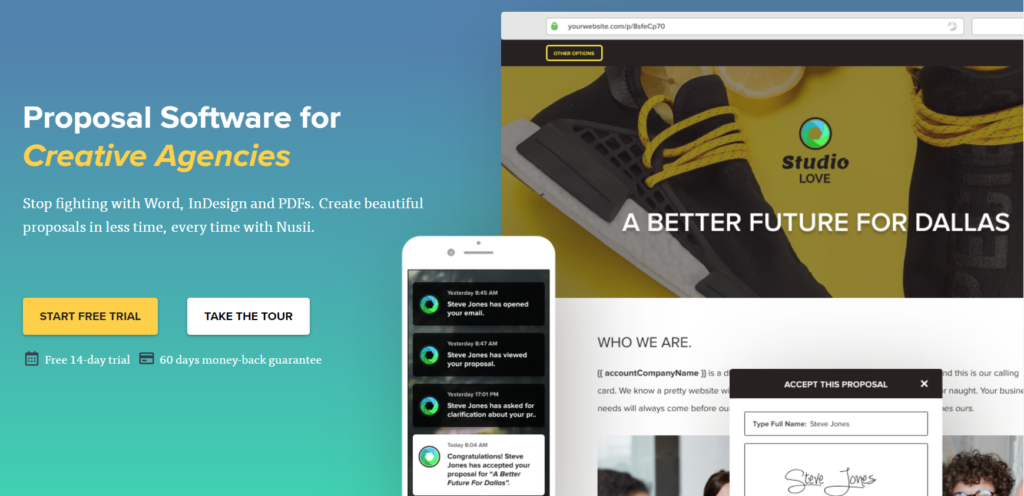 If you run a creative business, consider Nusii. You can use it to create beautiful proposals, track them, and then manage them.
Creative agencies can make use of this proposal software. Nusii is geared towards freeing you and your team from having to work with Microsoft Word, PDFs, and InDesign for your proposal creation.
Besides the proposals, some added features make the Nusii experience worthwhile for a growing business. You get to use your branding, domain, and email with materials you generate on the platform.
Nusii provides real-time notifications on the proposals you send, allowing you to stay in the loop about the status of your new business prospects. There is also a convenient way to keep track of past reusable content.
You can start using Nusii on a 14-day free trial. Various plans cater to different needs, and you can always scale when ready.
Starters and freelancers pay $25 a month. Small to medium businesses that are more active will pay $49 per month. Larger organizations can opt for the Business plan costing $129 per month.
4. Proposify
Proposify is a proposal software streamlined to help your team coordinate the proposal-winning process seamlessly. Using pre-approved content, it is easy for your sales reps to send proposals and win more business with only a few clicks.
Teams that can benefit most from using Proposify include sales, marketing, and operations. This software can also push out contracts and quotes. The benefit of having all three on one tool is that everything is linked, reducing delays and errors significantly.
It's free to try Proposify, and no credit card is required. The Team plan costs $45 per user per month, while the Business plan starts at $590 per month and works well for teams of 10 or more.
5. Better Proposals
The following software solution we are looking at is Better Proposals. If you want to cut the time to send professional proposals in half, then Better Proposals could be the right option.
You can send current proposals tailored to your brand using Better Proposals. This software's key advantage is that it combines the different elements you need to speed up your entire sales process.
Better Proposals is excellent for team collaboration and coordination. With a central location for proposal creation and tracking, everyone can stay on the same page.
Moreover, with digital signatures, it takes a shorter time to sign documents and get new contracts rolling. If you ever have a question about where you are at any stage of the proposal cycle, Better Proposals has you covered with real-time notifications.
Better Proposals also has built-in features to automate quotes and accept payments once the contract has been signed.
There is a 14-day free trial available to businesses that want to try this proposal software. There are three different plans for individuals and companies to choose from.
The Starter, Premium, and Enterprise plans have increasingly more features and cost $19, $29, and $49 per user per month, respectively. If you opt for the annual plan, you can save 35%.
6. Honeybook
Small businesses need as much help as they can to manage their clients. Honeybook offers a complete solution to handle this space's related business needs.
You can manage all your business projects, book new clients, send invoices, and receive payments on Honeybook.
The available features are catered to small businesses trying to grow and target their market more effectively. Integration can be a business problem when working with other software programs, but Honeybook helps you with this.
Honeybook is easy and efficient to use. Integrating it with other software programs such as Zoom, QuickBooks, Zapier, Gmail, and Google Calendar is seamless.
It is free to start using the software on the seven-day trial, and no credit card is needed. The pricing for using Honeybook comes in two options. The unlimited monthly plan costs $39 per month, while the unlimited annual plan goes for $390 per year. Paying for the year saves you 17%.
7. Brecise
Brecise helps you win over more clients with guided proposals. It only takes a few minutes to develop a professional proposal using the software. The significant part about it is that you get suggestions and prompts on how to do it better along the way.
Moreover, Brecise templates can take the boring out of proposal writing. It is free to start, and you can customize the design any way you like. Once done, the one-click export allows you to convert your work to a PDF. Brecise costs $10 per user per month.
Final Thoughts
If you haven't started using proposal software to improve your proposal writing and management, you could miss out. The proposal software services we have looked at show the many options at your disposal.
All seven pxmo alternatives bring a lot to the table. Suppose you are looking for a software service that seamlessly knits the proposal creation, sending, and deal sealing.
In that case, we highly recommend Prospero. It is sure to streamline much of your sales and business development activities!