Being a freelancer, creating convincing proposals is important for your success. Whether you're new to freelancing or experienced, how you present your services to potential clients can make or break your chances of getting hired. Proposal software makes this process a lot easier. It's like a tool that helps you make good proposals quickly. It gives you a clear structure for showing your skills, services, and prices in a way that looks great and helps you stand out from others to win more projects.
Now, let's talk about Nusii proposal software.
Nusii is a popular proposal software that many freelancers find easy to use. It helps you create customized proposals that impress clients and save you time. It's a user-friendly tool with proposal templates and integrations to other apps that make your life easier. But, like any tool, it might not be perfect for everyone.
The goal of this article is to help you explore other options. By the end of this article, you'll be exposed to Nusii alternatives and have a better understanding of which proposal software will work best for you.
Nusii Alternative 1- Prospero
Prospero is an excellent alternative to Nusii for creating business proposals. Just like Nusii, it's easy to use, even if you're not a design expert. With tons of templates in the library you can get started on a proposal without spending too much time. It offers user-friendly features for both newbies and pros. Plus, you can customize your proposals to match your brand
Prospero has some clear advantages over Nusii:
Pricing: Prospero is more budget-friendly. You pay based on your team's size. The cheapest Prospero plan is only $10 a month, and you can try it free for 14 days. Nusii's basic plan starts at $29 a month.
Proposal Limit: Prospero lets you create an unlimited number of proposals regardless of your plan, while Nusii allows you to work on just five on the basic plan.
Unlocking all of Nusii's features could cost you up to $129 a month, which can be a lot if you're on a tight budget.
Prospero's proposal templates work for many types of businesses, like graphic design, marketing, and writing services. These templates have ready-made sentences that you can change if you want. This helps when you're not sure what to write. Your proposal is also split into sections like: summary, costs, and other things you need to tell your client. You can make your proposal look the way you want by selecting the font and design. You can also add a cover at the top with your choice of colors and your logo. When you're done, you can add an esignature and either save the proposal as a PDF or send it to your client using a link.
What's great about Prospero is that you can customize each proposal with your logo, photos, animations, and other things that represent your brand. You can easily integrate to other applications like Stripe, FreshBooks, Zapier, and more. Prospero also has a bunch of educational tools, including a YouTube channel with tutorials.
Key Features:
Templates library
Drag-and-drop editor
Electronic signatures
Platform Integrations
High level of customization
Device optimization
Ready-made texts
Pipeline management
Analytics
Pricing: Monthly pricing depends on the number of users in your team. However it starts from $10.
Nusii Alternative 2- PandaDoc
PandaDoc is another smart alternative to Nusii. PandaDoc makes it simple for multiple team members to collaborate on business proposals at the same time. This allows for real-time feedback sharing and ensures that proposals align with your brand and messaging guidelines. Additionally, PandaDoc seamlessly integrates with CRM systems, providing improved proposal management capabilities.
Key Features
Unlimited document uploads and e-Signatures
Templates
Real-time tracking and notifications
Drag and drop document editor
Document analytics
24/7 email and chat support
CRM and Zapier integrations
Content library
Custom branding
Approval workflows
Forms
Bulk send
Salesforce integration
Pricing:
$19 USD Seat cost per month, 2 seats max
$49 USD Seat cost per month
Contact Sales
Nusii Alternative 3- Proposify
Proposify is a well-known proposal software with many helpful features.
With Proposify, you can organize your business documents into groups, which makes it easier to find what you need quickly. Proposify also has a content library where you can save and organize important stuff like product details and prices. You can save information that you use a lot and add it to your documents whenever you need it. One cool thing about this tool is that you can create interactive documents with things like chats, videos, and pricing charts.
Key Features:
Unlimited Documents
Custom Fields, Variables, & Forms
Standard Integrations
Premium Support & Onboarding Services
Salesforce Integration
Salesforce Single Sign-On (SSO)
Roles, Permissions, & Approval Workflow
Pricing:
$49/user per month
Contact For Pricing
Nusii Alternative 4- Better Proposals
Better Proposals is an online proposal software tool that's simple to use. You get more than 200 templates for free, and you can reuse what's already worked for you. It also has smart technology that knows when to check in with clients, and a chat feature for talking with them in real-time. It has a quick editor to make and customize documents easily, even if you're not a designer. You can save and share proposals faster with its collaboration and storage tools.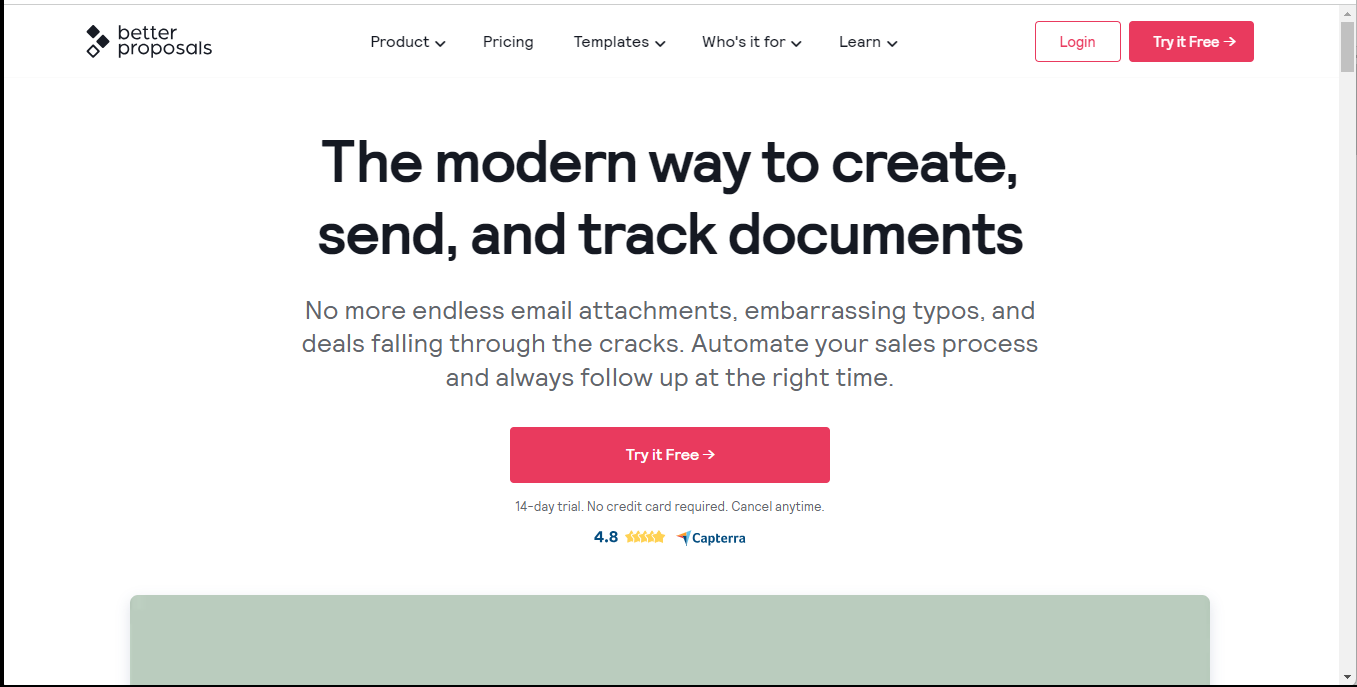 Key Features:
Content Library
Digital Signatures
Payment Integrations
CRM Integrations
Custom Domain
Manager Approvals
One to One Training
Password Protection
Pricing:
Starter $19/user per month
Ideal for freelancers and individuals
Premium $29/user per month
Perfect for small businesses
Enterprise $49/user per month
Designed for sales teams
Nusii Alternative 5- Qwilr
Qwilr is a Nusii Alternative that simplifies the process of creating appealing and polished marketing, sales materials, pitches, and proposals that not only catch your clients' eye but also boost your chances of winning their business. You can customize it to suit your needs, empower your team members with the flexibility to make changes or restrict them to using the pre-designed templates you've created. Qwilr also offers multiple layers of security and configuration to make it work just the way you want it to.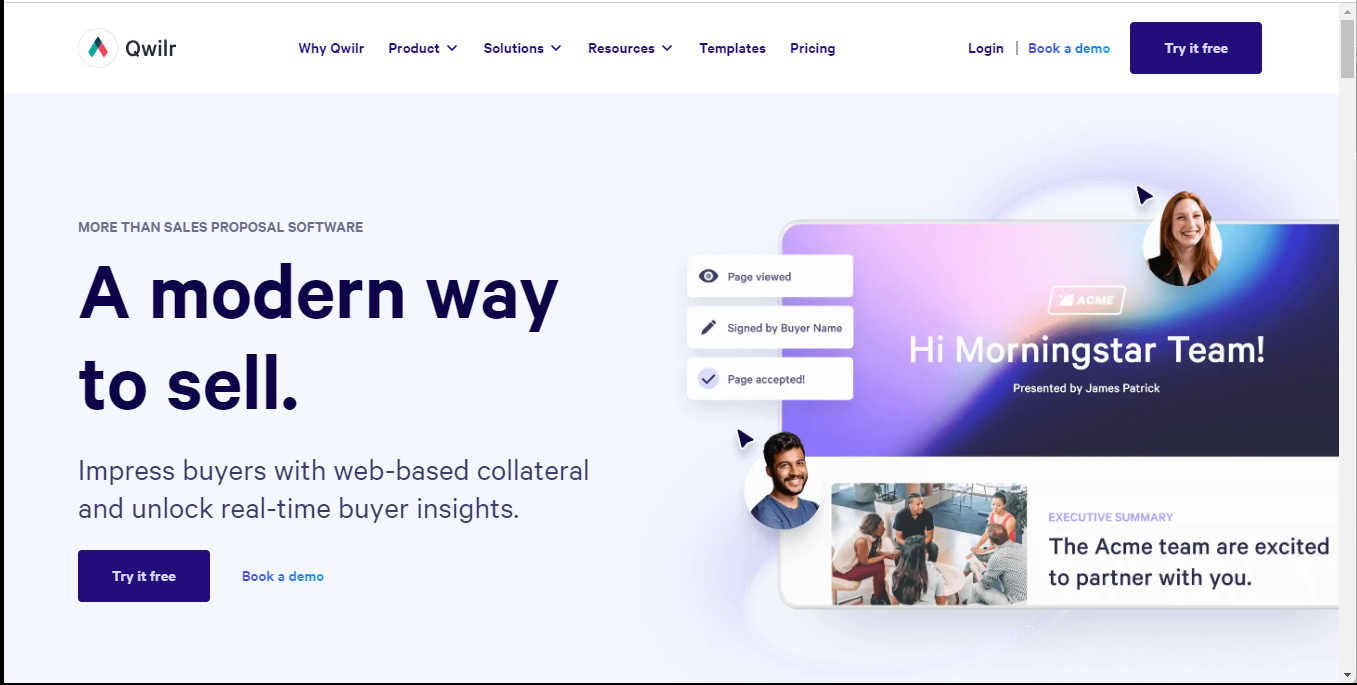 Key Features:
Content editor
e-signature and payments
Dynamic pricing table
Page analytics
HubSpot CRM
Account manager (10+ seats only)
Salesforce integration
Custom domain
Team permissions
Add on API
Pricing:
Business $35 USD User / Month Billed Annually
Enterprise $59 USD User / Month Billed Annually
Choosing the Right Proposal Software
Factors to consider when evaluating alternatives:
When you're in the market for proposal software, your budget is a crucial factor. Different software options come with various pricing structures. It's essential to align your budget with the capabilities and features you need. Look for options that offer a good balance between cost and value to ensure you get the best fit for your financial plan.
Specific needs and preferences:
Your specific needs and preferences should guide your choice of proposal software. Consider factors like the type of proposals you create, the level of customization required, and any industry-specific requirements. Not all software will cater to the same needs, so it's vital to pick one that aligns with your unique demands.
Integration with existing tools:
Ensure that the proposal software you choose can seamlessly integrate with the other tools and software you're already using. This integration can streamline your workflow, increase efficiency, and prevent data silos. Compatibility with your existing systems is key to a smooth and productive experience.
Tips for making an informed decision
Making an informed decision about proposal software is vital for your business. Here are some tips to consider:
Research: Take the time to research and compare different software options. Look at their features, user reviews, and case studies to understand how they perform in real-world scenarios.
Free Trials: Many proposal software providers offer free trials. Take advantage of these to test the software's ease of use and functionality.
User-Friendly Interface: Choose software with an intuitive and user-friendly interface. Complicated software can lead to frustration and inefficiency.
Customer Support: Check the quality of customer support provided by the software vendor. Good support ensures that you have assistance when needed.
Scalability: Consider whether the software can grow with your business. It should be flexible enough to accommodate your future needs.
Security: Ensure that the software has robust security measures in place, especially if you're dealing with sensitive client information.
Feedback: Seek feedback from your team members who will be using the software. Their input can provide valuable insights into usability and functionality.
Training: If the software requires training, consider the time and cost associated with getting your team up to speed.
By taking these factors and tips into account, you can make an informed decision and select the proposal software that best suits your needs and goals.
Conclusion
In summary, for freelancers, writing compelling proposals can be a game-changer. It's the key to winning projects and building a successful career. Fortunately, proposal software is here to make this process easier and more effective. Think of it as your secret weapon for presenting your skills and services in an impressive way, helping you stand out and secure more projects. When choosing the right proposal software, consider your budget, specific needs, and integration with your existing tools. Make an informed decision by researching, trying free trials, seeking user-friendly interfaces, and checking for good customer support.
With these alternatives and tips in your toolkit, you're well-equipped to elevate your proposal game and win more projects as a freelancer!